'Gentrified' series draws out stories about changing relationships across Philly
As neighborhoods gentrify, there is a complex web of effects — some positive, some negative. This week WHYY is examining those changes from the ground up.
Listen
5:03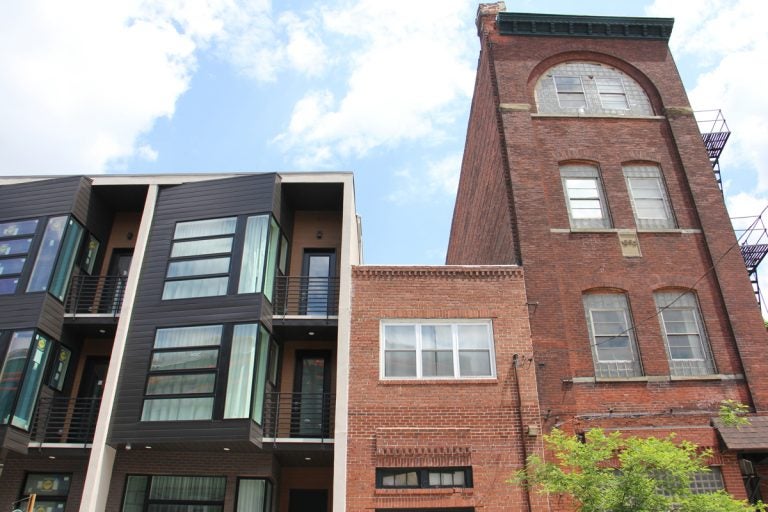 Philadelphia is recognized as a much more attractive place to live, reversing years of population loss and disinvestment. As neighborhoods gentrify, there is a complex web of effects — some positive, some negative. This week WHYY is examining those changes from the ground up.
Morning Edition host Jennifer Lynn spoke with editors Kevin McCorry from WHYY's Keystone Crossroads and Ariella Cohen from WHYY's PlanPhilly about their series, "Gentrified: Stories from Rapidly Changing Philadelphia."
—
Let's start by defining gentrification. What exactly are we talking about?

Ariella Cohen: Well the term has roots in 1960s Britain, describing a trend of middle-and upper-class people moving into poorer sections of London, and in general, that's how we still talk about it today. But the term has become loaded with a lot of baggage — racial, cultural, and of course economic.
Kevin McCorry: As housing becomes more expensive, the spaces that people used to know feel different, and then things get tricky.
Kevin, how does race fold into the reporting for this series?
KM: Well, we really wanted to address that head on, so we went to two of the city's fastest gentrifying neighborhoods. One is a mostly white neighborhood, another predominantly black. The white neighborhood is actually seeing housing costs increase more dramatically, but the African-American neighborhood is more often held up as the poster child for gentrification in Philadelphia.
AC: And the development there has been far more contested.
KM: Right. When a white guy from the suburbs buys a renovated row home next to a white family, who's been there for generations, the demographic shift is just less obvious than when that same guy moves next to a black family. The optics are different, but you see that the dynamics really can kind of play out differently too, and we wanted to dig into that.
AC: In another story, we talked to La'Tonia Reed. She's African-American and lives on a block in Strawberry Mansion that recently saw its first home in decades sold to a white person.
And I was like, 'The gentrification is happening!' And they were like, 'What is the gentrification?' So I had to explain the whole thing to them, and I was just like, 'These hippie white girls and her dog, and they were just sitting out on the porch drinking beer.' And I'm like, 'But we all sit on our porch drinking beer.' 
It's polarizing, right. No one really wants to feel like their neighborhood is becoming a place they don't belong in. And no one wants to feel like a gentrifier either.
AC: Right. In the course of reporting the series, our reporters spent some time with Haley Divinis, a white woman who moved into Point Breeze, a South Philadelphia neighborhood that used to be almost all black, but has seen rapid development in recent years.
I moved there knowing that I would be a minority, and I wanted that experience … I understand that is wrapped up with a lot of privilege, even making that kind of statement, but I wanted to be in a place where people worked hard, and they were all different, and they lived in a community of people that looked out for each other.
Well, today on WHYY.org, we read about the transformation of Society Hill, from a working class neighborhood to a place where houses cost millions of dollars. It happened over the course of a few decades — not long really. Imagine if that were to happen all across Philadelphia, Kevin.
KM: Well, you know for some people it'd be like winning the lottery, for other people not so much. It kind of depends on if you have equity in the neighborhood or not. But if you can't afford to stay, and you just don't feel at home anymore, you kind of feel like you're on the losing end of this conversation.
AC: Jennifer, our reporters talked to Ken Steif a bit about what's at stake. Steif's a professor at the University of Pennsylvania.
The very simple reason for gentrification is that people love to live in cities. Cities are great places. They're vibrant places. They're places with great density of interesting people and things to do.
KM: You know Philadelphia's boom is not anywhere near the level of San Francisco's at this point, which leaves some more options for how neighborhoods are gentrifying. And in one interesting twist in the series, we hear the story of East Germantown. There, a middle class community of African-Americans are trying to be proactive about gentrification ahead of the developers and wealthier whites. Here's Marc Lamont Hill, a Temple University professor and activist who recently opened a coffee shop and bookstore in Germantown.
I can't reverse gentrification with one bookstore, but what I can do is help model and be part of this whole movement of people who are modeling alternatives to what gentrification looks like.
All this said, what did you find in working on this series?
AC: We found that there are many different experiences across the city. It's one thing to see it in the data. It's another thing to hear from those living it up close.
KM: Absolutely. There's many thoughtful people out there of all ages, races, incomes, who have important stories to tell, and we're really hoping this series gives them that platform.
WHYY is your source for fact-based, in-depth journalism and information. As a nonprofit organization, we rely on financial support from readers like you. Please give today.