From Ukraine to Delaware, refugee artist showcases her work at this weekend's Brandywine Festival of the Arts
Ukrainian artist Oksana Pivush's passion for jewelry making will be on display among hundreds of other artists this weekend.
Listen
1:14
Eight months ago, Oksana Pivush made a life-altering decision to leave her homeland in Ukraine in pursuit of a better life. Her destination: Wilmington, Delaware.
Following Russia's invasion of Ukraine in early 2022, everyday life had become a struggle, Pivush said. She applied for aid in coming to the U.S. through the Uniting for Ukraine program, which landed her a supportive sponsor.
"Дуже чудові люди допомогли мені та стали моїми спонсорами й заповнили документи. Після приїзду я жила у них."
"Very good people helped me come here. They acted as my sponsors and filled out the documents for arrival. Upon arrival, [for] three months, I lived with them," said Pivush.
Now, she lives independently, working as a housekeeper at the Hyatt Place Hotel on the Wilmington riverfront. She's been struggling to make ends meet, but has been motivated by the thought of her daughter and son-in-law arriving this month through the same program.
In addition to that long-awaited reunion, Pivush has been anchored by her creative passion for the art of jewelry making. She calls it a way to find calmness in a foreign space.
"Моє хоббі і моє життя у створенні "прикрас. В Україні я цим займалася і продавала туристам нашого міста," – сказав Півуш. "Створення прикрас мене розслабляє, я понурююся в свої мрії та фантазії."
"My hobby and my life is in the creation of jewelry. In Ukraine, I was engaged in this and sold it to tourists of our city," said Pivush. "Creating jewelry relaxes me, I immerse myself in my dreams and fantasies."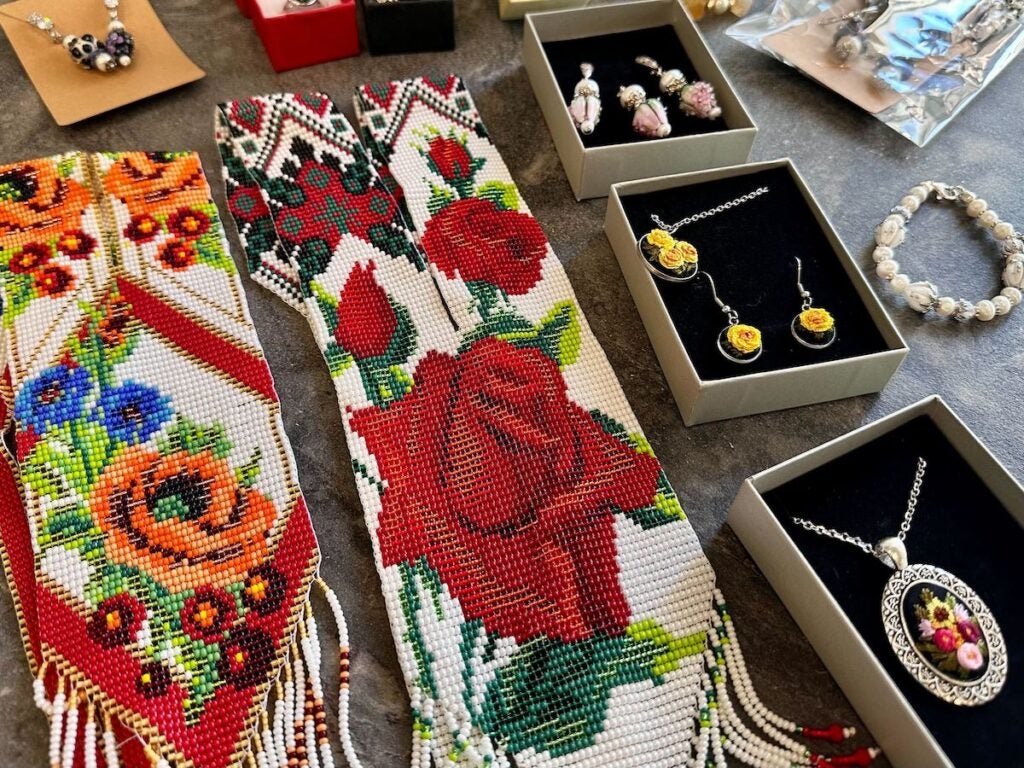 Pivush started jewelry making at a very young age. She loves making a fusion of pieces from bracelets with laces, necklaces, earrings with micro embroidery, and even beading.
Continuing her jewelry business from Ukraine in the U.S. has presented new challenges, but within a few months of her arrival, she created an Etsy page where she hopes to sell her product not only in the U.S. but internationally.
She's hopeful an opportunity to display her work at the Brandywine Festival of the Arts this weekend will help.
"Мої маленькі олені мені сказали ті Валі," — сказала вона. "так де мені сказали, аби там Валі Я була очень щаслива, і я сразу же начала Катовіце, і даже послі работи в свої вечірні часи я є, що діяла і украшения."
"I was very happy when my friend told me about this festival," she said. "When I was told about this festival, I was very happy and I immediately started preparing. And even after work in the evening hours, I also make jewelry."
She hopes the festival will help her grow her business, gain exposure, and create new relationships that will lead to future sales.
"надіюсь показати і Валі показати мої украшения, і показати стрічку України ж тобі люді по знаку, і за мной, і з нашої культури," — сказала вона.
"I hope to show myself at this festival, show my jewelry, and show a piece of Ukraine so that people get to know both me and our culture," she said.
'I just think it goes a long way'
For decades, the festival has marked the unofficial start of the fall season, said Barry Schlecker, executive producer of the Brandywine Festival of the Arts since 2010.
The annual event, taking place on September 9 and 10, typically features a diverse group of more than 200 artists including local and regional talents.
Schlecker says more than 5,000 people visit the festival per day, enjoying the day with food vendors, children's play, and a beer garden.
"We brought in family activities, face painters, we brought in some music," he said. "We added alcohol so dad can grab a beer, take the kids over to get their face painting, and mom can start shopping for the holidays or for the house."
The talent includes a variety of artists from painters and watercolorists to sculptors, potters, and jewelers like Pivush.
Every year the festival gives away about ten spots to artists in need who can't afford to present their work.
"We certainly have room and we make room for those people. And it's been working out very well because eventually those people continue to get better and better," he said. "We're all in this together. And the more we can help out, I just think it goes a long way and has a ripple effect on other people."
The festival runs from 10 a.m. to 6 p.m. on Saturday and 10 a.m. to 4 p.m. on Sunday at the Brandywine Park located at 1001 North Park Drive in Wilmington. Later this year, organizers hope to host a similar event called the Holiday Gift Show on December 16-17.
WHYY is your source for fact-based, in-depth journalism and information. As a nonprofit organization, we rely on financial support from readers like you. Please give today.