$1 million gift extends free Sundays at Delaware Art Museum
Free admission for all on Sundays has become a tradition at the Delaware Art Museum.
Now the museum on Wilmington's western edge has received funding from the DuPont Company, which recently gave $1 million so the Free Sundays program can continue for at least five years. That will help the museum share its treasures with more residents, especially those of modest means.
The sprawling museum near Rockford Park has more than 12,000 works. It's known for its collection of work by legendary illustrator and city native Howard Pyle. And its British pre-Raphaelite art collection is the largest outside the United Kingdom.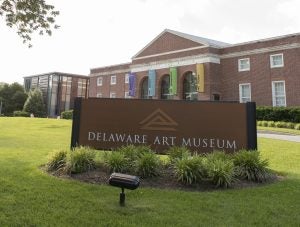 One featured exhibit celebrates the long history of contemporary crafts. Included in the exhibit are ceramics, woodwork, furniture, jewelry, textiles, metalwork and leather.
To experience that diversity of art and culture, a family of four would usually pay $32, said development director Molly Giordano.
"That can still be costly for some families, and especially visitors who are not that comfortable in museum settings," she said. "They are not sure they want to make that investment.
To that end, the museum waives admission fees on Sundays and Thursday nights "to kind of entice them to come back for new programs or even get them to join as members," she said.
Giordano said first-time visitors are pleasantly surprised by what the Delaware Art Museum, which is much smaller than the Philadelphia Museum of Art, offers.
"I get a lot of comments from people who perhaps didn't think the experience would be as moving for them,'' she said. "It's a place of respite. It's a place for families to come together, and learn together. It's a place for people to express creatively."
"I think a lot of people consider museums and the arts to be a luxury, but I don't think having a space to renew your creative energy is a luxury at all," she said. "It's something that's often overlooked in our culture.''