Freda Payne is mesmerizing as 'Ella: First Lady of Song'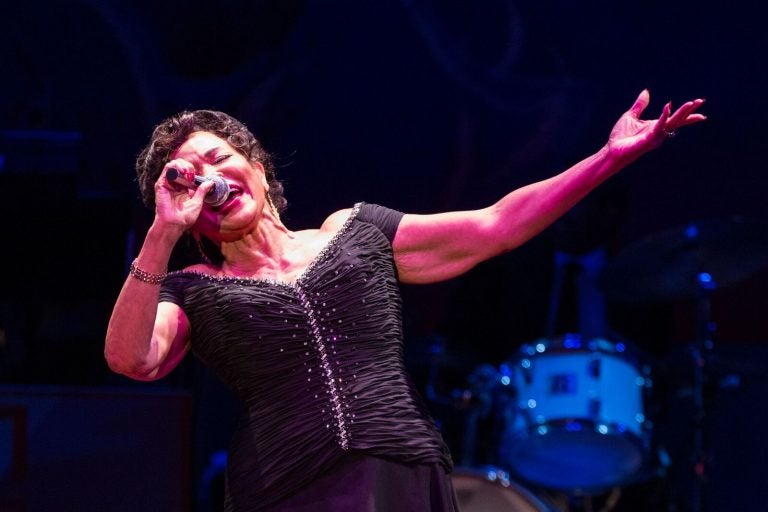 As a child growing up on the mean streets of New York, Ella Jane Fitzgerald once shared a prescient thought with her playmates: "Someday you're going to see me in the headlines. I'm going to be famous."
Unlikely as it seemed at the time, the plucky young performer realized her own prophecy to become one of the most celebrated singers of all time.
"Ella: First Lady of Song" traces the 60-year career of the woman Mel Torme called "the best singer on the planet." The formidable task of channeling that woman falls to gold-record recording artist Freda Payne, whose jazz stylings and inventive improvisations dazzle in a musical review of some of Fitzgerald's signature songs.
From the Apollo Theater to the Cote d'Azur, the play covers Fitzgerald's hardscrabble childhood to her enduring legacy in the music world and beyond. Through flashbacks, we learn of her abusive stepfather, her life on the streets and her often complex relationships with her younger half-sister Frances and cousin/companion Georgiana.
Fitzgerald's was a life of great artistic success but profound personal pain. Lovers and husbands jilted her.  Particularly poignant was her revelation to Georgiana that a botched abortion had robbed her of her ability to bear children, leading to an emotional rendition of the song "The Nearness of You."
Payne is mesmerizing as Fitzgerald. Who better to play the role than a vocalist who's been told that she's an Ella sound-alike ever since she was 17? Applause erupted as she applied her multi-octave voice to songs like "Oh, Lady Be Good," "Mack the Knife," "Sweet Georgia Brown" and, of course, "A Tisket-A-Tasket" and "It Don't Mean a Thing (If It Ain't Got That Swing)," chronicling Fitzgerald's life milestones through song.
The cast is rounded out by Jake Blouch as Norman Granz, an important figure in the history of jazz who fought for desegregated audiences long before the civil rights era. Granz would also go on to establish Verve Records, enabling Fitzgerald to record songs of favorite American songwriters that boosted her career.
Wynonna Smith delivers a plucky young Ella and an endearing Frances. Harriet D. Foy turns in a strong and convincing performance as Fitzgerald's personal assistant and cousin Georgiana. She may be a second banana in the show but certainly not in the talent department.
Pianist and conductor William Foster McDaniel kept things swinging, bebopping and generally jazzed up throughout the evening. He was joined by Marcell Bellinger (trumpet), Brent White (trombone), Vernon James, Jr. (tenor sax), Steven Palmore (bass) and Kenneth Crutchfield (drums). Crutchfield and Palmore had speaking roles, playing band leader Chick Webb and Ray Brown, Fitzgerald's surly, philandering spouse, respectively.
Colin McIlvaine's set design was effective in its simplicity. Two simple tables—one from Fitzgerald's personal life and the other from her professional life—provide the setting for telling the behind-the-scenes story of Fitzgerald's life. Much of the important information is delivered via two telephones.
Nicholas Hussong's clever projections of the era's headlines and pictures were very helpful in documenting Fitzgerald's meteoric rise to stardom and placing it in historical context.
Costume designer Emilio Sosa carefully dressed Fitzgerald down to the finest detail of the era.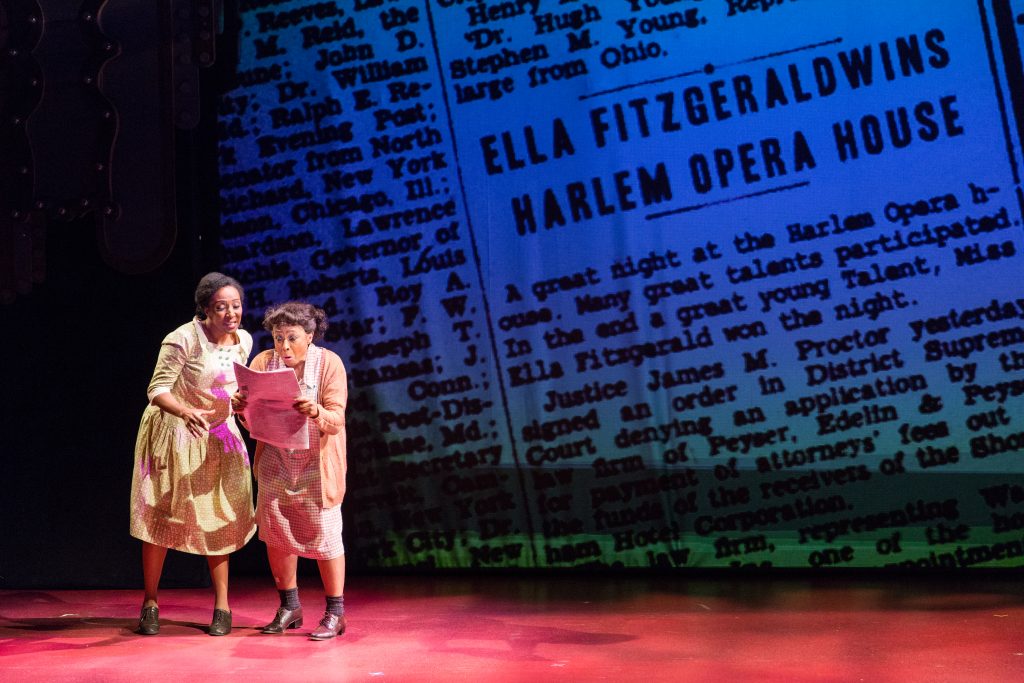 If you love Ella, the Great American Songbook, jazz, swing, bebop or just plain great singing and acting, run out and buy tickets right now. You're guaranteed to leave the theater singing.
"Ella: First Lady of Song" can be seen at the Delaware Theatre Company in Wilmington now through May 13. For more information and to buy tickets, visit www.delawaretheatre.org or call 302-594-1100.