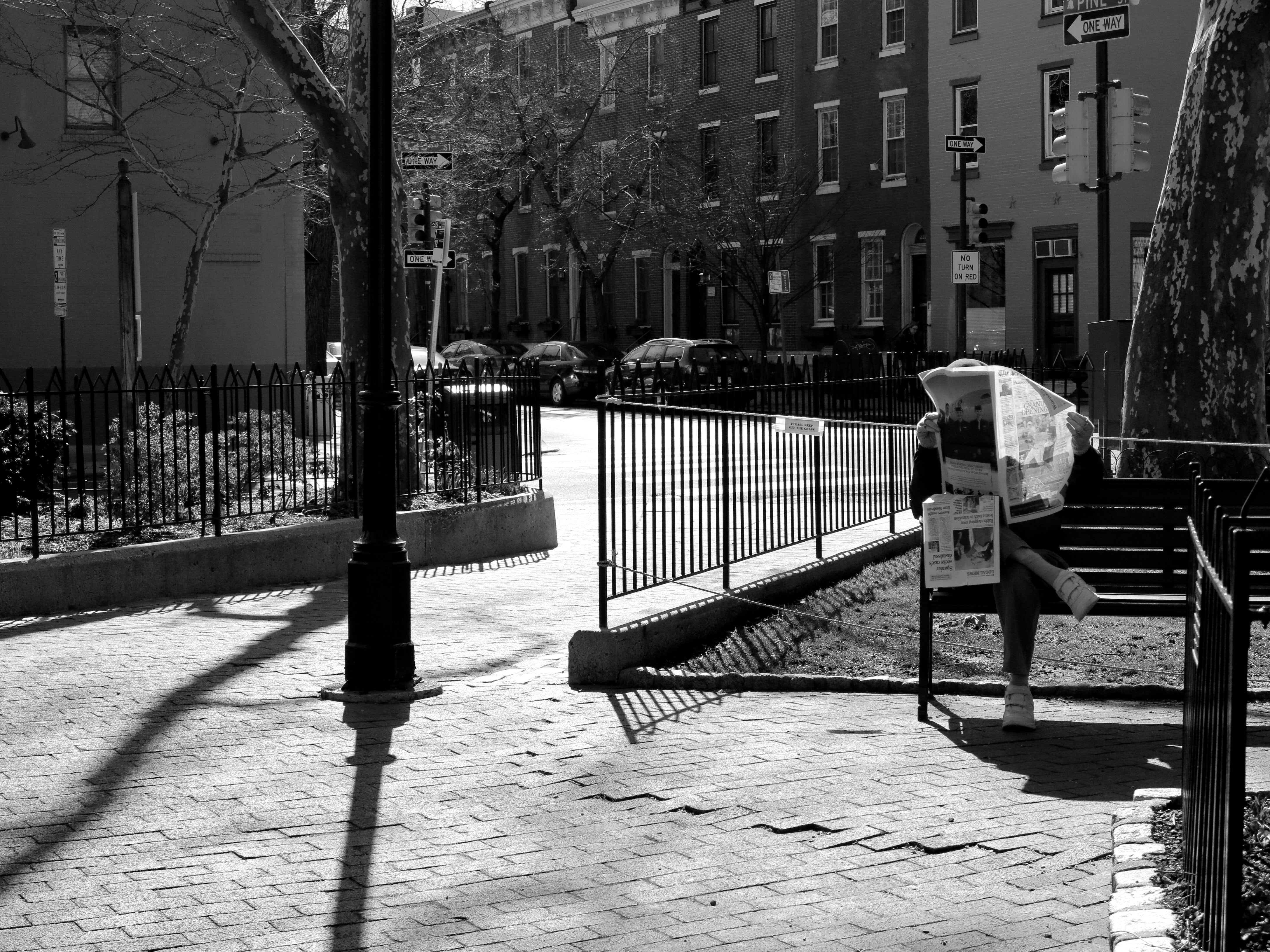 "They're back and they're beautiful," said Cecil Smith, enjoying his first spring morning in Fitler Square, sitting on one of the square's 14 new benches. Smith says he enjoys the atmosphere of Fitler – one in which residents invest their time and energy to making the park a nice place to be. "It's an admirable enterprise. It's quite marvelous."
As he says it, Admirable and Marvelous walk up in the form of Judy Romano Zimering and Derek Freres, devoted Fitler Square Improvement Association (FSIA) board members who have helped lead the park through a recent era of impressive physical improvement, in partnership with the Department of Parks and Recreation and Councilman Kenyatta Johnson.
Fitler Square's new benches and upgraded lighting, April 2014

Fitler Square, April 2014

Fitler Square, April 2014

Fitler Square, April 2014
In the last few weeks Fitler Square's lighting and benches have been replaced. The $10,000 LED lighting retrofit means the park will use 75% less power, its lights are dark sky compliant, and they are less resource-intensive because LEDs require less frequent replacement. And thanks to $36,500 in city capital funding from Councilman Johnson, all 14 of Fitler's tired benches were just replaced.
"We know other parts of the city are in more need than us but we are taxpayers too," said Zimering. She has been president of FSIA since 2001 and is very appreciative of the way public partners have worked with the Fitler Square Improvement Association to facilitate improvements to the park.
The lighting and benches are just the latest improvements in what has been a multi-year campaign to overhaul Fitler Square's appearance. It began with a campaign in 2011 to restore the central fountain, and make it less of a water-waster by installing a water recirculation pump. As any home-improver knows, once one thing looks good, older elements start to look shabby by comparison. So the fountain project led to other upgrades.
Last summer FSIA spent $17,000 to repair and repaint the park's iron fence – installed in the 1960s – and $11,000 to upgrade the irrigation systems. Later this year FSIA hopes to repair the fountain's basin, is considering how to light the fountain, and plans improve sections of the brick pathways through the park.
Fitler Square Ram and friends, April 2014

Kiddos in Fitler Square, April 2014

Fitler Square: Dog Free Zone, April 2014

Fitler Square's reseeded grass is a dog free zone, April 2014
Fitler Square's lawns were recently reseeded and are roped off, and they were designated "dog free zones" last year. It's a new approach Fitler Square is trying out, with the blessing of the Department of Parks and Recreation, to better balance the needs of different park users. Leashed dogs are permitted on the paths, but the lawns are restricted to people.
Keeping dogs off the grass is "more about safety than anything else," explained Freres. Both Freres and Zimering are dog-owners but FSIA felt that reserving the lawns as inviting places for people to picnic or for small children to play was important.
"It's really become a haven for toddlers here," Zimering explained. That's a different reality than when she joined the board 24 years ago, when she said most park users were adults. How times have changed. On any nice day throngs of little people are manhandling the parks brass animals –a turtle family, bear, and ram – and there is frequent chalking in the park by small hands.
One focus of FSIA has been to create programming – from holiday lighting, spring fair, and an annual egg hunt – that invites families to participate in the park. Zimering said that "fluffy" stuff has actually helped build more community around Fitler Square. That, in turn, creates opportunity for all of those young families to become FSIA members. Membership contributions, which currently yield an average of $35,000 annually, allow FSIA to spend so generously on these improvements and keep up with plantings and tree work.
Fitler Square Improvement Association president Judy Romano Zimering and board member Derek Freres

Judy Romano Zimering updating the bulletin board
WHYY is your source for fact-based, in-depth journalism and information. As a nonprofit organization, we rely on financial support from readers like you. Please give today.