First lady Melania Trump visits Philly to support tracking system for babies born in opioid withdrawal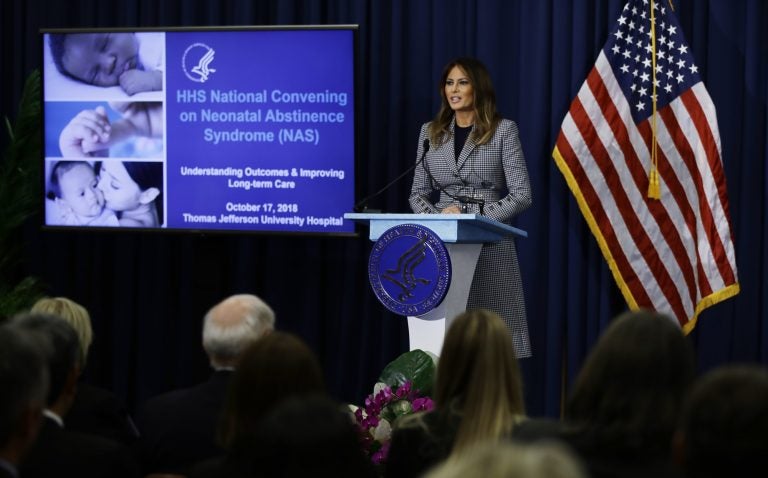 After a brief delay due to mechanical failures on her plane, first lady Melania Trump arrived in Philadelphia Wednesday to speak about infants affected by the opioid crisis.
She spoke alongside Health and Human Services Secretary Alex Azar at the National Convening on Neonatal Abstinence Syndrome. NAS is a diagnosis given to babies born into withdrawal because their mothers used addictive drugs while pregnant. The first lady is focusing on the opioid crisis as a part of her BE BEST children's campaign.
The first lady has been touring hospitals and meeting with clinicians around the country as a part of her initiative. During her Philadelphia trip, she met with families whose children have been affected by NAS in the neonatal unit at Thomas Jefferson University Hospital.
"There are few things harder to bear than seeing a newborn suffer, and I'm anxious to do all that I can to help shine a light on this epidemic," she said.
The national conference on NAS, hosted by Jefferson, brought pediatricians, neonatologists, policy experts, and researchers from around the country together to discuss the potential for a NAS tracking system, a database that could help hospital and health care systems share information in order to improve follow-up care for children diagnosed with NAS and exposure to opioids in utero.
According to the Department of Health and Human Services, one percent of children in the United States is born with NAS. Infants born with withdrawal symptoms are generally kept in the neonatal intensive care unit for anywhere from a few days to a few weeks while they are monitored and weaned off the addictive drugs in their system if necessary.
However, withdrawal can come with ongoing complications. Babies with NAS are more likely to have developmental and cognitive delays. They are also more likely to suffer neglect and to be placed in foster care, which comes with its own set of risks. Most states, including Pennsylvania, do not have comprehensive systems for tracking these long-term impacts.
Jefferson Hospital in Philadelphia has been working to treat babies born with NAS for years through their Maternal Addiction Treatment Education and Resource or MATER program for pregnant and parenting mothers with substance use disorder, and My Sister's Place, a center for mothers working towards reunification with their children.
Between 2000 and 2015 in Pennsylvania, the number of children hospitalized because their mothers used drugs during pregnancy quadrupled from 788 to almost 2,800. Gov. Tom Wolf's statewide emergency declaration for the opioid crisis required hospitals to report instances of infants exhibiting withdrawal symptoms to the Department of Health. The high number of babies diagnosed with NAS has overburdened foster care systems in states like Alaska, Kansas, and Ohio.
Cindi Swafford, a foster mother from Ohio who has cared for many and adopted two children with NAS, agrees the government should help coordinate systems of care for these children. As it stands, said Swafford, it's hard for biological mothers, children, and their foster parents to work together to get adequate health care for the children, reunify families, and aid the mothers in recovery. Though she is not struggling with recovery herself, Swafford said even for her, navigating the health care system for children with NAS has been stigmatizing."I'm not a mom still in addiction, trying to do the best that I can, and I have felt shame and guilt in offices with different providers," Swafford told the room of health care providers and researchers.
"I know what that feels like for me; I can't imagine if I had the added insult of being a recovering addict as well," she added. "I've not yet met a mom who wanted her child to suffer as a result of her addiction."
In September, the Trump administration announced it would award $1 billion to local governments to help combat the opioid crisis. Pennsylvania received $66 million from the Substance Abuse and Mental Health Services Administration or SAMHSA to expand recovery and support services, including medication-assisted treatment, which is commonly used to help mothers who are addicted to opioids both during and after pregnancy.
Earlier this month, Congress passed a set of bills designed to increase funding and support to fight the crisis. The bills, known as the SUPPORT Act, offer states the option to increase residential pediatric recovery center services to infants with NAS, and require Secretary Azar to issue guidance on NAS within a year. The bills passed with bipartisan support and are expected to be signed imminently by President Donald Trump.
WHYY is your source for fact-based, in-depth journalism and information. As a nonprofit organization, we rely on financial support from readers like you. Please give today.