Fighting the good fights with 'The Revolutionists'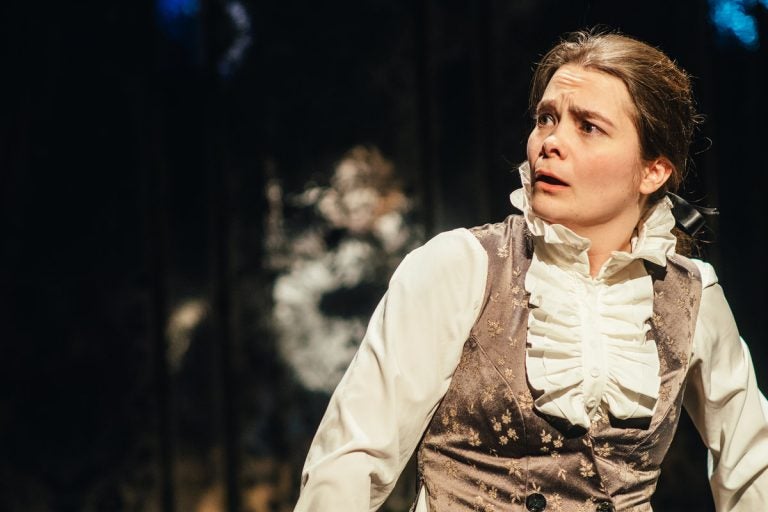 "The Revolutionists," about four women who insist on playing roles in the French Revolution, is the most serious modern comedy I know. Its production at Theatre Horizon fits the play perfectly, alternating between lightheaded and tragic, fluidly moving from mood to mood without being forced.
Lauren Gunderson, the crafty San Francisco-based playwright who wrote "The Revolutionists," classifies it several ways in her script: "A Comedy. A Quartet. A Revolutionary Dream Fugue. A True Story." That last one is not really the case; three of the play's four characters were real and the fourth is a composite. And although the play captures the revolution's elations and horrors, its gist springs completely from Gunderson's lively imagination.
Picture this: A playwright named Olympe (Olympe de Gouges was a feminist playwright) sits at her writing desk, trying to come up with the definitive stage piece that captures the revolution.  In comes a black woman named Marianne (a composite representing women opposing the French in Haiti) to see what Olympe is working on, and to seek a well-written declaration for her own cause. But Olympe's too busy trying to create a play. "I want to challenge audiences … really push them," explains Olympe. "This is our time to make a better world for everyone… who sees my plays."
Responds Marianne: "You're always so close to selflessness."
Soon enough, there's a knock at the door, and in walks Charlotte (Charlotte Corday, a French activist).  She says she needs a really good exit line because she's about to kill the journalist Jean-Paul Marat, whom she holds responsible for many deaths so far in the revolutionary violence. "My actions will be talked about for centuries and I don't want to sound like a dingbat," Charlotte says.
Those demands on the playwright would be enough — and then the deposed queen, Marie Antoinette, shows up. "I'm here for a rewrite," she tells Olympe. She needs better press.
What's a poor playwright to do? The answer comes in Gunderson's play, in which these modern-talking women prod, tease and comfort each other as the guillotine outside the door falls repeatedly through the days and the lofty ideals of the revolution vanish in pools of blood.
Kathryn MacMillan's snap-snap direction moves the repartee swiftly and brings out the best – and sometimes, the worst – in these women, whose portrayals by four Philadelphia-based actors are distinct and impassioned.  Charlotte Northeast infuses Olympe with an unwavering belief in the power of art – her art, but OK – and clearly shows us that behind Olympe's lofty blather is often … more blather. Jaylene Clark Owens gives us a Marianne who appears not just street smart, but savvy about the French both in Paris and in her native Saint-Domingue (now Haiti), where the citizens are deep into their own revolt against the French in 1793, when "The Revolutionists" takes place. Owens' Marianne is a walking pronouncement whose body-length sash declares "Revolution for All." (The costumes are by Janus Stefanowicz.)
Clair Inie-Richards, as Charlotte, makes her plan to murder the hated Jean-Paul Marat seem the most sensible idea a gal could conjure. When Inie-Richards tells us the character's an assassin and "it is fun," we believe her. Jessica Bedford, as a primped and spoiled Marie Antoinette, has many of the best lines, delivered here with perfect timing and a nonstop whiff of unquestioned entitlement.
When things get tough in "The Revolutionists," they're deadly – no matter how much fun Gunderson has with these four hip women, they still must live in a France overtaken by anarchy. Olympe, the writer, ultimately understands her limits. "Fiction," she tells Marie Antoinette, "I can fix. Reality is way too hard to write." When you mix both, Gunderson shows, you can get a rich cake. And as Marie might say, let 'em eat it.
—
"The Revolutionists" runs through Feb. 25 at Theatre Horizon, 401 DeKalb St., Norristown. 610-283-2230 or theatrehorizon.org. The show is a part of Philly Theatre Week, through Feb. 8. Discount tickets may still be available. Visit http://bit.ly/2ChPMmV.