Revised PennEast pipeline faces 2 month delay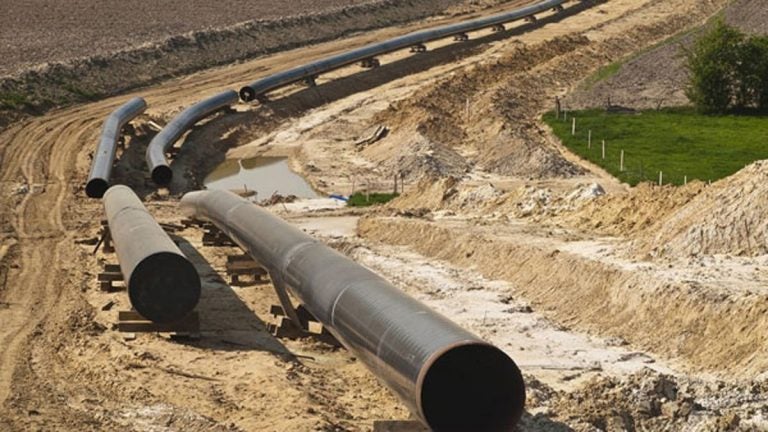 The proposed PennEast pipeline is running into new delays.
The Federal Energy Regulatory Commission this week announced a second setback, putting off review of the company's planned 118-mile gas pipeline through parts of Pennsylvania and New Jersey for at least two months, or until February 2017.
The PennEast Pipeline Company LLC also was told to submit reams of new data and make corrections in its application to build the project, which has triggered widespread opposition in both states.
The latest move by the federal agency follows a decision earlier this fall by the company to propose dozens of modifications to its route through the two states, designed to run the pipeline along existing transmission lines and avoid wildlife habitats.
"Growing opposition, delays, and major red flags from federal and state agencies show that this ill-advised pipeline is certainly in jeopardy,'' said Tom Gilbert, campaign director for the New Jersey Conservation Foundation. "There is so little data on which to base PennEast's application, FERC had not choice but to delay the review.''
But Patricia Kornick, a spokeswoman for the company, downplayed the significance of the FERC delay.
"Building vital energy infrastructure is a multiyear process, so an additional 60 days for FERC to finalize its environmental review is not surprising, particularly since PennEast — largely in response to landowner and agency input — recently made 33 route modifications to minimize environmental impact,'' Kornick said.
PennEast looks forward to continuing through the process, she said, and still anticipates the pipeline being operational in 2018.
The $1 billion-plus project begins in Luzerne, PA, and crosses the Delaware River into Hunterdon County before ending in Mercer County. It is one of more than a dozen new gas pipelines that have been proposed or approved in New Jersey in the past few years, all delivering fuel from the Marcellus Shale formations in Pennsylvania.
Among the numerous new requirements sought by FERC is a request to examine various alternative routes and to consult with federal and state agencies involved in the project's review. However, the company has not been required to explore "no build'' alternatives as many opponents have sought.
In addition, foes have repeatedly argued that the company has failed to demonstrate the project is needed. "Ample evidence exists from experts, including the New Jersey Division of Rate Counsel, that the PennEast pipeline is not needed for future supply or demand for gas,'' said Jim Waltman, executive director of the Stony Brook-Millstone Watershed Association.
The project also has raised concerns about its potential impact on drinking-water supplies by mobilizing naturally occurring arsenic into groundwater, an issue identified by the U.S. Department of Interior.
WHYY is your source for fact-based, in-depth journalism and information. As a nonprofit organization, we rely on financial support from readers like you. Please give today.