February 17: DRPA pork at PATCO's peril | Roxy theater reborn | Art Commission asks for reworked Museum of American Revolution design | plannerly reasons #whyilovephilly | Keep LOVE Park's visitor center | Trivia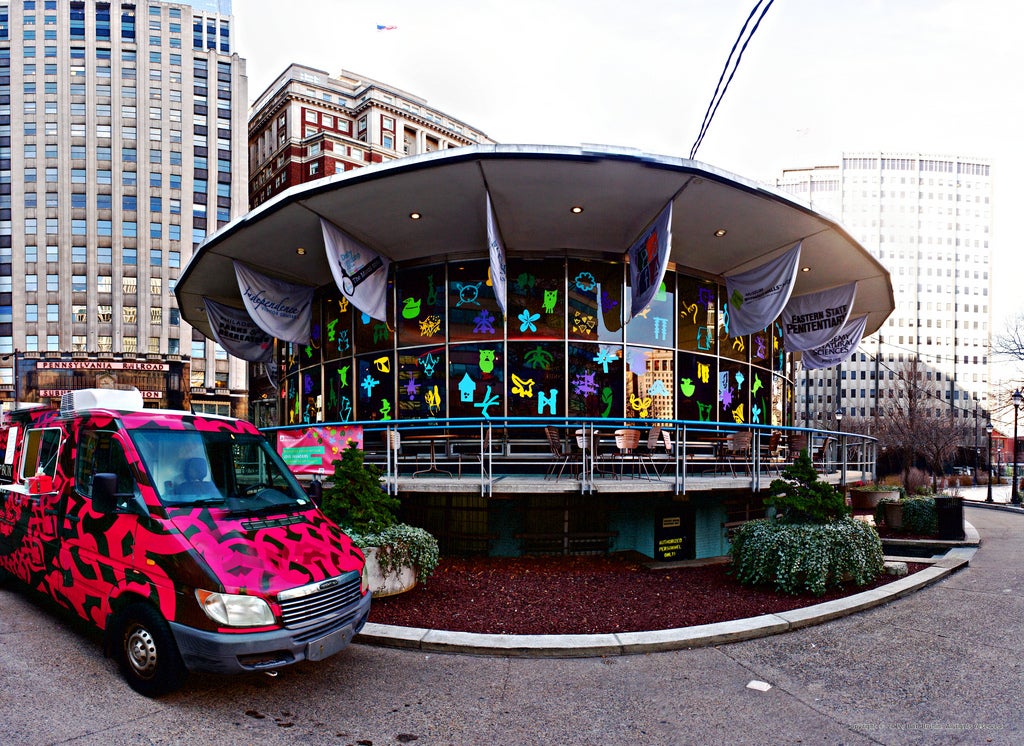 Happy Presidents Day, Streeters. Even though today's a holiday and government offices, schools and libraries are closed, curbside trash pickup will occur as regularly scheduled. Whatever you're up to just be careful of all of the icy spots leftover from last week's storm.
The Delaware River Port Authority's years of funding pet political projects, now the subject of a federal investigation, are catching up with PATCO as its infrastructure crumbles. Karen Heller recounts the ways PATCO's stations, accessibility, customer service, and tracks are a mess and commuters are paying the price. "In December, the former port-of-pork borrowed half a billion dollars to pay for bridge repairs and PATCO car improvements. Half a billion dollars, you may recall, is almost the amount the DRPA spent in its drunken-sailor days on projects that did nothing to make the trains run safely or on time."
The reborn Roxy movie theater "symbolizes all that can go wrong with what seems, on paper, to be simple: reopening an old movie theater," writes the Inquirer's Maria Panaraitis. The movie theater's renovation ended up costing nearly four times the initial budget, as more of the theater was removed and more problems were discovered. But with diverse funding sources and a complete overhaul, the Roxy reopened to sold out weekend shows.
The Philadelphia Art Commission told architect Robert A.M. Stern Architects to go back to the drawing board to rework designs for the new Museum of the American Revolution at 3rd and Chestnut streets. Inga Saffron describes the Art Commission's critiques of the building's cheap phony-colonial design. "The Revolutionary War museum was conceived as an abstracted, flattened version of Independence Hall, complete with side wings and the clichéd cupola. But its massiveness and modern materials – including a panelized veneer of thin bricks – would make it more cartoon than homage." Plus the Chestnut Street façade is a blank brick wall at street level, creating a deadening presence. Just how much the Art Commission's critiques will reshape the design remains to be seen.
For Friday's #whyilovephilly Twitter campaign we asked for your best, plannerdly reasons for loving this city. The Planning Commission's Philadelphia Planeto blog took it next level offering their five plannerly reasons to love Philly.
Don't devalue the quirky mid-century modern visitor center in LOVE Park redesigns, argues the Preservation Alliance's Ben Leech on Hidden City Daily. The round mod building could be cast aside as the reshaping of LOVE Park seeks to balance the need for green space as well as revenue-generating concessions. To Leech, "Even if its current visitor center use is value-engineered out of the new park's programmatic vision, the building still presents a wide variety of creative reuse options. Café? Martini bar? Bicycle station? Yoga studio? The City wants to see Love Park transformed into a model 21st Century urban space, but is blind to this major 21st Century preservation opportunity at its doorstep."
If you've got the day off:
The Buzz is Eyes on the Street's morning news digest. Have a tip? Send it along.
Follow us on Twitter @EOTSPhilly | Like us on Facebook | Share your Philly photos in our Flickr Group