February 10: Helen Gym on protecting pedestrians | Kenney preservation bill in limbo | Capping U City rail yards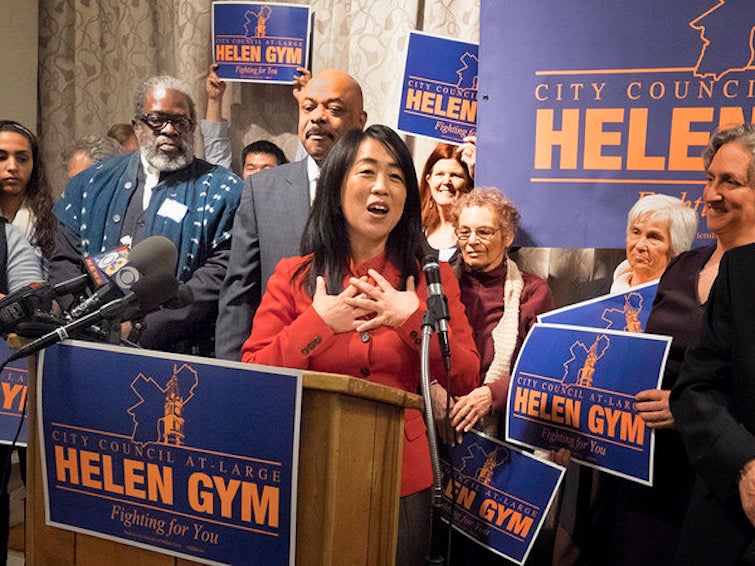 One interesting thing to watch this spring will be whether any City Council candidates grab the baton and run with the Bicycle Coalition's Vision Zero message. At Helen Gym's At-Large Council campaign kick-off yesterday, the public education advocate promised to fight for "a walkable city that protects pedestrians and cyclists alike" and gave a shout-out to "the cyclists riding to work each morning and night, whether they are the most recent generation of immigrants to settle in South Philadelphia, or entrepreneurs creating a tech boom on North Third Street."
Bills offered by Jim Kenney are in limbo now that he's no longer a Councilman. That includes his plan to beef up the Historic Commission and put more properties on the local historic register.
A poll commissioned by Michael Nutter's campaign committee found surprisingly high marks for the incumbent Mayor and the city's overall direction, with 45% saying the city is on the right track, and 57% expecting Philly to be a better place to live four years from now. Take the poll with a grain of salt , but to be fair, Garin-Hart-Yang is a highly respected pollster and the margin of error is only 4%.
Here's the second part of Holly Otterbein's interview with Anthony Williams in which she manages to decipher that he supports the tax shift from wages and business onto real estate.
Steve Stofka goes deep on what's involved in capping the rail yards in University City.
Erin Arvedlun talks to the guys who are trying to turn around the Spring Garden and Ridge Ave corridors.
Boston is opening up 200 city-owned parking spaces in city lots for rent to car-share companies like Zipcar, to avoid repurposing public curb parking spaces.
WHYY is your source for fact-based, in-depth journalism and information. As a nonprofit organization, we rely on financial support from readers like you. Please give today.