As autumn gives way to the gray days of winter, Autumn's days are numbered too .
Back in October, I reported on Autumn, a mural in Bella Vista, which will likely be lost to a new rowhouse proposed for the corner of 9th and Bainbridge.
This neighborhood story touched a nerve, raising questions about place attachment and NIMBYism, critiques of architectural conservatism, and considerations of the valuable role murals play as temporary improvements as vacant lots in transitional neighborhoods await developers. As a group of neighbors channeled their disappointment into challenging the development and even raising $250,000 to buy the surface lot that Autumn overlooks, threads of the story were picked up in the Inquirer, NewsWorks, Pocono Record, beyond as an AP story was printed in papers all over the country.
So, here's an update:
Autumn's days are numbered. The developers obtained the zoning variance they were looking for, and all signs point to the townhouse construction at 631 South 9th Street moving forward. This was, however, a technicality. The development proposed was otherwise as-of-right, and murals are not a zoning matter. Which is what the Zoning Board of Adjustment told the neighbors who contested the project at a ZBA hearing. On November 9, ZBA granted a Notice of Decision [pdf], permitting the development as planned.
Not much of a surprise. Zoning became a defacto battle ground for the mural because concerned neighbors had nowhere else to voice their complaints. Neighbors seemed surprised by their own strong attachements to Autumn, something they may have taken for granted before. I think few truly believed a zoning appeal would be effective in halting the development.
The mural, more properly known as Autumn (Your House in the Forest), was created by David Guinn 10 years ago as part of his Seasons series painted for the Mural Arts Program. Guinn considered legal action against the developer under the Visual Artists Rights Act but has not pursued that avenue. Guinn is disappointed about the outcome but doesn't seem surprised. He told me via email this week:
There are other factors besides financial interests that matter in the life of an individual, a community, a city. In the case of the autumn mural, it is not a choice between something and nothing- ( a vacant lot or a house) but a choice between a beloved mural, with an income generating parking lot, or a house. I think the neighborhood spoke pretty clearly that they wanted the mural (and parking lot) more than a house at that site."
The lot at 631 South 9th was recently fenced and work could begin any day now. Neighbors I spoke with continue to hold out hope for Autumn's future in Bella Vista – either where it stands or in some new location.
Here's an conceptual rendering of the contemporary rowhouse that will replace Autumn: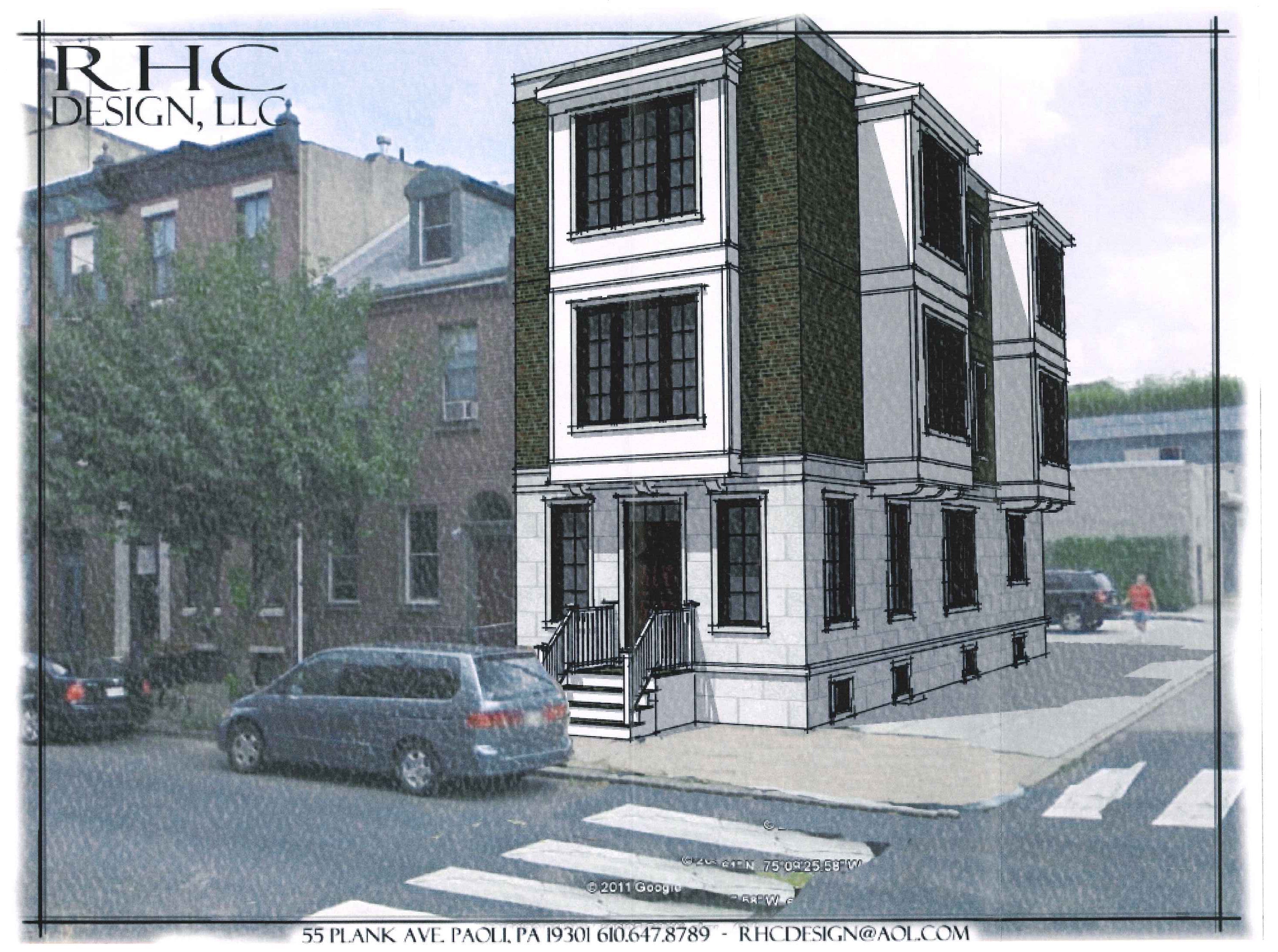 ———
Previously on Eyes on the Street:
WHYY is your source for fact-based, in-depth journalism and information. As a nonprofit organization, we rely on financial support from readers like you. Please give today.