Facing uncertainty SOSNA embarks on strategic planning process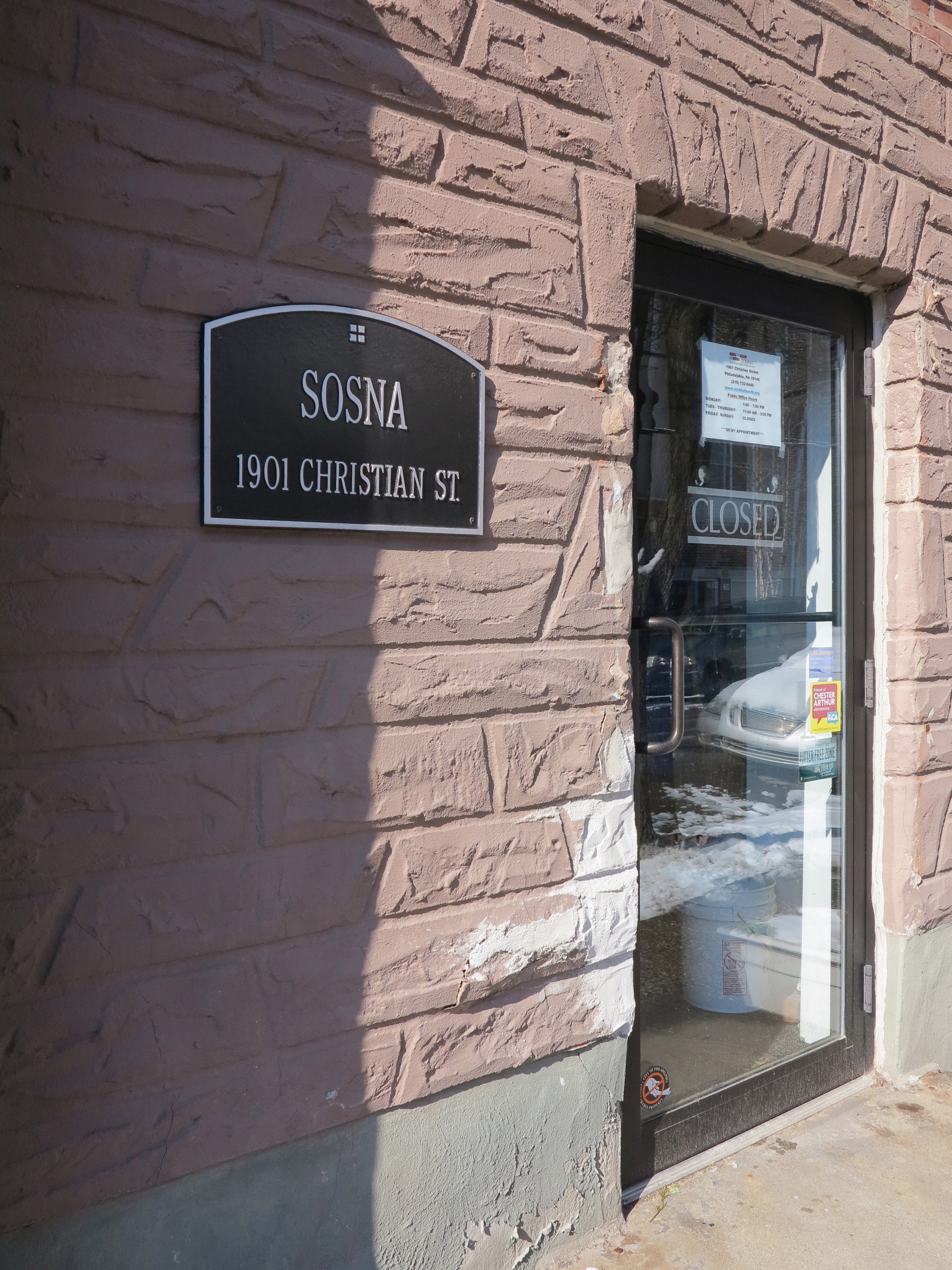 Most folks come to the South of South Neighborhood Association's office at 1901 Christian Street for a recycling bin, but the group is much more than blue bins. South of South Neighborhood Association (SOSNA) is widely seen as a model civic association, a well-oiled machine that facilitates community participation in development conversations and neighborhood initiatives; helps coordinate city services to resolve issues; and serves as a hub for neighborhood information.
Its single paid staffer, Andrew Dalzell, is a one-man-band. He's in the office fielding phone calls, helping neighbors answer questions, and spreading the word about all things affecting the area from South Street to Washington Avenue, the Schuylkill River to South Broad.
But there is uncertainty on SOSNA's horizon as its primary funding source and office lease both expire in 2014.
SOSNA kicked off a strategic planning process this month to help the organization respond to these changes and forge a path forward.
The plan will inform SOSNA's fundraising efforts and help it respond to changing neighborhood needs and shepherd the group into a new era. The first step is a neighborhood survey to learn how neighbors use and value SOSNA's work, and what SOSNA should prioritize over the next five years.
Without a dependable funding source, SOSNA's role in the neighborhood could shift significantly.
SOSNA's annual $100,000 budget covers Dalzell's salary, office costs and helps fund community programs. That $100,000 comes from a city tax program that allows private businesses to commit $100,000 of their annual tax obligations for 10 years to fund a community development corporation's work. SOSNA is in its final year of its 10-year partnership, so finding new sources of funding is an important part of the planning underway.
SOSNA's office lease is up in August, and conversations with its landlord about renewal are pending. The office at 1901 Christian Street is a place to meet, review a zoning file, get advice about city programs, and of course pick up a blue recylcing bin. But given limited resources, The planning process will investigate what kind of presence SOSNA needs to have on the street and how high-value the office is to neighbors.
Farnia Fresnel's came to SOSNA's office with a question about trash day. That led to a conversation with Andrew Dalzell about her line of work – corporate consulting – and she ended up with a seat on SOSNA's board, coming along at just the right time.
Fresnel is helping lead the strategic planning process this year, and hooked SOSNA up with a Drexel course in nonprofit business consulting to help move the process along. For the next three trimesters teams of Drexel students will help SOSNA develop its five-year strategic plan.
Drexel students are beginning their work with research about funding opportunities and helped create the survey soliciting feedback about how neighbors use SOSNA now and what they want from the organization moving forward. The survey went live this week and responses will be collected until February 27.
Neighbors can take the survey online. Paper versions are also being distributed through schools, churches, community institutions, restaurants, stores, and meetings with the hope of reaching as broad a cross section of neighbors as possible. Drexel students are also helping SOSNA's board by going door-to-door on as many blocks as possible. The goal is to get 1,300 survey respondents, roughly 10% of South of South's population.
The survey results will help guide the planning process and shape SOSNA's priorities going forward.
"Our bandwidth is limited," Dalzell explained. "We need to figure out how people use us now, how they want to use us in the future, so we can allocate [limited resources] as efficiently as possible."
After the survey is done, the next planning phase will involve deeper interviews, analysis of the early survey results, and looking at funding opportunities. The final phase will be writing up a draft of the plan with specific goals and action items.
"In each phase our goal is to poll the community at least one time, and hold at least one community meeting to keep the community engaged and abreast of what's happening," Fresnel said.
The plan is an opportunity for SOSNA to raise its profile among neighbors and purposefully navigate through this period of change.
"I care almost as much about process of doing this as I do about the final product," Dalzell said. He hopes that through the planning process "people feel more engaged with our organization and know that we're here."
Going forward the plan will be a roadmap for SOSNA's near-term future, Fresnel explains, giving the organization something to base its decisions on and to measure its work against.
"I picture it like this big computer that you feed the idea in one end and the strategic plan makes all of these bells and whistles and bounces it around then shoots out and says Do it! Or Call the Bicycle Coalition they'll do it! Or call the Councilman! It tells us what we can and we can't do."
Of course, Dalzell is in a delicate spot where his position may not be funded in the same way. But he thinks that neighbors are very invested in the processes that SOSNA has established and those would continue on a volunteer basis.
"I don't see the commitment waning if the organization were not funded at the [same] level," Fresnel agreed. Still, she doesn't want to imagine SOSNA without Andrew as the neighborhood's chief marketer, manager, mediator, and friend.
"Andrew is an invaluable resource. I don't even know how to envision duplicating [what he does] in any other form," Fresnel said. "I can do nothing but praise his impact in the community."
Andrew demurs, saying he's paid to think about things that most other folks can only pay attention to after hours. But that's one thing that sets SOSNA apart.
WHYY is your source for fact-based, in-depth journalism and information. As a nonprofit organization, we rely on financial support from readers like you. Please give today.