Experimental dance performance mixes 'high art' with historic Philly churches
Reggie Wilson, a New York choreographer, will present a series of experimental dances at four historic churches in Philadelphia.
Listen
2:23
Reggie Wilson is a choreographer based in New York who was invited to the Church of the Advocate in North Philadelphia to present his work, whatever you choose to call it.
"In New York, it's called 'downtown dance.' In other places, it might be experimental dance, postmodern dance, avant-garde dance," he said. "I like to think of it sometimes as just plain weird."
Underneath the soaring Gothic architecture of the 122-year-old church with its pious stained glass and sobering civil rights murals, the dancers strut and clap and stomp and shimmy on their butts across the floor.
Wilson is here with his company — Fist and Heel Performance Group — at the invitation of Philadelphia Contemporary and Partners for Sacred Spaces, which promotes using underused worship sites as art spaces.
A variation of the choreography Wilson is developing was performed last year at New York's St. Mark's Church, which is both an active congregation and arts venue used by the Danspace Project.
There, the presentation was called "Dancing Platform Praying Grounds: Blackness, Churches, and Downtown Dance." Following the performance, Danspace started talking to Philadelphia Contemporary, an arts presenting organization.
"How could that platform and its ideas translate into meaning in Philadelphia?" said Wilson.
Philadelphia has many places of worship that are also used by theater and dance companies to perform work. More often than not, the performance has little to do with the building or its congregation; it's used as simply an available space. Sometimes sacred objects and symbols are removed or masked so as to not distract from the artistic work.
That is the case at St. Mark's in New York. Wilson said some people who attend dance performances there leave the building never realizing the church is still used as worship space by an active congregation.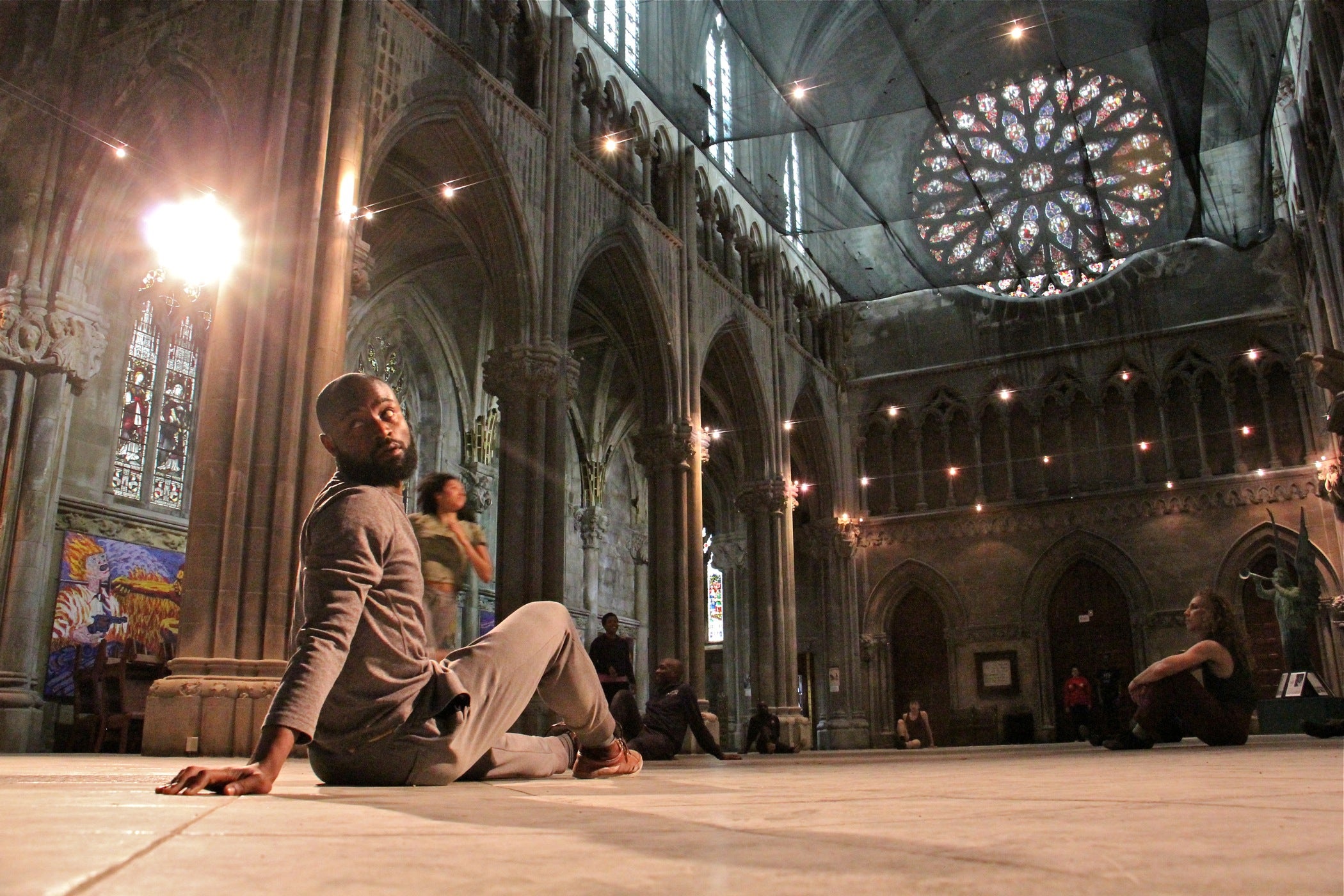 This presentation, retitled "Grounds That Shout!," uses dance to spotlight the church, such as the Church of the Advocate with a rich history of civil rights activism.
The church on Diamond Street, near Temple University, has a historic marker planted outside noting that the location was where the Episcopal Church ordained its first women priests, the Philadelphia Eleven, in 1974.
Around that time, a series of murals were commissioned for the worship space, depicting scenes of black life in America, from slavery to the Civil Rights Movement.
Wilson's dancers interact with architectural elements and carved statuary in the church and reference its history.
"The name of my company, Fist and Heel Performance Group, is taken from a term of a religious exercise enslaved Africans participated in," he said. "They worshiped with their fists and the heels. If you know anything about the black church, either as a send-up or an authentic representation, there's this idea of the kinetic fervor that builds up, being able to organize that and thinking about how it connects us to Caribbean and African practices of danced religion."
Wilson grew up in Milwaukee in a family with Baptist roots in Arkansas. While he is not observant now, he says modern dance often overlooks its connections to religion.
"People in the art community, the experimental community, make assumptions about what it means to reference spirituality or race. Somehow it's not as abstract, not as desired in order to make high art. It gets dismissed," he said. "There's a lot more wiggle room. We're talking about bodies, and bodies have histories. I can't just erase everything."
Under Wilson's curation, several local dance companies will perform as part of the two-week run of Grounds That Shout. This weekend's program will be at the Church of the Advocate, featuring Wilson's company along with choreography by Philadelphia artists Germaine Ingram and David Brick.
The following weekend, May 11, will feature a dance procession in Society Hill, moving between St. Peter's Episcopal, Old Pine Presbyterian, and Mother Bethel AME. Audiences will be led by Meg Foley, Lela Aisha Jones, Almanac Dance Circus Theater, Tania Isaac, and <fidget>.
WHYY is your source for fact-based, in-depth journalism and information. As a nonprofit organization, we rely on financial support from readers like you. Please give today.