What do Americans see in British royalty?
Even though Americans dismissed the English king in 1776, they still, 250 years later, seem to have a residual affection for — and curiosity about — the British royals.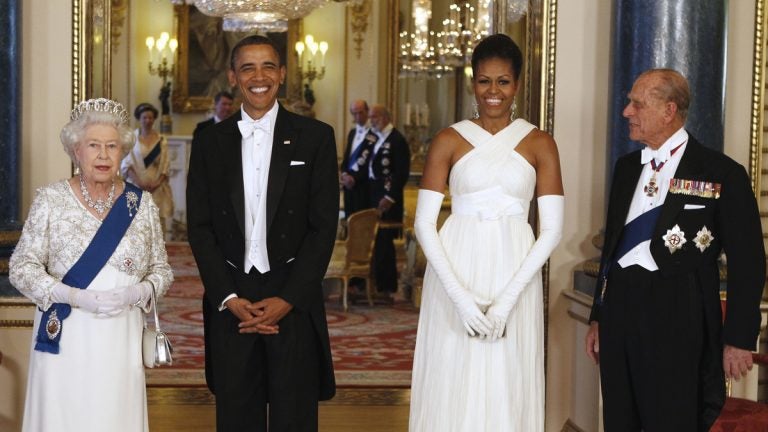 Even though Americans dismissed the English king in 1776, they still, 250 years later, seem to have a residual affection for — and curiosity about — the British royals.
After George Washington defeated the British, many Americans exulted in his victory and started a movement to make him king. "Having defeated George III," he asked them, "why would I want to become George I?"
But even though Americans dismissed the English king in 1776, they still, 250 years later, seem to have a residual affection for — and curiosity about — the British royals.
I think part of this has to do with permanence in a time of transience: American presidents, unless their terms are cut short by illness or assassination, serve a maximum of eight years; by contrast, Queen Elizabeth II has served as the monarch of the 52 countries of the British Commonwealth for 60 years and has seen the comings and goings of 12 UK prime ministers during that time. Meanwhile, her son Prince Charles, age 68, is still waiting for his turn as Monarch, just as his great grandfather Edward Vll was kept in suspense by his mother, Queen Victoria until he became king in his 60s.
Then there's what might be called the soap opera factor in the American enthusiasm for the British royals. They are, after all, celebrities, and people love celebrities, especially if they are blue blooded and if they are very young like Prince George or Princess Charlotte, or are old like the Queen, or like her great-grandmother Queen Victoria who also ruled for 60 years.
And what about the peep show of the royal bedchamber? Witness the antics of Henry VIII and his six wives, the priapic Edward VII and his multiple premarital dalliances, and the drama of Edward VIII and his abdication from the throne in order to marry "the woman I love." Even the sedate and somewhat starchy king and queen who visited the United States in 1939 attracted huge crowds and a fawning press. Today we have horny Prince Harry and his escapades, including pot smoking and naked billiards.
"Historically," says Oliver St. Clair Franklin, U.K. honorary consul in Philadelphia, "British royalty was of interest to the few 'educated' classes, those who studied British history and traveled to Britain. But Princess Diana enhanced all of that. By becoming a world-class celebrity [she appeared on the cover of People magazine over 58 times] and using that status to focus on charitable causes, she modernized the monarchy."
And despite its occasional false steps, such as when the Queen failed to acknowledge public grieving over Diana's death, the monarchy retains its popularity at home — and in the former colonies. True, there's a small Republican movement in the U.K.; and the Australians, asked in a 1999 referendum if they would wish to replace the monarchy with a republic, voted 55 percent to 45 percent against such a move.
The allure of royalty and aristocracy in this country is bolstered by such popular films and television programs as "Downton Abbey," "The Queen," "The Crown," and "The King's Speech." Winston Churchill, whose mother was American, coined the term "special relationship" to describe Anglo-American diplomatic friendship. George Bernard Shaw suggested that we are two countries separated by a common language. And the first editor of The Economist, Walter Bagehot, declared that "the monarchy's mystery is its life. We must not let in daylight upon magic. We must not bring the Queen into the combat of politics." Thus the British royals retain both their magic and their mystery.
I sometimes wonder if I, an erstwhile Brit who became an American citizen more than 25 years ago, would have reacted to the turmoil if I'd been here in 1776. I like to think I would've been a rebel, determined not to pay taxes to a foreign king; or to have foreseen the incredibly diverse and dynamic country that was being formed following the deaths of 50,000 soldiers in the Revolutionary war — half of them my then countrymen.
But I came to this country more peacefully and more willingly. I had proposed to my American wife in a Welsh castle that was built in 1272. On a visit there, her 11-year-old daughter asked my mother, "Where did your family come from?" Slightly bemused by the question, my mom answered, "Nowhere; we were always here." That was perhaps a bit of noblesse oblige, since the Vikings, the Romans, and the Normans might've been given just a little credit for peopling Britain's mongrel nation.
So while I love my adopted country, I brought with me my heritage — a heritage that gave me Shakespeare, Dickens, Austen, and a 1,000-year-old monarchy that I still retain an affection for. And I'm happy that it's an affection shared by many of my new countrymen.
WHYY is your source for fact-based, in-depth journalism and information. As a nonprofit organization, we rely on financial support from readers like you. Please give today.