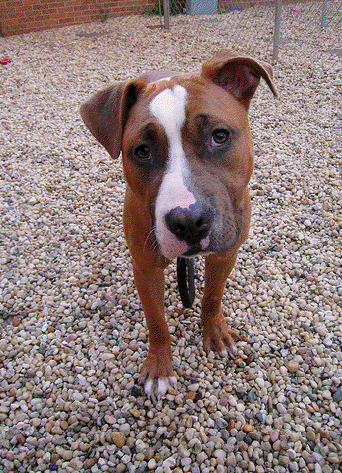 Joshua (A13111655) is sweet, young (6 to12 months) pit bull terrier mix who came into the shelter as a stray on May 17. Joshua is a handsome boy who is at a good weight (approx. 38 lbs). Joshua is a very mild-mannered puppy and is a little timid yet with people. He has the most endearing quizzical look about his face and when he gives you the little head tilt, you just want to hug him and tell him everything is going to be okay.
Right now, Joshua has a few patches of hair loss and gets a little scared if you approach him too abruptly. He kind of just turns away a little as if to say, "please don't hurt me." This is probably just a result of not being treated well in his prior life and spending time on the street. Once he has some time in a stable home, his hair should grow back and he should settle in nicely.
Joshua walks very well on a leash and doesn't pull or resist. He didn't show much interest in food, only eating a bit and having no issues with you taking away his food. Joshua has an extremely sweet disposition and just needs to build his confidence. He is friendly and playful, but it doesn't seem like he knows what to do with toys right now. Even though he is still a bit timid, Joshua does not look to avoid people and has no issues with any type of body handling – in fact, he seems to be comforted by being pet and held.
He likes to have company and will sit by you politely and look up at you to get your approval. He has ringworm and we are waiting for that to clear up. It is 100% treatable and he is receiving wonderful care here.
Joshua is very comfortable when other dogs are around and he seems more apt to play. He gets very wiggly, wagging his tail and brightening up when he sees his canine friends. Not only does he like the company of people and other dogs, Joshua seems to be cat friendly. He didn't show the excitement he does around dogs, but when he was loose in the shelter's cat room, he also seemed to open up and want to make friends.
If you would like to meet this handsome innocent baby boy and have another dog, please bring your dog to the shelter for a play date. Joshua would benefit greatly by being placed with a playful dog that could show him the ropes!
Please come meet this boy today and give him the reassurance he needs to know it's okay to have fun. He would make a lovely pet!
These animals are located at Philadelphia's animal control shelter, ACCT. They need immediate adoption or foster care. ACCT is located at 111 W Hunting Park Ave and is open 365 days a year. Adoption hours are Monday-Friday; 1pm-8pm; Saturday and Sunday; 10am-5pm. To check the status of an animal, call 267-385-3800. Please visit www.pspca.org for more information.
Don't forget to check out the weekly Animal Care & Control event at the Petsmart in Haldeman Plaza, where you can learn more about adoption and foster care, and meet some animals who need a good home.
Check in every week with NEast Philly to see the cat and dog of the week.