N.J. DEP sets nation's strictest limit on chemical in drinking water
New Jersey's efforts to clean up public drinking water took a step forward on Wednesday when the Department of Environmental Protection said it would impose the nation's toughest limit on a chemical that has been linked to cancer, high cholesterol, and developmental problems in young children.
The DEP said it will set a "Maximum Contaminant Limit" of 14 parts per trillion (ppt) for PFOA (perfluorooctanoic acid), which has been used in consumer products including nonstick cookware and food packaging, and which has been found in some parts of 37 New Jersey public water systems at above the new limit in recent years.
Strictest standard in U.S.
The new standard, which is expected to become effective in about a year, is tougher than the DEP's current guidance level of 40 ppt, and is the strongest in the country, said DEP Commissioner Bob Martin at a press conference to announce the new measure at the Voorhees headquarters of New Jersey American Water.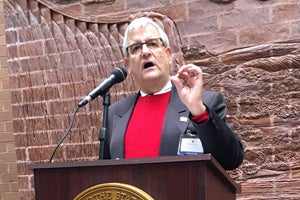 New Jersey's new limit is also stronger than the 70 ppt health advisory issued by the U.S. Environmental Protection Agency for PFOA when combined with PFOS (perfluorooctanesulfonate), another chemical in the PFAS family. Both the chemicals have been used in fire-fighting foams at airports and military facilities such as New Jersey's Maguire-Dix-Lakehurst base where ground and surface water has been contaminated.
Of the 37 New Jersey water systems where PFOA exceeded the new limit when they were tested, about half have already taken action to bring the level down, Martin said. While none can be compelled to comply with the new measure until the regulatory process is complete, all will receive letters soon asking them to monitor for the chemical and install the right technology to bring the level down, he said.
The public in those areas need not be concerned because the chemical was detected at levels of more than 14 ppt in only some places, because some utilities are curbing the contamination level by blending surface and ground water, and because some wells have since been shut down, Martin said.
No reason for alarm
"We don't believe anybody should be concerned at this time because it's only in certain parts of systems," Martin said in an interview. "Most water companies are already blending at this point in time or have taken wells off line. We don't believe there is any kind of emergent concern today but we do believe in the future that water companies ensure that they get down to that 14 parts per trillion."
Where PFOA is found to exceed the new level, the responsible parties will be required to pay for the cleanup, Martin said. "Those parties responsible for PFOA contamination will bear the costs associated with the testing, cleanup, and remediation," he said.
Martin said the new limit has generated a lot of interest from other states.
"We've been talking to other states about this on an ongoing basis," he said. "Several states have already driven theirs down, Vermont has driven theirs down to about 20 ppt. We're the lowest in the country. Our scientists are wired into all the other DEPs around the country, we have worked closely with EPA as well."
The DEP declined to release a list of the water systems where it found PFOA to exceed the new proposed limit in some places. Spokesman Larry Hajna said there was a risk that the data would be misunderstood by the public as meaning that water in a system was generally contaminated, and could result in unjustified calls to water utilities.
Understanding the nuances?
"I've seen this happen too many times where people just don't understand the nuances even if you've done a great job of explaining the nuances," Hajna said. "People read these stories and then they're calling their water utilities, and the utilities are saying 'What? We don't have toxic water.'"
Hajna said he did not feel comfortable releasing a list that did not include full context and which did not put utilities in a position to respond to any technical questions.
But he did provide a list of 13 water systems where PFOA exceeded the DEP's current 40 ppt guidance limit when they were tested at various times between 2008 and 2015.
The list includes Atlantic City MUAA's Pleasantville treatment plant where one sample in early 2015 showed a PFOA level of 43 ppt. That system is upgrading carbon treatment for PFOA. At Brick Township MUA, tests exceeded 40 ppt in 2010 and 2011 but the samples were taken from surface water and shallow wells, and the readings fell below that level when those sources were blended with ground water.
The DEP's new limit was recommended in February by the Drinking Water Quality Institute, a panel of scientific advisers to the DEP. It's the second recommended health limit sent to the DEP since the panel restarted work in 2014 after a hiatus of nearly four years. In August, the DEP accepted the DWQI's proposal for another chemical, Perfluorononanoic acid (PFNA), more than two years after panel made it.
DWQI chairman Dr. Keith Cooper told the press conference that the panel's work on how PFOA affects human health was based in part on a major study in Parkersburg, WV, where a leak from a DuPont facility contaminated drinking water.
The results of that study of some 40,000 people matched the DWQI's own animal studies in highlighting the dangers of PFOA, Cooper said. "We could see effects in the epidemiology studies that we could document in the animal studies," he said.
Cooper said the DWQI's mandate has been strictly scientific. "Show me the science and make sure it makes sense," he said.
The new MCL was welcomed by the Environmental Working Group, a Washington, D.C.-based research nonprofit that has advocated for much tighter controls on PFOA and related chemicals nationwide.
"The New Jersey action to set a MCL for PFOA and PFNA is a significant move to protect public health and reduce or eliminate these contaminants from drinking water," said EWG's Senior Scientist, Dr. David Andrews. "In the absence of federal leadership from the Environmental Protection Agency, it is encouraging that states such as New Jersey are working to protect their citizens."
Andrews said the move is likely to set a national precedent as evidence mounts that the entire family of PFAS compounds are "extremely potent" toxins that are affecting public health at current exposure levels. "There may be no safe level of these chemicals in drinking water," he said.
Doug O'Malley, director of Environment New Jersey, called the planned MCL "a huge step forward" that shows the DEP recognizes that the state is a PFOA "hot spot". But he warned that "this is not over" because the regulatory process will have to be completed by the new administration in Trenton.
Despite the action by the DEP, the lengthy process of research and regulation is a source of frustration for some activists.
Tracy Carluccio of the Delaware Riverkeeper Network, an environmental group that has been an outspoken advocate for tighter curbs on the PFOA family of chemicals, said the new limit should have been implemented by now given that the DWQI made its latest recommendation in February.
"We need MCLs established for these and other toxic PFCs now," she said.
WHYY is your source for fact-based, in-depth journalism and information. As a nonprofit organization, we rely on financial support from readers like you. Please give today.