Democratic socialist pulls lucky ballot position in Philly Council race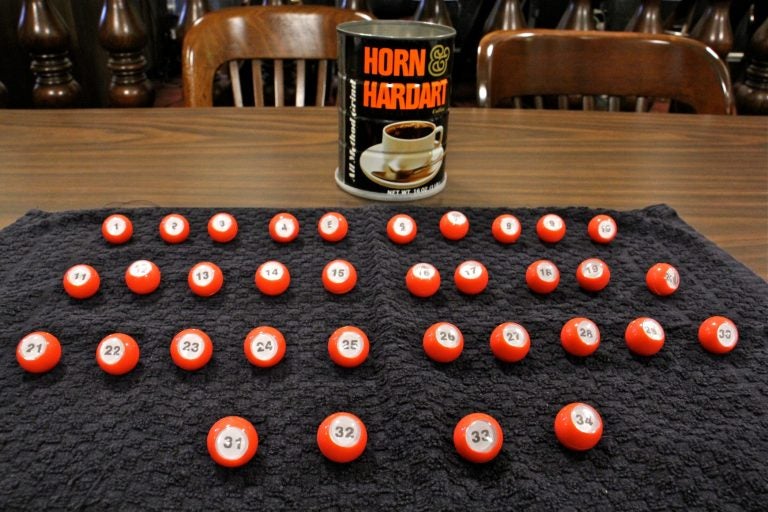 Success in politics is about money, power, message — and sometimes a little luck.
In the drawing for ballot positions in Philadelphia's municipal primary, a 26-year-old democratic socialist drew the coveted No. 1 position in what could be a 34-candidate ballot for at-large City Council seats among Democrats.
"It definitely helps," said postdoctoral fellow Adrian Rivera Reyes after pulling just the right red ball out of a coffee can in a City Hall courtroom Wednesday. "I'm one of the newest candidates. This is a grassroots campaign powered by volunteers and small-dollar donations."
Philadelphia political tradition holds that candidates draw ballot positions for municipal races by pulling numbered balls from a decades-old Horn & Hardart coffee can.
In races with large numbers of candidates, a high ballot position is an advantage, said veteran election lawyer Adam Bonin.
"When you have a matrix of 30, 40 Council candidates and another one of dozens of judicial candidates, that's a dizzying ballot," he said. "When voters have that many choices in front of them, some are going to gravitate to the first name they see. It's natural. It's human instinct."
Voters in each party can choose five candidates for Council-at-large in the May 21 primary election, and the three incumbents seeking re-election have an advantage in name recognition.
Among the challengers, first-time candidate Justin DiBerardinis leads the pack in fundraising and comes into the primary with some name recognition from his father, Michael DiBerardinis, a longtime city and state official who recently retired as the city's managing director.
Justin DiBerardinis reached into the coffee can and drew a disappointing 31st ballot position.
"I would rather have drawn a three or a one, but instead I got both," he joked afterward. But he said he never counted on a lucky draw to get into office.
"Some folks in a race like this are here to play the lottery, and their campaign is built off the right ball in a coffee can," he said. "But we've been at this for two years now, and the point all along was to build a campaign that can compete from any spot on this ballot."
Among the Democratic mayoral candidates, incumbent Mayor Jim Kenney drew first ballot position. Alan Butkovitz was second, and Anthony Hardy Williams was third. Billy Ciancaglini is the only Republican candidate for mayor.
A better way?
The fact that ballot position in crowded races arbitrarily confers advantages has drawn criticism for decades.
During public opinion surveys, pollsters always rotate the order of candidates heard by voters in telephone polls specifically to avoid the distorting effect of a fixed spot in the order.
With modern voting technology, it would be possible to rotate the order of candidates through different wards or Council districts of the city, but Bonin said such a change is prohibited by Pennsylvania's election code.
Jurisdictions in other states have even more curious systems.
"There are places that do it alphabetically. That's not fair," Bonin said. "There are places that let the party set the order. That's completely unfair."
He said the best system is one that gives candidates a random chance to appear before voters — and it could be achieved if the legislature acted to adjust the code.
"Harrisburg is very good at talking about election code reform," he said. "I look forward to actually seeing it.
You can find the ballot positions of municipal candidates at the City Commissioners website. Here's the order of ballot positions in the two races with the largest array of candidates:
City Council at-large – Democrats
Adrian Rivera Reyes
Deja Lynn Alvarez
Helen Gym
Willie Floyd Singletary
Ogbonna Paul Hagins
Fernando Trevino
Eryn Santamoor
Joseph A. Diorio
Hena Veit
Billy Thompson
Beth Finn
Latrice Bryant
Allan Domb
Katherine Gilmore Richardson
Erika Almiron
Mike Stack
Sherrie Cohen
Bobbie Curry
Isaiah Thomas
Vinny Black
Wayne Edmund Dorsey
Edwin Santana
Mark Ross
Devon Cade
Melissa Robbins
David H. Conroy
Sandra Dungee Glenn
Derek Green
Janice Tangradi
Wayne Allen
Justin DiBerardinis
Fareed Abdullah
Asa Khalif
Ethelind Baylor
City Commissioner – Democrats
Marwan Kreidie
Omar Sabir
Lisa Deeley
Luigi Borda
Dennis Lee
Annette Thompson
Kahlil Williams
Carla Cain
Warren Bloom
Moira Bohannon
Robin Trent
Jen Devor
Lewis Harris Jr.