Delaware's Red Flag gun law now in effect
Delaware gun owners who pose a threat to themselves or the public could have their weapons taken away under a new Red Flag law.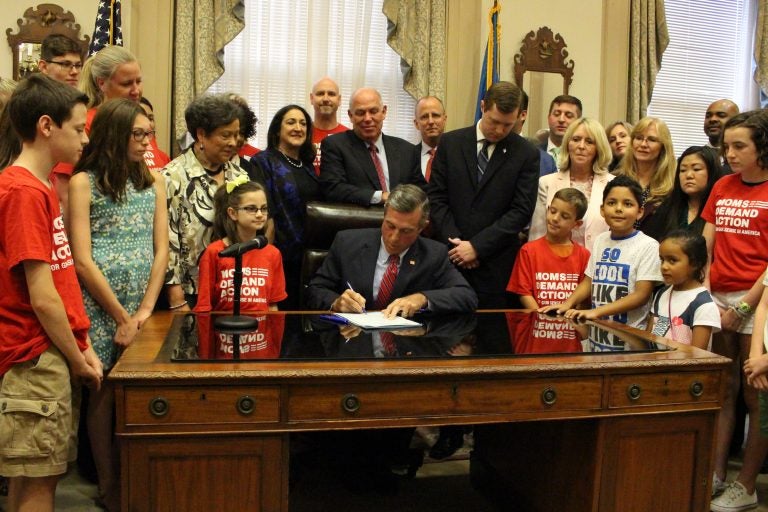 When the forest is dry and the forecast calls for low humidity and high winds, the National Weather Service will issue a red flag warning. That warning indicates a dangerous situation is possible in the immediate future and places limits on normally legal activity like campfires.
Similarly, Delaware's Red Flag law, which goes into effect today, is designed to help both police and families when someone may pose a dangerous situation to themselves or others with a gun.
Delaware residents could have their guns taken from them if a family member or police officer believes they could be dangerous. The so-called "Red Flag" law requires a court to issue a lethal violence protection order before weapons can be taken.
The legislation now in effect was signed by Gov. John Carney six months ago. "The lethal violence protection order is something that brings the immediacy that law enforcement needs and also that families need," said Robert Coupe, secretary of Safety and Homeland Security. "They don't have always the time or the luxury of waiting weeks, days or months."
The law is designed to be a proactive way to prevent gun violence. Outgoing Delaware Attorney General Matt Denn said similar legislation in Connecticut and Indiana has been credited with preventing suicides. "There's actual evidence now based on the numbers that bills, very much like this bill, actually reduce firearm suicides in states that have them." He cited a study of mass shootings from 2009 to 2016 by the group Every Town for Gun Safety. That study found the attacker in 42 percent of mass shooting incidents had committed prior acts of violence or threats or ongoing substance abuse that could have been a warning sign. "There was concrete evidence before the shooting happened that there was a problem, and again, this bill goes directly at addressing those situations. So it's going to save lives."
The legislation passed the General Assembly with unanimous support, only one senator was absent when it was voted on. Primary sponsor state Rep. David Bentz said the new law is the result of a grassroots push from mental health professionals and groups advocating for stricter gun laws. "[This] really empowers family members to work in coordination with law enforcement when they feel like a loved one of theirs is maybe entering into a dangerous place mentally, either looking to harm themselves or someone else," Bentz said.
New Jersey has also approved similar legislation, although that won't take effect until September, 15 months after Gov. Phil Murphy signed it in Trenton. Pennsylvania lawmakers are expected to take up the issue next year. Pennsylvania Gov. Tom Wolf has also urged lawmakers to create an emergency order to keep guns away from dangerous people.
In addition to Delaware and New Jersey, 11 other states have approved a similar measure, according to the Giffords Law Center. Those states include California, Connecticut, Florida, Illinois, Indiana, Maryland, Massachusetts, Oregon, Rhode Island, Vermont and Washington.
In addition to the Red Flag legislation, Delaware lawmakers also approved a ban on bump stocks and trigger cranks this year. They were unable to agree on legislation that would ban assault-style weapons and large-capacity magazines. Lawmakers return to Dover to start their work on January 8.
WHYY is your source for fact-based, in-depth journalism and information. As a nonprofit organization, we rely on financial support from readers like you. Please give today.