Delaware's new AG says her office won't prosecute possession of up to six ounces of pot
Delaware's new Attorney General says her office will no longer prosecute cases of possession of up to six ounces of marijuana, among other changes.
Listen
1:10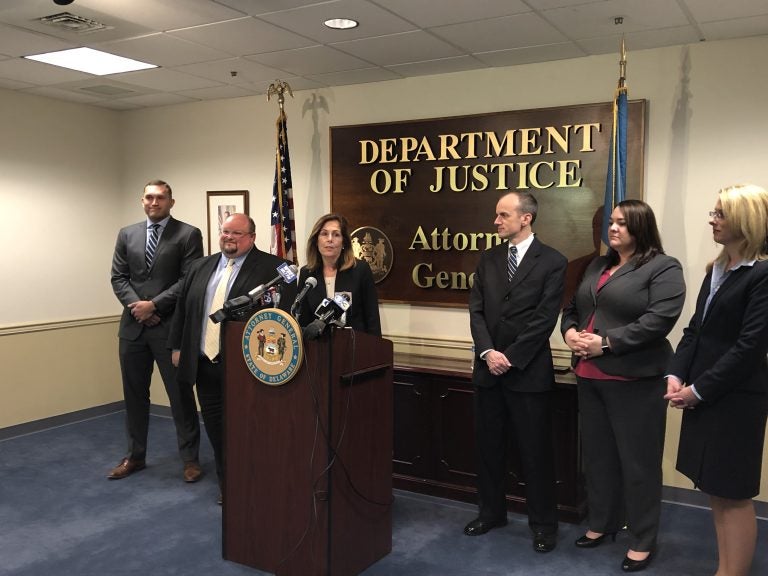 Kathy Jennings, Delaware's new attorney general, has spent four decades prosecuting crimes and defending people charged with them. She says far too many end up behind bars because they can't post bail or face minimum mandatory sentences.
So 45 days into her four-year term, she's changing her department's focus and announced the new direction during a press conference Monday.
Jennings says that in most cases, her office will no longer prosecute people who are caught with up to 175 grams or a little more than six ounces of marijuana. Specifically, Jennings said her office won't pursue charges of simple possession but would prosecute defendants charged with dealing-related offenses.
She wants lower-level crimes, such as prostitution, diverted from the justice system, and for people with addiction and mental illness to get the help they need, not punishment.
Jennings also wants judges to refrain from setting cash bail or secured bail for people unless they are a danger or a flight risk.
Those are among about 30 policy changes Jennings announced Monday, adding that she will push to have some legislated into Delaware's criminal code.
"This is the first step in an overall effort to make sure our justice system is more fair and balanced for everybody regardless of the color our skin, the size of our wallet or the zip code we live in," Jennings said.
Among the changes, Jennings said she is also directing her deputies to:
Avoid unjust "stacking" of minimum mandatory sentences and reduce requests for judges to declare a defendant a habitual offender subject to higher sentences, especially with non-violent crimes
Seek mental health and drug treatment needs before prison sentences for defendants
Consider alternatives to prison such as house arrest, as long as doing so doesn't imperil public safety
Urge short sentences or probation in appropriate cases, and to limit probation to one year in most cases
Oppose the issuance of warrants and drivers' license revocation for failure to pay fines and fees when the person can't pay
Discourage charging children as adults
Support expungements in cases when charges for nonviolent offenses were dropped on the basis of insufficient evidence
Support pardons for isolated, nonviolent crimes when the applicant has shown sufficient rehabilitation
Jennings stressed that her changes are "presumptive guidelines'' and that deputies can seek exceptions when warranted.
'An important step forward'
"We don't have to choose between public safety and progress; we can and must choose both," Jennings said. "These policies reaffirm the Department of Justice's long-standing mission to protect the rights of all Delawareans, victims, the public, and the accused.
"Our decisions substantially impact people's' lives and livelihoods, their families, and the community's faith in the system," she added. "We are continuing to work on other initiatives outside of our office, but our internal reforms are an important step forward in a long journey toward the model of justice that the people of this state expect of us, and that we expect of ourselves."
While the state's prison and detainee population has dropped in recent years, Delaware still has a higher-than-average incarceration rate and its' three-year arrest is 73 percent, Jennings said.
New Castle County's police chief, Col. Vaughn Bond said his officers follow the new directives. The state's northernmost county has 560,000 residents, about 60 percent of the state's population.
Bond said Jennings "has met with a number of police chiefs across the state. And she has laid out her agenda and what she wishes to accomplish. She is the chief law enforcement officer for the state of Delaware, so we will follow her direction and guidelines."
Kate Parker, policy director of the Delaware Center for Justice welcomes the changes, especially the directive against "stacking'' charges. She said too many defendants feel they have no option, but to take a plea deal.
"If they are looking at 35, 45, 50 years in prison because of the way the charges are stacked, their sentencing exposure is so enormous that very few people have the gumption to face that kind of risk,'' Parker said.
Delaware Gov. John Carney, who recently announced an initiative to improve re-entry procedures for former inmates, called fellow Democrat Jennings' moves "another real step forward, by ensuring that our resources are focused on prosecuting crimes that represent the greatest threat to our communities."
WHYY is your source for fact-based, in-depth journalism and information. As a nonprofit organization, we rely on financial support from readers like you. Please give today.