Delaware Sen. Coons concerned, frustrated after meeting with Kavanaugh
Listen
1:57
U.S. Sen. Chris Coons of Delaware is growing concerned about Judge Brett Kavanaugh's record when it comes to holding a president accountable for criminal activity.
Following a private meeting with Kavanaugh on Thursday, Coons, a Democrat who sits on the Senate Judiciary Committee, said he's unsettled about the Kavanaugh nomination and frustrated with how the process is playing out.
"I'm concerned about why President Trump may have chosen him … in particular, whether he was chosen because of his fairly extreme views on executive power and the ability of the executive to avoid accountability," Coons said in an interview at WHYY Friday.
The guilty plea of President Donald Trump's longtime lawyer Michael Cohen on tax, banking and campaign finance charges makes it more likely that the Supreme Court will have to rule on whether a president can be charged criminally, or whether impeachment by Congress is the only option to address alleged wrongdoing.
"There are concerns that I have that have only gotten stronger in recent days … I'm concerned more than I've been before about Judge Kavanaugh's individual record on accountability, and I think that's something that should be of concern to everybody."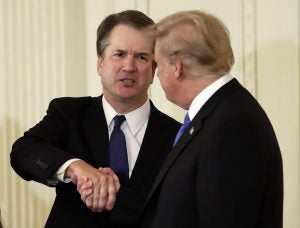 Confirmation hearings are set to start right after Labor Day, even though documents relating to Kavanaugh's time working in the White House for President George W. Bush haven't been made public. Coons called that one of his "grave frustrations" with the process.
Coons questioned what those documents reflect about the role Kavanaugh played in key Bush administration decisions concerning government surveillance and the treatment of detainees.
"I pressed Judge Kavanuagh on those issues," he said. "I didn't get satisfying answers."
Some Democrats have refused to meet with Kavanaugh, in part because they haven't had a chance to review those documents. Coons went forward with his meeting anyway "because there's no way that we can stop a confirmation hearing on Sept. 4. I understand and respect my colleagues who think the right thing to do is to simply refuse to meet with him, but I chose to so that I'd be better prepared to question him publicly."
In addition to concerns about Kavanaugh's opinion on presidential accountability, Coons is worried about the role the nominee could play as the Supreme Court considers major cases in the coming year.
"They are almost certain to be making decisions that will affect whether or not pre-existing health conditions are protected, whether or not access to health care and, in particular, reproductive rights are protected," he said.
Coons wouldn't say directly if he'll vote against the nomination, but he said he plans on doing a lot of reading of Kavanaugh's decisions and writings between now and the start of hearings.