Delaware college aid fund for needy leaves out many eligible kids
The First State is among 10 states that deny the taxpayer-funded scholarships to more than half of eligible students.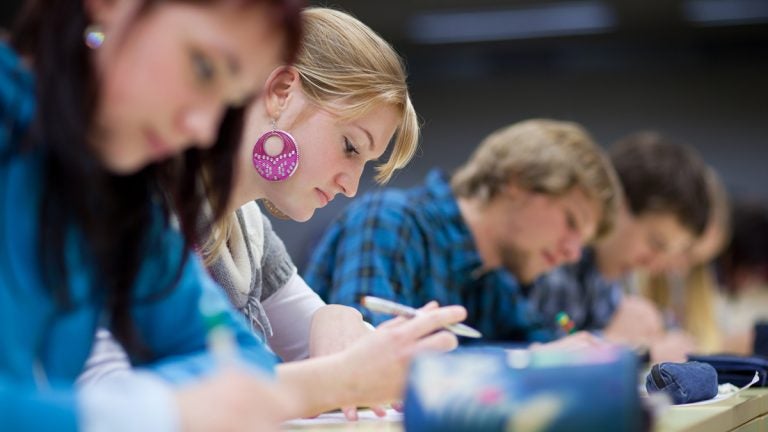 This school year, 806 Delaware residents received $953,000 from a special scholarship fund the state established two decades ago for worthy low-income students.
Another 1,152 students who qualified for the grants did not receive them, however.
Even though those students demonstrated need for the stipends, the state doesn't allocate enough money to award all eligible students, according to the Delaware Higher Education Office, which administers the awards.
A similar pattern played out the previous year, when 821 Delaware students were awarded $1.25 million, but about 1,700 eligible kids were turned down because all the money budgeted was gone.
Delaware is among 10 states that deny the taxpayer-funded scholarships to more than half of eligible students, a new study based on state-by-state data found. Another 15 states don't track how many eligible students are denied the taxpayer-funded scholarships that are allocated in their annual budgets, the study found.
How area states allocated need-based college scholarship fund in 2016-17
| | | | | | |
| --- | --- | --- | --- | --- | --- |
| State | Total Amount Awarded | Number of Scholarships Awarded  | Average Scholarship Amount | Number of Eligible Students Denied Scholarships  | Percent of Eligible Students Denied Scholarships |
| Delaware | $1.25 million | 821 | $1,521 | 1,679 | 67 percent |
| Pennsylvania | $318.3 million | 143,157 | $2,664 | 0 | 0 percent |
| New Jersey | $382.5 million | 74,659 | $5,123 | 0 | 0 percent |
Source: The Hechinger Report
The analysis was conducted by the Hechinger Report, a nonprofit news organization that focuses on national education coverage. Hechinger, which analyzed state data from the 2016-17 school year, found that more than 900,000 eligible low-income students in the U.S. didn't get the scholarship money.
The total is likely much higher since nearly one in three states don't track the number of students who are refused funding, according to Hechinger. Those states do, however, acknowledge they have run out of money before all eligible students have been served.
Delaware neighbors Pennsylvania and New Jersey, by contrast, each award about $380 million a year and are among the 15 states that don't deny any eligible applicants, Hechinger found.
Besides Delaware, other states that deny more than half of eligible applicants include neighbor Maryland, Florida, Kentucky, Oregon, Kansas and Illinois, according to Hechinger.
Sarah Pingel, senior policy analyst at the Education Commission of the States, said states are often hamstrung by their unique budget realities and priorities.
"In most states, the aid program comes from the general fund, and once it's gone, it's gone," Pingel said. Legislators "are aware of the consequences, that thousands of students may not get the funding they need to afford college."
That's the case in Delaware, said Shana Payne, who heads the Delaware Higher Education Office, a division of the state Department of Education.
Payne's office awards all the money allocated each year, she said, and never holds scholarships in reserve. Payne also provided budget and spending information to support her statements.
For the current year, the state's $950,000 allocation was $300,000 less than the previous year because of cuts from new Gov. John Carney's "shared sacrifice" budget, Payne said. She added that her office works with whatever money the administration and General Assembly provide.
"We are fully awarding the scholarships, but there are far more students who have need than we have funds allocated to meet,'' she told WHYY, one of several media outlets across the country that partnered with Hechinger on this story. We don't reserve anything."
Delaware grant averaged $1,183 this year
The Scholarship Incentive Program, known as ScIP, was established in 1996 to provide supplemental aid to needy families coping with rising college costs. Students can qualify for the awards for each year they attend college.
Under the Delaware Code, the goal of the ScIP money is to "provide financial aid to Delaware residents with demonstrated financial need so that within the limits of the fiscal capabilities of the state they shall not be denied an opportunity for a college education because of financial need."
The law also says the fund aims to "provide a financial incentive for higher academic achievement for students who qualify to receive such scholarships."
Yet there are routinely far more applicants who qualify than the state can afford,  officials said.
The money from ScIP is for Delaware residents who are undergraduate or graduate students attending the University of Delaware or Delaware State University, which are both supported by state taxpayer dollars. But students at private Delaware colleges or schools out of state can also received ScIP awards if their school has a major course of study that UD and DSU don't offer.
The cost of tuition, fees, room and board at the University of Delaware for an in-state student this year is $25,500. The cost at Delaware State University is about $19,500. Those costs do not include books and other incidental expenses.
The average ScIP grant this year — $1,183 — was nearly enough to pay the University of Delaware's three fees totaling $1,290 that are assessed to students — for health care, student center and "comprehensive" needs.
Delaware's average grant in 2016-17, the year Hechinger studied, was $1,521. By contrast, the average grants in New Jersey and Pennsylvania — $5,123 and $2,664, respectively — was much higher than Delaware, Hechinger found.
Payne said that while the ScIP grants only provide a bit of relief, many Delaware recipients also qualified for federal Pell grants and other financial aid.
While ScIP is aimed solely at students with the most need, it's just one of several programs Delaware has to help kids with college costs, she said.
For example, the "SEED" program pays the $4,350 tuition for Delaware students who attend Delaware Technical and Community College who had a 2.5 grade-point average in high school. The state also offers awards $3,900 annual INSPIRE awards to Delaware residents with a 2.5 GPA who who attend Delaware State.
Those two programs alone cost Delaware $7.4 million in fiscal 2018, which ends June 30. But since the neediest students likely received Pell grants or other aid to help with their expenses at Delaware Tech or Delaware State, many recipients were not from low-income families.
Payne said the ScIP program would need about $500,000 next year if the state wanted to give awards to all eligible students whose estimated family contribution is low enough to receive a federal Pell grant.
Money didn't always go to Delaware's poorest
WHYY also has learned that while since 2016 the ScIP money has been awarded solely on need, as long as students have a grade-point average of 2.5, that wasn't always the case.
Since 2016, the determining factor has been a student's estimated family contribution as determined by the Free Application for Federal Student Aid that families fill out.
This year, students who received the award could afford no more than $1,550 toward their post-secondary education, Payne said. In the year previous year, which Hechinger's analysis is based on, only students with an EFC of $550 or below qualified.
For the nearly previous 20 years, however, the key factor was a student's grade point average, as long as the cost of the school exceeded their family's expected contribution. For example, a student with top grades whose family could afford to pay $30,000 for an out-of-state school that cost $55,000 could get the money.
Payne said her office changed that formula because she and others realized it was not fair to needy students for whom the scholarship was created.
However, her office has never put the language in the program's guidelines. Once notified of that omission by WHYY, Payne said her office would update the language to reflect the current practice.
'The importance of going to college'
The inability of states to give out awards to qualifying students has been stoked by years of budget cuts combined with an increased number of applicants, due to a growing awareness that good jobs require more than a high school diploma.
"When these programs were designed, it was an acknowledgment that there were low-income students who had need, and of the importance of going to college," said Carrie Warick, director of policy and advocacy at the nonpartisan National College Access Network.
"But then comes the requirement to balance budgets, and a state has to decide either to bring in more revenue or to cut. One of the easiest places to cut the budget is in financial aid."
She added that "people may think this is just happening in their state. But when you look around, you can see this is a national problem."
Some states, such as Maine and Alabama, decide which students get funding based on whose financial need is largest. Others do it on a first-come, first-served basis, which disadvantages first-generation students, adult students and students with inadequate college counseling, since they are less likely to be aware of early filing deadlines. Other states disburse the money to the colleges, which in turn decide which students receive the funds.
Most economists agree that, in order to keep growing, the U.S. economy will need more workers with some kind of postsecondary degree. It is difficult to track how many students drop out of college or simply don't show up due to insufficient financial aid, but researchers believe that lack of aid discourages students from enrolling and creates obstacles to graduation.
Recent events in Illinois, which froze its need-based aid program in 2015 due to a budget crisis, are instructive. Public colleges reported students dropping out, taking out bigger loans and cutting their course loads. At least 1,000 students who had initially been awarded a Monetary Award Program grant, only to have it cut, didn't return for the 2016 spring semester.
Jocelyn Ramirez, a student at Wilbur Wright College in Chicago, is the first in her family to go to college. After losing her MAP grant, she said she had to take two classes instead of four, increase her work hours and move back in with her parents. She now shares a bedroom with her husband and 6-year-old daughter while her 12-year-old sister sleeps in the living room. She has been working 40 to 50 hours a week as a medical assistant and hopes to graduate with her associate degree this spring, having enrolled in the two-year program in August 2014.
"My friends and I have a hashtag we use — #TeamNoSleep," said Ramirez, 24. "With homework and my job, I usually get four to five hours a day of sleep. I'm always tired, but lots of students are in similar boats."
Even now that the Illinois funds have begun to flow again, eligible students are still being turned away. Last year 58 percent of eligible students — more than 168,000 — didn't receive a MAP grant. For those whom MAP does serve, it is a very successful program: Even though low-income students nationally graduate at a much lower rate than their more affluent peers, MAP recipients graduate at about the same rate as other students at their colleges. The state doesn't keep track of the income level or race of those turned away, but because more than half of the black and Latino populations at Illinois' public universities are MAP recipients, the program's underfunding has a disproportionate effect on these communities.
The struggles of Ramirez and her friends reflect not only the effect of insufficient aid for eligible students but also the rising cost of college. As recently as 2002, MAP covered 100 percent of tuition for low-income students attending public colleges and universities. Now it covers two-thirds of the cost of community colleges and just 32 percent of the cost of public state universities.
Illinois is hardly alone. In 2017, for the first time ever, public colleges and universities in more than half of the states (28) relied more on tuition dollars than on government appropriations, according to a recent report.
The spiraling costs are hitting low-income families the hardest; while tuition grew by more than 34 percent between 2008 and 2015, real median income grew by only 2 percent.
Some states have addressed budget crunches by lowering the maximum per-student dollar amounts of their grants — to as low as $700 per year. Advocates note that while some states fund all students, they may do so at very low levels, even while they have relatively high public university tuition. For example, Florida's average grant is a few hundred dollars less than Vermont's, but Vermont's average in-state tuition is roughly two-and-a-half times that of Florida's, so Florida's grant goes much further.
Besides New Jersey and Pennsylvania, Minnesota, New York and Missouri fund all eligible students.
"Not fully funding a program makes no sense," said Meredith Fergus, a senior staffer at Minnesota's Office of Higher Education. "The only way to achieve the impact you anticipate is to ensure that all eligible applicants can access the funds. Otherwise, students with lower levels of college and financial aid knowledge are not going to receive the benefit, and those are the students we are primarily targeting."
WHYY is your source for fact-based, in-depth journalism and information. As a nonprofit organization, we rely on financial support from readers like you. Please give today.