Delaware carver brings out the personality in fruits and vegetables
For more than three decades, Craig Trostle has made the food taste better with his unique carvings.
Intricately carved tomatoes, apples, melons and even potatoes become the unique characters seen along the buffet tables of Greenery Catering. According to owner Craig Trostle, carving "makes the food taste better."
What started out as simply a way to dress up some food trays became a means for Trostle to make his Delaware catering company stand out from the crowd.
"People really do appreciate the fact that we go the extra mile to ensure our food is presented beautifully," Trostle said. He refers to his creations as creative accents. Whether the carvings and figures actually make the food taste better, they probably make it a bit more fun to get seconds.
Trostle comes from an artistic family. "My dad was an artist, my sister is very artistic, so it's kind of been bred in us to have that artistic flair."
It was about 35 years ago while attending a restaurant trade show in Chicago that Trostle saw the food carvings for the first time. "I said, 'Boy, that's something I'd really like to learn.' "
Taking what he saw others doing and applying his own skill and some basic principles, he dug in.
He began simply with radish or tomato roses. "Things that just accent trays beautifully," he said.
From there, his craft blossomed into carving melons and etching caricatures in everything from squash to potatoes.
But it wasn't always picture perfect.
Take Craig's first carving of a melon while on vacation in the Outer Banks.
"I hated what I did," he recalled. "I threw the melon out, and, unfortunately, the knife went with it, and I didn't realize cause I was so upset."
Sacrificing the melon was not in vain, as Trostle has learned from his mistakes.
"It's just been an evolution of learning," he said.
We visited with Trostle the week leading up to Super Bowl LII. (Spoiler Alert: The Eagles defeated the Patriots!)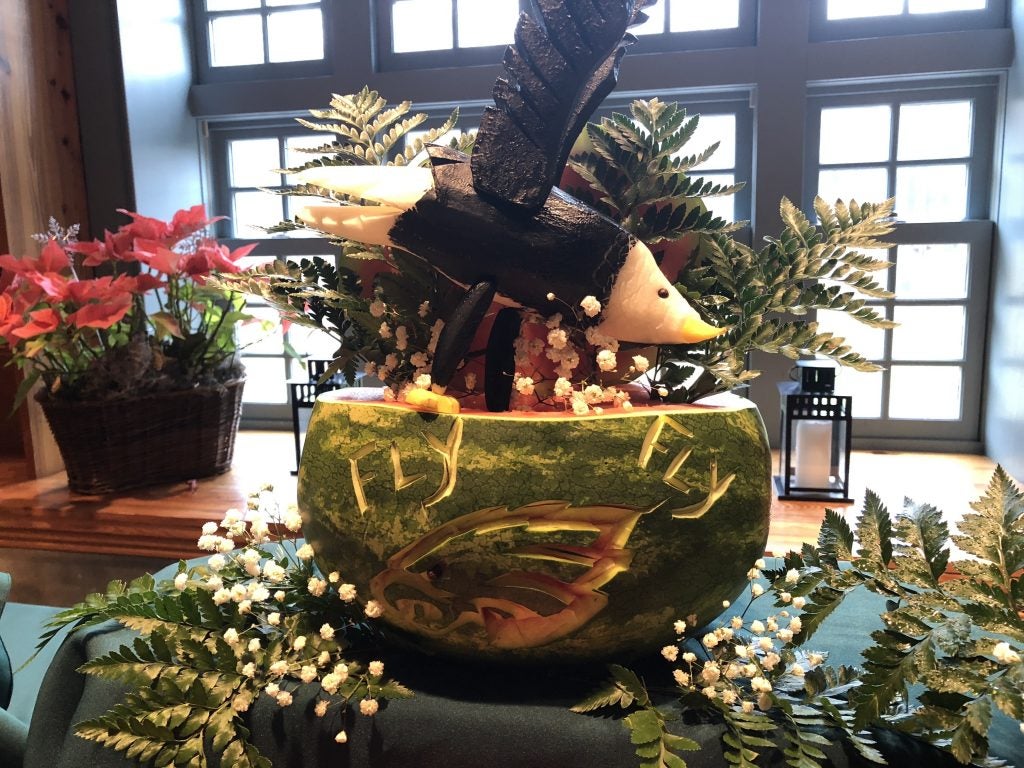 Knowing we were coming to interview him, Trostle worked on an eagle sculpture using a watermelon and a daikon radish. "That took me six attempts until I felt good about it."
Doing these carvings keeps him motivated. "It's kind of my creative juices, keeps me having fun," Trostle said.
If you are in the vegetable section of the store and notice a man spending a bit more time than seems normal checking out the goods, it may be Trostle. He looks for items with "personality";  no simple straight squash will do when it comes to squash birds.
"I want it so that it's bending a little bit, so as you create the head and the features of it, it looks like it's doing something," he explained. "It's like it's in action."
"I see things probably different than most people do in fruits and vegetables," Trostle said.
While's the sky's the limit on creatively carving fruit, that raw material is short-lived.
"Ultimately you create something that's a work of art, so to speak, and it's obviously not going to last that long," he said.
The carvings have become a very important part of the business of Greenery Caterers, but Trostle doesn't always have all the time he'd like to work on them.
"I may do a carving that isn't as creative, that's more traditional or something I've done before," he said.
That can be frustrating, "because if you don't have the time, you can't relax and enjoy it," he said. "But, other than that, I love it."
WHYY is your source for fact-based, in-depth journalism and information. As a nonprofit organization, we rely on financial support from readers like you. Please give today.