Del. prosecutors dropped robbery case against rampage suspect in February
Radee Prince faced trial this February in a Delaware court for allegedly beating the owner of a used-car lot in Wilmington — the same man he is accused of shooting Wednesday.
Radee Prince had faced trial in February in a Delaware court for allegedly beating the owner of a used-car lot in Wilmington.
But the case was dropped, and on Wednesday police said Prince shot the same man in the head and chest after a fatal rampage in Maryland. The man, who is expected to survive, identified Prince at the scene, police said.
The shooting in Wilmington came about an hour after authorities say Prince killed three people and critically wounded two others at the Maryland granite business where he worked as machine operator.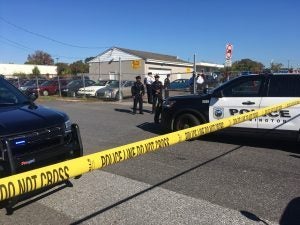 After a nearly 12-hour manhunt, the 37-year-old Prince was captured Wednesday night in a brief foot chase near Glasgow High School outside of Newark.
The suspect, who lives in Belvedere, south of Wilmington, has been charged with numerous crimes, ranging from burglary to robbery to violating probation over nearly two decades. While Prince has beaten many charges, he also spent several stints behind bars in Delaware.
The revelation that Prince managed to avoid conviction in the case involving the man he shot Wednesday in Wilmington — first reported in the Wilmington News Journal — forced Attorney General Matt Denn's office to scramble Thursday to explain what happened.
Denn would not agree to an interview, but spokeswoman Nicole Magnusson issued a release around 2 p.m. about the case.
Magnusson wrote that Prince was charged with robbing the same man in January 2016. He was originally charged with second-degree robbery, but after reviewing "the facts of the incident," prosecutors reduced the charge to misdemeanor offensive touching, she wrote.
The case was set for trial this Feb. 8, but Magnusson said the "absence of a material witness" led prosecutors to drop the case and let Prince go free. Magnusson said the "material witness'' was not the alleged victim, but added that she did not know whether the alleged victim was ready to testify.
Attempts to review the full case file Thursday were stalled by Delaware court officials, who said they had to submit the request to an administrator. Even though current case files are routinely provided within a few minutes by the courthouse Prothonotary's Office, it took three hours before an official provided the one-page arrest affidavit, but no other documents associated with the case, including the formal charges and the notice that the case was dropped.
The affidavit did not mention that there was a witness, but it said Prince had physically attacked the man at a home in Newport, near Belvedere. Prince had "grabbed" and "started punching him," the warrant said.
"Radee was talking crazy, stating, 'I don't care what you got. I can take what you got. I don't care,''' the victim told police, adding that Prince called him "rich."
Prince also grabbed at the victim's pockets in an attempt to steal his money, the warrant said. He also kept reaching into his waist band as if he had a gun. Prince then chased the man out of the house, police wrote.
Also Thursday, Magnusson said Prince is scheduled for a preliminary hearing on Oct. 31 for the attempted murder and other charges for Wednesday's shooting in Wilmington. He was arraigned Thursday and is being held on $2.1 million cash bail.
Discussions with Maryland authorities, where he faces murder charges, are occurring "as to the handling of the charges in each jurisdiction,'' she wrote, adding that any "pending extradition'' was not imminent.
Other cases against Prince have dropped by Delaware prosecutors. His biggest conviction in Delaware stemmed from a 2003 case that led to his guilty plea to 15 counts of third-degree burglary, all non-violent felonies, records show. He was sentenced to 25 years behind bars, but all but two years were suspended. He also was ordered to pay $34,500 in restitution.
The Baltimore Sun also detailed two recent run-ins by Prince with authorities in Maryland.
One occurred in February when he was working at a Harford County granite and marble shop — a different business than the one where he shot five people Wednesday.
In that earlier incident Prince allegedly punched a co-worker in the face and was fired, only to return several times and threaten others. One co-worker sought a protection order, but a Harford County judge denied the request, the newspaper reported.
In March 2015, police in Cecil County stopped him for driving with his front headlight out, and he became "extremely loud and aggressive,'' the newspaper reported, citing court records. Officers searched his vehicle and found a black pistol. But the firearms violations were dropped by Cecil County prosecutors, the newspaper reported.
Wilmington Police Chief Robert Tracy alluded to Prince's past and the failed attempts to put him behind bars for a lengthy period when he was asked Wednesday if he thought Prince should have still been allowed to walk the streets with that kind of criminal history.
"I sometimes ask that question myself," Tracy said. "We've got to find a way if someone is going to be violent in the community … we got to find a way to keep them behind bars so they can't go out and re-offend."
WHYY is your source for fact-based, in-depth journalism and information. As a nonprofit organization, we rely on financial support from readers like you. Please give today.