December 21: North Broad gateway | Kenney as anti-Nutter | Fewer NoLibs zoning variances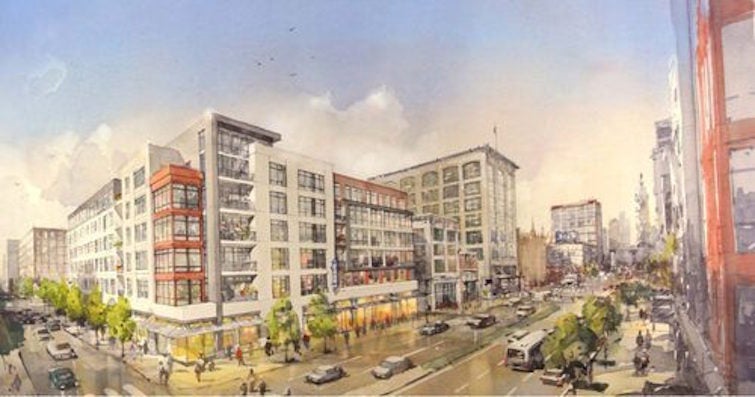 Patrick Kerkstra thinks Jim Kenney is emerging as the anti-Nutter in many respects, and it's not just that he's to Nutter's left on policy. "More than policy or focus, though, what differentiates Kenney from Nutter is approach. Nutter may be a ward leader and lifelong politician, but he's long thought of himself — and others in Philly's political circles have thought of him — as an independent, even an outsider…Kenney, though, was swept into office on a wave of organized support" from mainstream party interests.
David Sell's highly entertaining article on Kenney's jabs at the Eagles over Temple stadium fees provides an interesting lens on how Kenney might govern. One of the big worries about all Kenney's organized labor support seems to be that he'll fritter away the city's already-strained budget on low-value projects or overly-generous contracts at the behest of supporters. The Temple stadium could be considered an early test case of that. A more Rendellian politician might jump onboard immediately, seeing an opportunity to reward labor supporters, but Kenney's view appears to be that the public already spent hundreds of millions on a stadium, and now the Eagles have a responsibility to be public-spirited to Temple.
Hanover Company and Parkway Corp. broke ground last week on two large mixed-use buildings at the intersection of Broad and Callowhill that they're envisioning as a gateway to North Broad Street, Mellisa Romero reports.
Positive train control technology has been installed on all the Northeast Corridor Amtrak trains, and SEPTA will have it up and running by the end of January, reports Jason Laughlin. As Jim Saksa has reported, the NEC and SEPTA are far ahead of most other agencies, who successfully lobbied Congress to extend the deadline for installation.
Northern Liberties' zoning committee has been noticing fewer zoning variance cases coming through recently, and they think zoning remapping is partly responsible. "[A] key factor is the fact that our neighborhood zoning map has now been updated by the Planning Commission, and so a lot more projects are permitted "by right," meaning they do not need zoning variances – which means they don't need to come to our zoning committee."
Feargus O'Sullivan points out that while high levels of transit fare evasion can be costly, striving for 100% enforcement is also costly. An "honesty" system, sometimes known as "proof of payment," has much lower overhead costs. Sandy Smith made the case for proof-of-payment on Regional Rail back in 2012.
Tom Shortell reports that apartment construction is outpacing single-family home construction up in the Lehigh Valley for the first time since World War II. That doesn't mean it's all urban infill though. Many of the new units are being built in the same exurban townships that boomed during the 2000's.
Gehl Studio is working on public space recommendations for downtown Pittsburgh, and Eric Holmburg at PublicSource looks abroad to some other Gehl projects to give Pittsburghers a sense of what to expect.