Debut of arena for 76ers' minor league team a 'big lift' for Wilmington
The Wilmington arena is home of the Delaware Blue Coats, the Philadelphia 76ers' G League team. It will be a youth soccer training center and host kids' camps and leagues.
Listen
1:18
Fans entering the arena were greeted by a spectacle that included cheerleaders and drummers and men dressed in the Blue Coats' Revolutionary War garb. (Cris Barrish, WHYY News)

A steady steam of vehicles streamed into Wilmington's new arena for the Delaware Blue Coats on Wednesday. (Cris Barrish, WHYY News)

The stands were two-thirds full for the Blue Coats' debut at their new Wilmington arena. (Cris Barrish, WHYY News)

Blue Coats in Revolutionary War garb greeted fans at the arena Wednesday. (Cris Barrish/WHYY)

A group of young fans cheers on the Blue Coats during their Wilmington debut Wednesday. (Cris Barrish/WHYY)

The stands were about two-thirds full in the 2,500-seat arena for the Blue Coats' Wilmington debut. (Cris Barrish/WHYY)

Mayor Mike Purzcyki thinks Wilmington residents will embrace the Blue Coats and the new arena. (Cris Barrish/WHYY)
Wilmington's rejuvenation efforts got another boost Wednesday with the opening of a new basketball arena for the Philadelphia 76ers' minor league team, the Delaware Blue Coats.
Opening night drew a boisterous crowd to the $26 million facility along an industrial strip of south Wilmington better known for scrap yards, strip clubs and a former oil recycling plant.
The five-story, 161,000-square-foot facility still isn't complete. When it's finished, it will be home to a youth soccer training center for elite players and host sports camps and educational activities for city kids. The facility will also feature high school sporting events and concerts.
One of the enthusiastic boosters Wednesday night was Delaware Gov. John Carney, who played point guard in high school. Carney was all smiles while dribbling a basketball at center court moments prior to tip-off.
"One of the most important things for a state, a city, to attract people is cool stuff to do. We got professional basketball here in Wilmington. How cool is that?" Carney said. "It's going to be a big lift for our city, for kids in our city."
Carney's administration gave the facility a $3 million grant and the city chipped in $1 million.
The featured attraction for the general public, of course, are the Blue Coats, the Sixers' G-League team.
About two-thirds of the 2,500 seats were filled Wednesday night. The Blue Coats attracted much smaller crowds at the University of Delaware in Newark.
Hoops fan Paris Hines had a front-row seat.
"It's beautiful, state of the art,'' Hines said.  "I can't wait for my wife to see it. It will bring a lot of people here. This is really good for the city. I'm glad it's here."
Spectator Henry Dillard, whose son is a team ball boy, also was delighted.
"I couldn't wait for it,'' he said, and urged all basketball fans in the area to "come out and support it."
Developer Rob Buccini, whose Buccini/Pollin Group built the arena and has constructed an array of Wilmington residential and commercial complexes in recent years, said the arena has "surpassed my wildest expectations … It's certainly an affirmation of what a wonderful city we live in."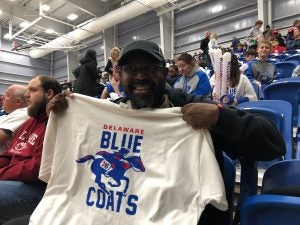 State Rep. Franklin Cooke, who represents the district that's home to the arena, said it is another sign of rebirth. He pointed to more jobs at the city port and a sparkling new library on Wilmington's outskirts.
"This whole part of Wilmington, I call the gold mine,'' Cooke said, adding that the arena "just adds dessert to it."
A who's who of Delaware politicians were on hand, including U.S. Sens. Tom Carper and Chris Coons. So were some prominent local athletes, including former world middleweight boxing champion Bernard Hopkins, who lives near Hockessin.
Mayor Mike Purzycki, who helped rejuvenate the surrounding riverfront area before taking office in January 2017, gushed that the arena "fills a void'' for the city. The Wilmington Blue Rocks minor league baseball team plays in a stadium in the riverfront area.
"My sense is that this basketball team is really going to be adopted by our town, and we are really going to embrace it … Plus, we are going to have a lot of our kids using the facility, and they are really going to own this place."
WHYY is your source for fact-based, in-depth journalism and information. As a nonprofit organization, we rely on financial support from readers like you. Please give today.