Mom of injured toddler wants changes after Wilmington police slam car in Philly chase
Listen
2:33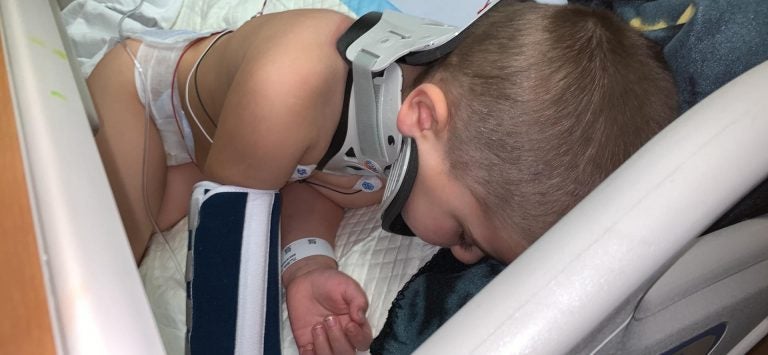 Wilmington police are investigating its policies — and whether they were followed — during a high-speed chase last week that led to a serious multi-vehicle collision on I-95 near the Philadelphia airport.
While officials review what happened, the mother of a 3-year-old boy who suffered brain and spinal injuries in the crash is calling for reform as she tries to cope with the aftermath.
Meghan Kirts of Baltimore was driving her family to New York Wednesday morning when a car roared past them on Interstate 95, tearing off her car's driver side mirror.
More than a minute later — after the car that sideswiped her was long gone, she said — matters got far worse.
"All of a sudden, I see lights and a black SUV and two other cars,'' Kirts told WHYY Monday. "Slammed me so fast that my son came loose from his car seat. If that sidewall wasn't there, I guarantee my car would have slipped and rolled over."
A Wilmington police cruiser did flip over and two officers suffered minor injuries. A Pennsylvania state trooper who had joined the chase also crashed.
Five days later, Kirts' son, David, remains in intensive care at Children's Hospital of Philadelphia.
"My 3-year-old son is never going to be the same,'' Kirts said. "They are saying the traumatic brain injury and the brain bleed will always be there. They may never stop … his spine, we're hoping, will heal within two years."
Kirts' husband, William, suffered broken ribs, a concussion and other injuries, she said. Their daughter, Sophia, who turned 2 on Sunday, was not hurt. Meghan Kirts and her brother Matthew also were not injured.
Wilmington police Chief Robert Tracy said his officers decided to chase the car because a gun felon wanted for a probation violation might have been inside.
But officers were not sure the suspect was in the car, and now Tracy said he's investigating whether policies were followed — including authorizing police to continue the chase beyond Delaware.
"If you have an active hot pursuit, as we call it, we can for a felony go into other states in an active pursuit," he said. "The policy has some restrictions on it, and those things have to be evaluated, on how/why we would do it, the safety of the public vs. the safety of our officers … if we end the pursuit, and he goes free, how much harm he would be able to do to the community if he's not apprehended?"
The car being chased continued into Philadelphia where it crashed into a SEPTA bus and two of the four occupants escaped. The suspect they were after, DeJuan Robinson, has not been captured.
Robinson, who admitted in court to being a member of the violent Tough Money Gang in Wilmington, is a "person of interest" in some unsolved murders, Tracy said.
But on Wednesday he was only wanted for a probation violation — not a felony.
Kirts said the chase was a threat to public safety from the start.
"They should never have done it unless they were 110 percent sure that guy was in the car, and is that dangerous," she said. "They should have just let it go, for a probation violation."
Pennsylvania State Police won't comment on the actions of their Wilmington counterparts.
Kirts also emphasized that the official police account of the accident didn't reflect that fact that the car officers thought Robinson was in was far from her vehicle when police struck them.
The Wilmington news release sent about an hour after the crash didn't provide such detail. It only said "the suspect vehicle rammed another motorist, which caused a collision with Wilmington officers."
Kirts countered that the car police were chasing "did not cause the collision" that put her son and husband in the hospital. Pursuing police "had enough time to get around me and my family," she said.
The release also noted the "non-life threatening" injuries to two Wilmington officers, and noted that three others were not hurt, but were being evaluated at Christiana Hospital in Delaware.
The police statement did not mention the injuries to Kirts' son and husband.