Day 1: Booker takes different tack from N.J. predecessors in his campaign for president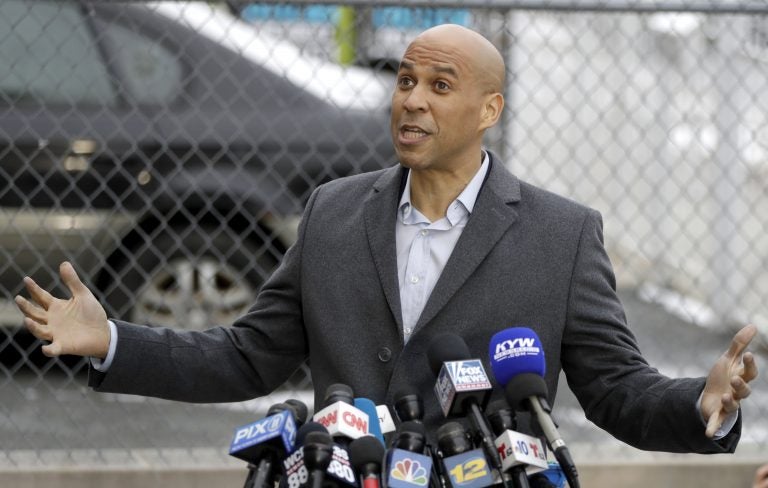 This story originally appeared on NJ Spotlight.
—
With his announcement last Friday, U.S. Sen. Cory Booker became the fourth New Jerseyan to run for president this century. Partly due to changing times, but also due to his uncommon style and message, Booker's announcement was very different from those of the men who preceded him.
"I grew up knowing that the only way we can make change is when people come together," the Democrat said when announcing his candidacy via a tweet that linked to a video which includes baby pictures, graffitied buildings and a Newark high school marching band. "In America, courage is contagious," he said.
Most candidates, including the three New Jerseyans who have preceded Booker on the ballot since 2000 — former Gov. Chris Christie, former U.S. Sen. Bill Bradley and publisher Malcolm "Steve" Forbes Jr. — announce their plans in person in front of a crowd or, more recently, on television talk news shows.
The 49-year-old broke all conventions when he tweeted his candidacy to some 4.2 million followers. The tweet linked to the 2-minute 26-second video that is part biography, part inspiration and had 3.7 million views as of Saturday night. Booker followed up the 7:14 a.m. tweet with an appearance later Friday on the talk show The View. While many state legislative candidates won't even list a home address on their filing papers, Booker finished the day with a nearly 30-minute press conference in front of his three-story house in Newark's Central Ward.
Compare that to New Jersey's other recent presidential candidates.
Christie, a Republican, announced his 2016 candidacy surrounded by his family, on June 20, 2015, on a platform in the gym of Livingston High School, from which he graduated in 1980. Bradley was more than two years out of the Senate in September 1999 and still living in Denville when he went back to his high school, in Crystal City, Missouri to announce his candidacy for the 2000 Democratic presidential nomination.
Forbes and Bradley
The announcement by Forbes, of Bedminster, was closer to Booker's style. The Republican declared his candidacy online in March 1999, just a year after the birth of Google. Later the same day, he traveled to New Hampshire, which holds the first presidential primary, to make brief remarks before supporters and take reporters' questions. This was Forbes' second try; he ran unsuccessfully in 1996, as well.
American greatness and the American dream were common themes in all the candidates' speeches to one extent or another. The details changed, in part because of current events at the time. The message and delivery differed greatly with the candidates' personalities.
In the text of his remarks posted on his campaign website, Forbes — who was looking to succeed President Bill Clinton — said he was embarking on "a national crusade to restore Ronald Reagan's vision of hope and prosperity for all Americans." Forbes's speech was highly critical of the Democrat's policies and longer on specific pledges, emphasizing "a rebirth of freedom in America," than on inspiration.
Bradley spent a lot of time talking about growing up in Missouri, his family, basketball and his "adopted state" of New Jersey. He spoke of reducing childhood poverty, giving more Americans health insurance, reducing the role of "big money in politics, and gun control. But Bradley's remarks were far more thoughtful than those of Forbes and included some themes similar to those Booker discussed last Friday.
"We're mighty and unstoppable when we all flow together," Bradley said, after remarking that Americans were cynical about politics and the difficulty the parties were having in getting along. "I'm calling on us to renew faith in each other as neighbors … The leadership called for in this moment goes beyond the presidency and into every home and every heart."