New images show escaped murderer Danelo Cavalcante has changed appearance and fled search area
Meanwhile, schools in Chester County are taking extra precautions to keep students and faculty safe, and Longwood Gardens is set to reopen after initial Cavalcante sightings.
What you need to know
Authorities are entering Day 12 of a massive search for 34-year-old Danelo Cavalcante, who escaped Chester County Prison on Aug. 31.
Last week, officials released stunning video footage of the prisoner's scape.
A newly shaven Cavalcante tried to make contact with a former coworker in East Pikeland Twp. and abandoned a stolen van in East Nantmeal Twp. when he ran out of gas.
This story originally appeared on 6abc.
Authorities say an escaped murderer who has eluded capture since breaking out of a southeastern Pennsylvania prison a week and a half ago has apparently slipped out of the search area and changed his appearance.
Pennsylvania state police said Sunday that Danelo Souza Cavalcante was seen overnight near Phoenixville in northern Chester County, more than 20 miles northeast of the area that until now had been the focus of the search.
Police say he made it to that area in a van he stole from a dairy farm near West Chester.
There was a large police presence in the Phoenixville area on Sunday morning, but shortly before noon police said residents may no longer see a large law enforcement presence since "investigative leads have emerged that indicate Cavalcante is no longer in that area."
Cavalcante caught on doorbell video
Police say Cavalcante tried to contact someone he had known and worked with several years earlier at 9:52 p.m. Saturday in East Pikeland Twp. However, that person was at dinner with his family and did not respond.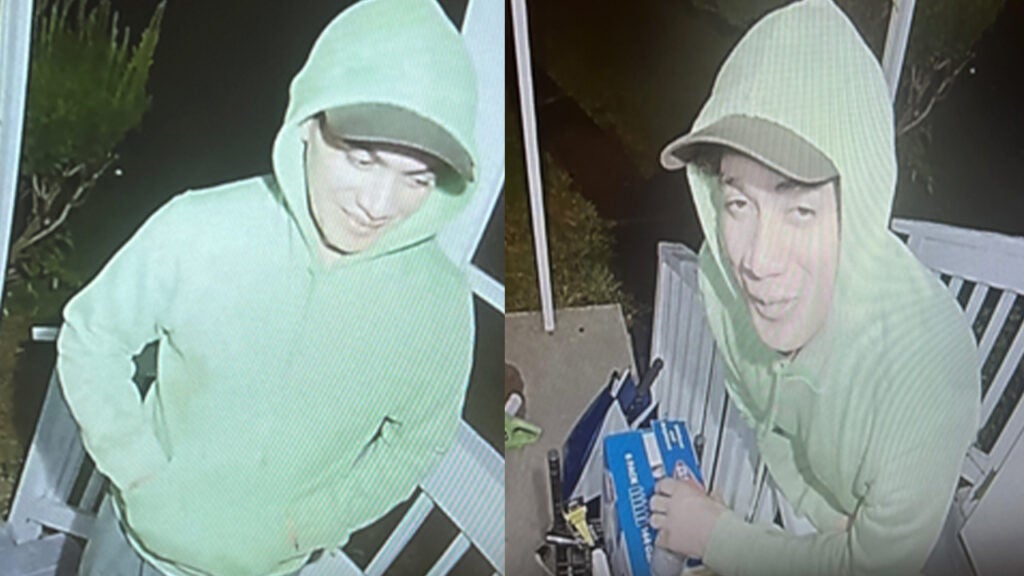 Cavalcante was recorded on a doorbell camera, and the homeowner contacted police around 12:30 a.m. after returning home, Pa. State Police Lt. Col. George Bivens said at a Sunday afternoon news conference.
Images from that video show Cavalcante is clean-shaven and wearing a green hooded sweatshirt, black baseball cap, green prison pants and white shoes, police said.
Cavalcante obtained the sweatshirt from the stolen van, police say. It's not known how he was able to shave.
Police have also learned about a sighting of Cavalcante at the home of another former work associate at 10:07 p.m. Saturday.
That associate was not home, but police were called by the friend of a female resident who spotted him.
As for the stolen van, police say Cavalcante abandoned it in a field behind a barn in East Nantmeal Township after he apparently ran out of gas. It was found around 10:40 a.m. Sunday.
Investigators have been searching around that area since that time.
Bivens said the theft of the van was not noticed until police canvassed the area looking for a stolen vehicle. Police say Cavalcante was able to steal the van because the keys were left inside.
Police are now concerned he may try to steal another vehicle, so residents are being asked to secure their cars and property.
Cavalcante, 34, escaped from the Chester County Prison while awaiting transfer to state prison on Aug. 31 after being sentenced to life for fatally stabbing his ex-girlfriend in 2021.
Prosecutors say he wanted to stop her from telling police that he's wanted in a killing in his home country of Brazil.
Cavalcante has ties to Phoenixville and his victim has family there as well.
He is five feet tall and weighs 120 pounds. He is a Brazilian man who speaks Portuguese, Spanish and some English.
Cavalcante's sister was also arrested by U.S. Immigration and Customs Enforcement (ICE), Bivens stated during Sunday's press conference. There is no word yet whether she was connected to the escape.
Anyone with information is asked to call 911 or the police tip line at 717-562-2987. There is a $20,000 reward for any information that leads to Cavalcante's capture.
Schools announce new safety measures
As the search continues for the escaped murder convict, schools in Chester County are taking extra precautions to keep students and faculty safe.
The Owen J. Roberts School District in Pottstown says there will be an increased security presence on campus on Monday.
Officials also said they will not hold outside recess or gym classes.
The Phoenixville Area School District said classes will go on as usual, with no outdoor activities.
And the Kennett Consolidated School District says it will resume to normal operations on Monday.
Longwood Gardens set to reopen
Longwood Gardens officials say the popular attraction will reopen at 10 a.m. on Wednesday, September 13 following the latest developments in the search for Cavalcante.
The garden closed last Thursday due to several sightings of the escapee in the area.
Images of Cavalcante were captured on a trail camera Wednesday night and led to a flurry of activity by law enforcement officers.
After that, a message was sent out by garden officials ordering those on the property to shelter in place, and they announced the closure of the attraction.
According to the website, now that Cavalcante has moved further north, officials are ready to reopen.
CHESTER COUNTY PRISON OFFICIALS RELEASE VIDEO OF DANELO CAVALCANTE'S ESCAPE FROM THE EXERCISE YARD

Internal and criminal investigations into the escape of Cavalcante are ongoing, and Prison Officials will provide additional information as able. pic.twitter.com/Thg2YzAOQ0

— Chester County District Attorney's Office (@chescoda) September 6, 2023
How did Cavalcante slip through the perimeter?
With yet another community on alert after several sightings of escaped inmate Danelo Cavalcante, state police were pressed on how Cavalcante managed to breach that massive 400 officer perimeter near Longwood Gardens, steal a dairy van, abandon it, all before taking off again.
Bivens admitted during Sunday's news conference that Cavalcante slipped through their grasp, listing a number of factors including the terrain, tunnels and weather.
"I'm not going to make an excuse to you. I wish it had not happened. Unfortunately, there are a lot of circumstances. There are a lot of issues associated with that property," said Bivens.
Though it's not clear whether Cavalcante is being assisted in his escape, Col. Bivens had a stern warning for anyone attempting to help Cavalcante.
"They will be prosecuted vigorously if we can prove that they assisted him and the types of charges depends on the type of assistance, but we have the DA here and I don't want to speak for her, but I'm certain she is well prepared to prosecute anyone who assists in any way."
Residents grow anxious as search continues
With Cavalcante sporting new clothes and a new appearance in a new part of Chester County, community members are growing anxious.
"You just worry about your family. You want everyone to be safe," said John Davison from Phoenixville.
"It's crazy. You just don't know and you wonder how he's getting around, how he's getting food, and how he just continues to go from day to day. And now, he's changed his appearance from what we understand," commented Gayle Hammond from Lansdale.
Despite their worry, residents say it doesn't shock them that Cavalcante came to that area.
"He's got family here and stuff so of course he's going to try to get to them for help," said Stacie Chalfont from Spring City.
Although state police are closely monitoring the situation, residents are still worried as the search continues.
Cavalcante convicted of killing former girlfriend
Cavalcante was convicted of first-degree murder on Aug. 16 for fatally stabbing Deborah Brandao 38 times in front of her two young children in Schuylkill Township.
He was captured in Virginia after Brandao's killing and authorities believe he was trying to return to his home country.
He was sentenced to life in prison without parole last week for the fatal stabbing and was set to be transferred to a state correctional institution in four weeks.
The victim's sister, Sarah Brandao, told CNN last week that Cavlacante seemed to transform over time, eventually exuding jealousy and threatening Deborah before her death.
Sarah, who lived near both of them and is taking care of Deborah's two children as well as her own daughter in Pennsylvania, is terrified about his escape and worried that he could come after her.
"I haven't slept for many days. Since (his escape) I have been waking up with fright at night. I nap and wake up with fright," Sarah Brandao told CNN in an interview translated from Portuguese to English.
His behavior toward Deborah changed over time, Sarah said.
"She kept saying that he was extremely jealous – that when he drank, he became a different person; that he kept going through her cell phone," Sarah said.
Prison fires tower guard on duty when killer escaped
The Chester County Prison tower guard who did not see or report Cavalcante's escape was fired on Thursday, according to the district attorney's office.
The guard was an 18-year veteran of the prison. He has not been identified.
Video shows Cavalcante walking toward a doorway at the Chester County Prison. He then spends a moment looking over his shoulder.
Cavalcante then places his hands on one wall and his feet on another, then manages to scale the walls while parallel to the ground.
The fired guard was in the observation tower but that person did not see the escape, according to Acting Warden Howard Holland.
Timeline of the day Cavalcante escaped
Investigators say it took an hour for Cavalcante to be reported missing when he failed to report back from recreation time.
The following timeline of the day Cavalcante escaped was released by Acting Warden Howard Holland last week:
8:33 a.m.: Cavalcante's block entered the exercise yard
8:51 a.m.: Cavalcante escapes from the prison by crab-walking up a wall, pushing his way through razor wire, running across the roof and pushing his way through more razor wire
9:35 a.m.: Cavalcante's block returns to the unit from the yard
9:45 a.m.: Officers on Cavalcante's block notify central control of a missing inmate
9:48 a.m.: Officers inform central control that Cavalcante was missing. There was a belief he was in a phone visiting room but he was not there
9:50 a.m.: The prison was locked down and a special count was conducted
10:01 a.m.: The public escape siren was sounded and the 911 center was notified
WHYY is your source for fact-based, in-depth journalism and information. As a nonprofit organization, we rely on financial support from readers like you. Please give today.