Council committee begins probe of demolition procedures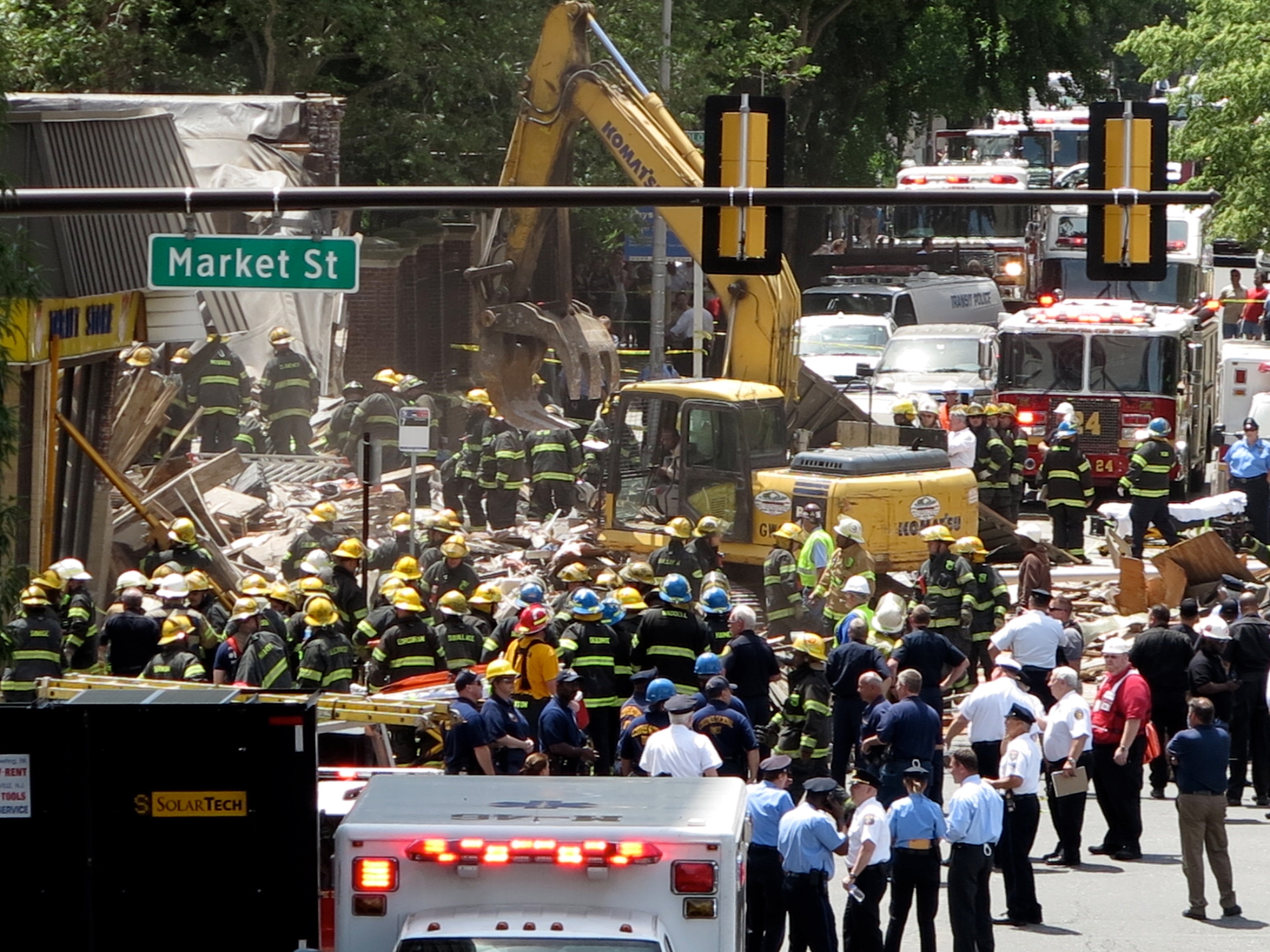 A City Council committee appointed to investigate the city's standards on public safety and demolitions held the first in a planned series of hearings Wednesday, following the fatal botched demolition of a building at 22nd and Market streets earlier this month.
Councilman Curtis Jones, Jr., who chairs the five-member investigative committee, said the goal of the hearings would not be to look into the deadly 22nd and Market collapse, but to review citywide standards for demolition safety in advance of a "document of recommended courses of action," and, potentially, new legislation. City Council begins its summer recess next week, but further hearings are scheduled for June 27th, July 11th, and August 1st, 13th, and 15th.
For more than two hours, committee members questioned Carlton Williams, Commissioner of the Department of Licenses and Inspections, and Everett Gillison, Deputy Mayor for Public Safety and Mayor Nutter's chief of staff. City Controller Alan Butkovitz also gave a brief testimony.
The committee began the hearing with general questions about the structure of L&I, the agency charged with enforcing the city's building, fire, and property maintenance codes, among others. L&I has shrunk significantly in the past few decades. It employed 290 people in the last fiscal year, grew to 300 in the current year, and will gain 20 more employees next year, according to testimony from Commissioner Williams. The employees are spread across three divisions: administration, development, and operations.
Those employees are responsible for countless tasks, from issuing zoning permits and business licenses to inspecting demolition sites and sealing vacant buildings. In Fiscal Year 2011, according to L&I's annual report, 39 building inspectors performed 93,103 inspections. That's an average of nine-and-a-half inspections per inspector per business day. In the same year, 22 abatement workers sealed 1,437 buildings.
The Dept. of L&I would not say, explicitly, that it is understaffed, and maintained that its inspectors more than adequately enforce the existing codes. In response to a line of questioning from Councilwoman María Quiñones-Sánchez, who also chairs Council's L&I Committee, Commissioner Williams said that, based on the code, no supplementary documents in the form of site safety plans or engineers' reports are required for contractors to pull demolition permits. Contractors are required to be licensed, insured, and current on their city taxes. As long as those conditions are met, Williams said, permits are issued over the counter.
It's true that the city's building code has no specific public safety standards for building demolition. As others have pointed out, the city has had more rigid, specific requirements for demolitions performed by L&I itself.
Deputy Mayor Everett Gillison testified on Wednesday that the contractors who pull permits for private demolitions are responsible for the same level of safety as the city–but it is the contractor that's responsible, he said, and not the city.
"Just because we give someone a permit does not make us responsible," Gillison told the committee.
Gillison and Williams said it's ultimately the responsibility of private contractors to perform construction and demolition jobs to the standards of the code. Which points to deficiencies in the code itself. Whether L&I has the resources to carry out its mission or not, Philadelphia's code is less explicit than some other cities' when it comes to demolition standards. Other cities, including New York, Los Angeles, San Antonio, Texas, and Reno, Nevada, have more detailed requirements, according to research compiled by Councilwoman Sánchez' office in anticipation of the committee hearings.
Some committee members asked whether there were any particular educational requirements for inspectors employed by L&I. Carlton Williams said all inspectors go through initial and ongoing training programs, but in order to be hired they must simply pass the civil service exam. Williams said he is confident that the agency's training programs are adequate in getting inspectors familiar with the various codes. Councilman Jim Kenney suggested that L&I may want to begin recruiting individuals retiring from building trades who already have a familiarity with construction and demolition work.
Nutter recently issued an executive order enumerating new requirements for contractors doing demolition work, requiring them to submit site safety plans, brace free-standing walls taller than one story, and demolish buildings by hand, from top to bottom, among other requirements. But those requirements have yet to be added to the city codes.
Everett Gillison said that after July 1st, when the new fiscal year begins, L&I will have a special unit working "non-traditional hours" in order to help prevent illegal demolition work taking place overnight, when L&I inspectors have traditionally been off-duty.
In his testimony and responses to questions from committee members, City Controller Alan Butkovitz said that L&I does not have the money or the staff it needs to be able to do its job well, and referred to construction and demolition in Philadelphia as "a self-policing system." Councilman Curtis Jones, Jr., said after the hearing that he too believes L&I needs greater resources.
"What [the committee] agreed early on is, we would not deal with the specific collapse on Market Street, but what we would deal with was the greater policy implications, the greater budget implications, the greater legislative changes that were needed, and I think we've started to establish a public record to do just that," said committee chairman Curtis Jones, Jr. "I think out of this will comprehensive set of actions that have started with the mayor's executive order, but will be fine-tuned to deal with what other cities are doing and what we need to be doing as a municipality."