Coronavirus update: Pa. unemployment portal opens for self-employed workers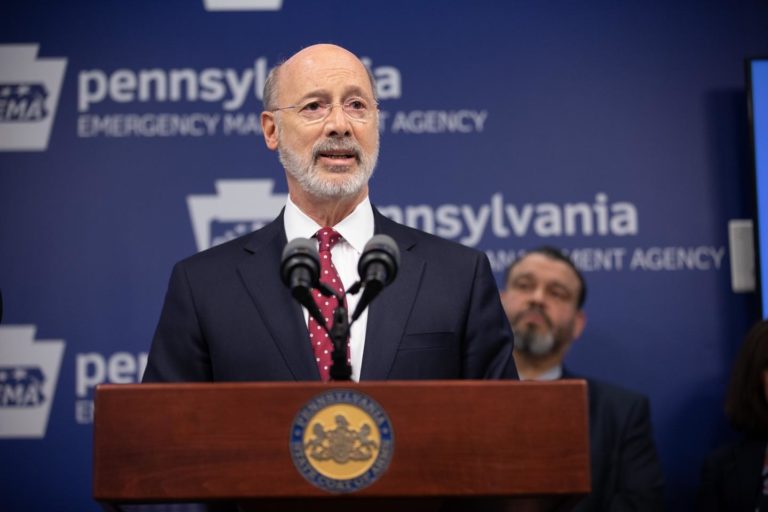 Updated at 4:15 p.m.
–
Are you on the front lines of the coronavirus? Help us report on the pandemic.
As of Monday afternoon, there are 33,747 confirmed COVID-19 cases in Pennsylvania, 88,806 in New Jersey, and 2,538 cases in Delaware. Philadelphia has 9,553 cases.
Pennsylvania's death toll stands at 1,312, New Jersey's at 4,377, and Delaware's at 67. Philadelphia's death toll is 370.
Pa. unemployment portal open for self-employed workers — but it's not paying out yet
Pennsylvania's new application for self-employed and gig workers saw 50,000 applications over the weekend, according to Department of Labor and Industry secretary Jerry Oleksiak. The portal went live late Friday evening.
Eligible workers will receive between $195 and $572 a week, and are automatically eligible for another $600 weekly from the federal government.
However, state officials said they are not yet ready to begin paying eligible workers through the Pandemic Unemployment Assistance program, or PUA. Nor would the department give a date when it would be ready. The application to determine eligibility, launched over the weekend, is still being tweaked, and may have erroneously told eligible applicants they should go apply for traditional unemployment. The form will be updated with more questions later in the week and previous attempts to determine eligibility will not be held against anyone who tries again.
The number of people seeking support through the new program are in addition to the 1.5 million Pennsylvania residents who have applied for traditional unemployment insurance benefits since March 15, more than any other state except for California.
Temple U. overflow hospital starts admitting patients
Philadelphia's field hospital — located inside Temple University's Liacouras Center — admitted its first patients on Monday, city officials announced.
That news comes as the number of infected patients in regional hospitals continues to climb, Philadelphia Health Commissioner Tom Farley said. The overflow site will serve coronavirus patients who have passed "the worst stage of their disease, but are not ready to go home yet," Farley added.
There are 923 COVID-19 patients in city hospitals right now and a total of 1,737 patients hospitalized around the region.
"Some of the hospitals in the region are near capacity and some of them are short on staff," Farley said.
To alleviate capacity issues, patients have been moved around the region, Farley said. That now includes the overflow site at Temple, which was turned from a sports arena into a field hospital over the past three weeks.
'Mixed' news out of Philadelphia on virus spread
The number of new coronavirus cases and deaths in Philadelphia has gone down, Health Commissioner Tom Farley announced Monday. But the number of infected patients in city hospitals continues to climb, roughly doubling in the past two weeks.
"The news on the epidemic today is mixed," Farley said.
The city announced 339 new confirmed cases of COVID-19 on Monday, bringing the city total to 9,553. Farley warned that case confirmations come in "batches." He said city officials would keep a close eye on infection numbers in the days ahead to see if there's a sustained downward trend in new cases.
"That's a number we should be watching closely to see if there are consistent decreases," Farley said.
Philadelphia also announced five new deaths due to the coronavirus. Since the outbreak started, 370 Philadelphians have now died because of the virus.
No high school graduations in Montco
None of the public high schools in Montgomery County will hold in-person graduation ceremonies this year, county officials announced Monday.
"There really is no scenario at this point — that we could predict — that would allow large numbers of people to come together for a gathering like a high school graduation," said Valerie Arkoosh, chair of the Montgomery County Board of Commissioners.
Arkoosh added that area superintendents are coming up with "great, creative" ways to honor graduating students this spring.
Montgomery County officials are hopeful they will have significantly slowed the spread of COVID-19 by late May and early June, when graduations typically take place.
"But to bring hundreds of people together to celebrate a graduation could … completely undo everything that we will have achieved by then," Arkoosh said.
Montgomery County announced 184 new positive cases of COVID-19 on Monday, for a total of 2,923 cases since the outbreak began. In all, 164 county residents have died.
Wolf announces limited business reopenings in Pa.
Pennsylvania Governor Tom Wolf announced the first, tentative steps in an economic reopening plan Monday.
Pennsylvania will allow digital notary services, opening the way for online car sales, Wolf said. On May 8th, he added, the state will allow "limited construction" activity with "strict guidelines for social distancing."
The state has also green-lighted curbside pickup at 176 of its state-run wine and spirits stores. The governor said state officials are treating this as an experiment to see if Pennsylvania can allow curbside pickup at a broader range of businesses than previously allowed.
"We are taking small steps toward regaining a sense of normalcy in Pennsylvania," Wolf said.
The governor said Pennsylvania's business closures have helped prevent a feared patient surge that could overwhelm local hospitals. He warned, however, that the state was not yet in the clear.
"The steps we're taking today are not a sign that we should abandon social distancing," Wolf said.
Wolf also extended the state's 'stay at home' order to May 8.
Protestors at the Capitol
Protestors are in Harrisburg today to demand the state ease stay-at-home orders — saying the state's coronavirus shutdown has been too onerous on businesses and workers.
By mid-morning Monday, hundreds gathered near the Capitol building carrying signs and waving flags. Reporters on the scene described participants as ignoring social distancing protocols and using masks only intermittently.
Just pulled up to the anti-business closure/stay-at-home order rally. A lot of Trump signs and chants. No social distancing. Many without masks. pic.twitter.com/XwqR1gNIHc

— Logan Hullinger (@LoganHullYD) April 20, 2020
On Sunday, Health Secretary Rachel Levine urged protestors to practice social distancing while they exercise their First Amendment right.
"If, however, they get out of their cars and they're not practicing social distancing, if they're not wearing masks, if they're having personal contact like shaking hands, etc … then that is a public health risk and I'm concerned for their health," said Levine, adding the protestors could bring the virus back to their hometowns and get others sick, even if they don't show signs of illness.
The protest comes as the state reports 1,618 health care workers have tested positive for COVID-19 and most of the deaths affect people 65 and older.
For first time in weeks, Pa. adds less than 1,000 cases
Pennsylvania announced 948 new positive cases of COVID-19 on Monday, the first time the daily tally has dipped below 1,000 since April 1.
The state's death toll continues to mount, however. Another 92 Pennsylvanians succumbed to the illness, state officials said.
There are now 33,232 confirmed cases of COVID-19 in Pennsylvania
Pa. saw highest daily increase in deaths over the weekend
Pennsylvania reported 1,215 new cases Sunday afternoon, as well as 276 fatalities among patients who tested positive and those who likely had COVID-19.
These were the largest daily increases for both, but there was a major caveat.
Secy. Levine said the majority of these deaths did not occur over the weekend, and that the increase is due to the state reconciling data from several sources, including county and municipal health departments, and finishing investigations into some cases.
Some reports list several possible causes of death, with COVID-19 cited as a possible "fourth or fifth cause," said Levine Sunday. State epidemiologists then have to investigate to determine whether the patient had previously tested positive for COVID-19 and whether the virus is the cause of death.
"We want to provide you with the most accurate information possible and that will mean that at times there will be a single day's report that will show big increases like today," said Levine.
Pa. unemployment portal open for self-employed workers
Late last week, Pennsylvania started allowing self-employed workers to apply for unemployment benefits.
The state's online application portal went live on Friday.
Pennsylvania has already seen record levels of unemployment claims since the state-ordered shutdown of nonessential businesses. As part of the federal stimulus package, self-employed workers, independent contractors, and gig workers are eligible for regular unemployment compensation.
Eligible workers will receive between $195 and $572 a week, and are automatically eligible for another $600 weekly from the federal government.
WHYY's Laura Benshoff contributed reporting.