Cookbooks, comics, and capitalism: Book clubs for every reader
Choose your own adventure with these book club offerings in Philadelphia and beyond.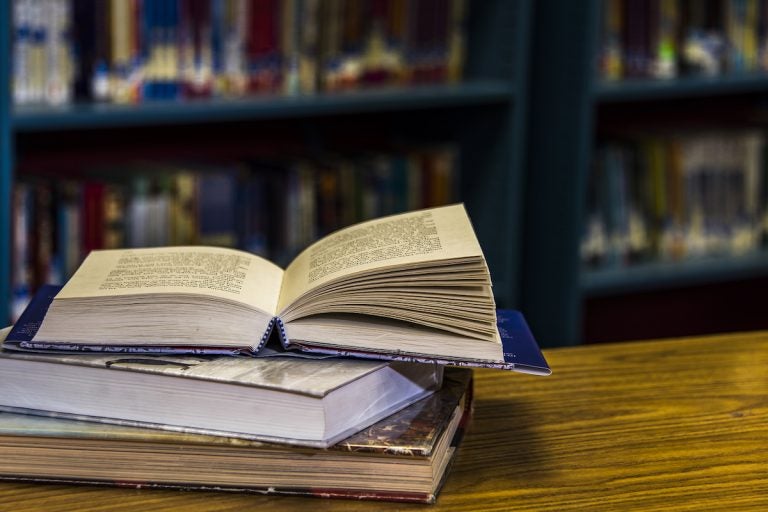 Summer reading is great and all, but sometimes you need a little motivation to finish that book. Whether you're looking for the latest fiction, a deep dive into history, or something for out-of-school bookworms, here are some book clubs to join all across the Philadelphia region.
---
The Book Club of Doom! — Penn Book Center, Philadelphia
After President Donald Trump announced his travel ban last year, staff at West Philadelphia's Penn Book Center quickly assembled a reading list, and then a book club: Books from Banned Lands. Every month, they read a piece of fiction from one of the seven countries on the list, including Yemen, Somalia, Syria, and Iraq. (You can still see their reading list here.)
Since then, the bookstore has continued to organize reading groups that take on the present political moment in novel ways. The Book Club of Doom! features speculative fiction, an increasingly popular genre that falls between sci-fi and mainstream literature.
"I think speculative fiction is books that deal with the possible, whether that be political innovations or technological innovations, and have that be the engine of the story," says Book Club of Doom! organizer Kyle Brown-Watson. Think Margaret Atwood's "The Handmaid's Tale."
All of the books Brown-Watson has chosen are by women, and most are by women of color. Saturday, they're discussing "Gold Fame Citrus" by Claire Vaye Watkins, a technicolor portrait of post-apocalyptic California that Brown-Watson describes as a "biopsy of the present."
---
Women's World Book Club — Penn Book Center, Philadelphia
The Penn Book Center also hosts the Women's Worlds Book Club. Inspired by the Women's March and #MeToo movements, but also troubled by rising nationalism, this book club aims to expand the conversation about women's empowerment beyond U.S. borders. Every month, members read a book by a woman outside the U.S. This month, meeting on June 16, the club will discuss "The First Wife" by Paulina Chiziane, Mozambique's first published female novelist. In this comic yet critical novel, wives in a polygamist marriage band together to demand their rights.
---
Cookbook Club — Philadelphia and Haverford Township free libraries
This twist on the traditional book club is less about reading and more about eating. Every month, participants choose a recipe from the featured cookbook and bring that dish to the meetup. They talk about what they liked about the recipe, what they didn't like, and everyone gets to taste the results. "I think we all fall into a rut of making the same 10 dishes," says Mary Bear Shannon, a librarian who's run a Cookbook Club at the Haverford Township Free Library for four years. She says it's common for parents to come with their adult children, or spouses to come for a tasty date night.
This month, they're reading Christopher Kimball's "Milk Street: The New Home Cooking," and meeting up to talk about it Monday. The Philadelphia Free Library's Cookbook Club next meets July 11 to discuss Deborah Madison's "Vegetable Literacy."
---
Teen Book Club — Haverford Township Free Library
"I don't think teens think they're invincible, I think sometimes they feel very vulnerable," says Jenifer Phillips, who organizes a book club for teenagers that doesn't shy away from difficult topics. Past books have included John Green's "The Fault in Our Stars," about a teen with cancer, and the controversial "Thirteen Reasons Why," which deals with suicide.
"That was a profound book for us to do. I had parents of two of the kids call me and say, 'My kid came to me and said I'm depressed.' And they probably wouldn't have been able to speak out without reading that book," says Phillips.
She says the club attracts slightly older teens who love books and want a safe space to talk about them. "We have a little more freedom than schools. Some schools won't touch books about mental illness or homosexuality," Philips says. "I get the kids who want more of a deep read than they're getting in school."
This month, they're reading "Spliced," by Jon McGoran, a sci-fi thriller about a future in which people can pay to have animal genes spliced into their own. The book is set in Philadelphia, and author McGoran, who lives in the city, will be visiting the book club for its June 20 meeting.
---
Graphic Novel Book Club — Ridley Township Public Library
Phillips also hosts a graphic novel book club for younger teens at the Ridley Township Public Library. "I've just seen interest grow over eight or nine years working in libraries, the graphic novel industry has really grown," she says. "I think reluctant readers pick up on it really quickly, and it's exposing people to art too."
This month, they're reading "El Deafo" by Cece Bell, a comic memoir of the author's deafness, and the superhero alter-ego she creates to find her place in the world. Upcoming books include "The Dumbest Idea Ever!" (July), "Real Friends" (August), and Neil Gaiman's graphic novel version of "The Graveyard Book" (part one in September and part two in October).
---
Caucus of Working Educators and Teachers Action Group Summer Reading Series — Various locations
It's not just students who are out of school for the summer. Teachers looking to stay sharp and find new ways to bring social issues into the classroom will find common ground in one of 16 reading groups hosted by the Teachers Action Group and Caucus of Working Educators. This year's books include "So You Want to Talk About Race" by Ijeoma Oluo, "Stamped from the Beginning" by Ibram X. Kendi, and "Teaching for Black Lives," edited by Dyan Watson, Jesse Hagopian, Wayne Au.
"Cultural relevancy is not just important for black and brown students, it's equally relevant for all students," says Angela Crawford, a teacher who is facilitating two of the reading groups. "If everyone has a better understanding of each other, we can eliminate some of these -isms we have: racism, genderism, sexism. We can plant the seed to make people less ignorant of something they don't know enough about."
Participants can sign up for as many reading groups as they would like; they're scheduled for different times and on different days of week. And all are welcome — not just teachers — but parents, community organizers and activists.
---
Fiction and Nonfiction Book Clubs — Wellington Square Books, Exton, Pennsylvania
Just looking for a straight-up best-sellers book club? Well, look no further. Hidden gem Wellington Square Books in Exton has fiction and nonfiction book clubs. This month's novel is National Book Award finalist "Pachinko" by Min Jin Lee, a family saga set in Korea and Japan (meeting on June 20). Next month, the nonfiction book club is reading "Brunelleschi's Dome: How a Renaissance Genius Reinvented Architecture," by Ross King (meeting July 5).
---
If that's somehow not enough for you, plenty more book clubs are hosted by the Philadelphia Free Library. And, at the Haverford Township Free Library, you can even borrow Book Club in a Bag, which includes eight copies of a book plus discussion questions and materials so you can host your own reading group.
---
This article is part of a new effort recommending things to do in the Philly region. Tell us what you think.
WHYY is your source for fact-based, in-depth journalism and information. As a nonprofit organization, we rely on financial support from readers like you. Please give today.