Constructing modern ballet on Washington Avenue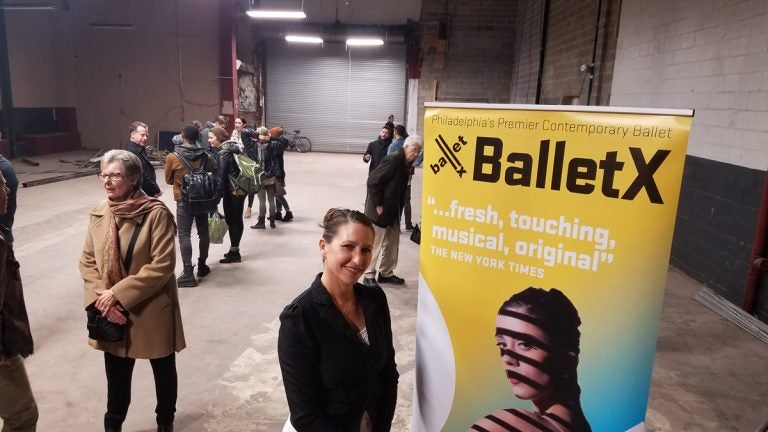 The go-to place for those in Philadelphia's construction trade — along the Washington Avenue corridor in South Philadelphia — will be the new home of modern ballet.
BalletX, the city's most prominent company for new ballets, broke ground on its new home at 1923 Washington Ave. in what used to be a furniture warehouse.
The space, to be called the Center for World Premiere Choreography, will house the company's offices, public dance classes, after-school programming, professional training, and a laboratory for new choreography.
BalletX's artistic and executive director Christine Cox has the ambitious goal to commission 40 new dance works by 25 choreographers in the next 10 years.
For its first 12 years, BalletX had been renting office space at the Wilma Theater, on whose stage it also performs, and scrambling for rehearsal space in various locations around the city. The new headquarters will put everything under one roof.
"Currently with staff in one office, dancers in another part of the city, I'm jogging between places," said Cox. "It's not cohesive. The kind of work we do really can be built around a community when we have our own place to open the doors and bring people in."
BalletX is modeled on a collaborative creativity; it often commissions for choreographers to travel to Philadelphia and invent new works with its company of dancers. The new space at 19th and Washington will be outfitted to allow the public to watch that creative process.
The dance floor will be one of the largest unobstructed, sprung dance floors in the city, measuring 70 feet by 40 feet. Much of it will be walled with glass and tiered seating, allowing visitors to watch the invention of choreography unfold.
"We have been developing the heart and soul of the organization, which is the product on stage," said Cox. "While doing that, we've been building community outreach programs, in-school programs, pop-up performances around the city. Now, with our own place, we can take those programs and go further."
BalletX has raised more than half of a $2 million campaign, to pay for building renovations and three years of operations. The new space is expected to open in March.