Community kitchen serves up hope for town struggling to recover from Sandy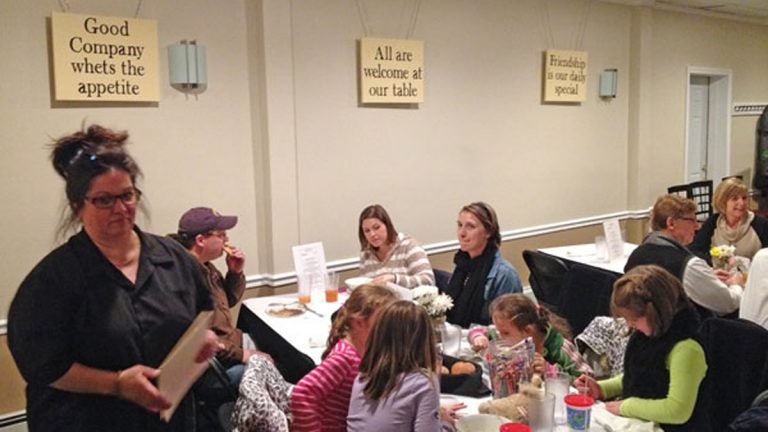 Once a week, the parking lot fills with cars and dozens of people crowd into a dining room in Union Beach. Waiters and waitresses take their orders and bring out gourmet-quality food, made with local and organic ingredients.
But this is no ordinary restaurant. It's a nonprofit endeavor run entirely by volunteers, and half of the Sandy victims who show up to eat pay for their meals with hard work in the kitchen rather than cash.
Nearly two-and-a-half years after Sandy, while many people have moved on, evidence of the storm is still everywhere in Union Beach. Progress has been slow, with vacant lots and homes in various states of repair dotting the landscape.
But now there's a new addition to the neighborhood: a gathering place where everyone's welcome to come together and share their struggles over a hot meal. Spoon Full of Hope has been operating in town since the beginning of the year, and now it's received financial backing from a wealthy donor, guaranteeing that it will be able to keep its doors open to all those in need.
The creator of the so-called community kitchen is Angelita Liaguno-Dorr — known to most of her friends as "Gigi" — whose Union Beach restaurant, Jakeabob's Bay, was totally destroyed in the storm. She was determined to rebuild, but she quickly hit snags, getting bogged down in paperwork and legal battles with her insurance company that continue to this day.
In the meantime, she began pitching in wherever she could to help others in Union Beach put their lives back together.
The real eye-opening experience for her was working shortly after the storm with the Gateway Church of Christ to distribute 36,000 frozen meals to people around town still struggling to get back on their feet.
"We went out and we delivered with the firemen and the policemen and ambulance squad," she said. "Carl's the pastor from Gateway, and I came back and said to Carl, 'There's a need. Something's going on!'"
Recognizing that need, five-and-a-half months after Sandy when she managed to reopen her restaurant at a temporary location in a different part of town she implemented the practice of "paying it forward," in which her patrons could chip in extra money for others who couldn't afford their meals. Then, with the help of the church, she began serving dinner a few nights a week on a "pay what you can" basis.
But with so many of her old customers still not back in town, business was slow, and it became increasingly difficult keep the doors open. Eventually, she decided that she had no choice but to close. It was sad for her to shutter her restaurant for the second time since the storm, but what bothered her even more was that she'd no longer have the opportunity to feed the needy in her midst.
Then, just a few weeks later, she got a call out of the blue from Dorothea Hurley, wife of New Jersey rock legend and philanthropist Jon Bon Jovi, who operates his own community restaurant in nearby Red Bank. After meeting with Gigi for several months, Bon Jovi's foundation decided to sponsor her efforts. Thus, out of a spare room in a Union Beach fire station, Spoon Full of Hope was born.
Nearly a hundred people have been showing up for the weekly, 3-course dinner since it started in January. For those who can afford it, it costs a minimum donation of $10 for adults and $5 for children, but instead of paying, about half the patrons pitch in an hour of their time in exchange for a dining certificate good for them and four of their family members or friends.
MaryJean Riccardi is one of the regular volunteers.
"A lot of people are still trying to find their way through because their houses were destroyed. It's years later, and still they're out of their homes," she said. "We see the same people every week. They come and they eat, and they stay and they help, and they volunteer. It's wonderful."
Union Hose Fire Company captain Al Lewandowski is among those who lost their homes. Once a month, he and his fellow firefighters help wait tables and wash dishes.
"It's great to see the people that come in that need a meal," he said. "You get to build another friendship, and you're meeting new people from town. It's just a nice way to give back and show our gratitude toward everybody."
Gigi stresses that this is a "community kitchen," not a "soup kitchen," and the quality of the food backs up that assertion. One menu option on a recent night was listed as "seared chicken breast over smashed red bliss tomatoes topped with a Madeira demi-glace and fresh asparagus."
She added that every effort is made to make everyone feel included.
"We serve with pride and dignity," she said. "And we want everybody to hand up. It's not a hand out. We want everybody to come in here and have this warm, restaurant-type feeling as best as we can. Whether or not they're in need or they're helping their community push it forward, we want everybody to feel the same. It's a great feeling. Everybody's equal. We're all one. We're all in this together."
Gigi is still struggling to get the funding to rebuild her restaurant. She's hopeful she'll at least be able to open a pop-up waterfront tiki bar in time for the summer. But in the meantime, Spoon Full of Hope gives her something to look forward to each week. In her 25 years running a business, she says this is the most rewarding thing she's ever done.
__________________________________________________
NJ Spotlight, an independent online news service on issues critical to New Jersey, makes its in-depth reporting available to NewsWorks.