Common Pleas Judge Chris Wogan gets tough on criminal justice system at Burholme civic meeting
Judge Chris Wogan says he has such a reputation for being tough on crime, that once a defendant had a will drawn up, naming Wogan as the primary beneficiary in the hopes that a conflict of interest might force a change.
It didn't work then, the Philadelphia Common Pleas judge says, and nothing has changed.
"They say I'm tough. I just think I'm fair," Wogan, 60, told more than 60 residents at Thursday night's Burholme Civic Association meeting. In a 20 minute address, Wogan railed against his perceived frustrations with the Philadelphia court system but said there is hope.
"Good people are working to fix the problems," the 1968 Cardinal Dougherty High School alumnus said. "There is an optimism now that I didn't see even a few years ago."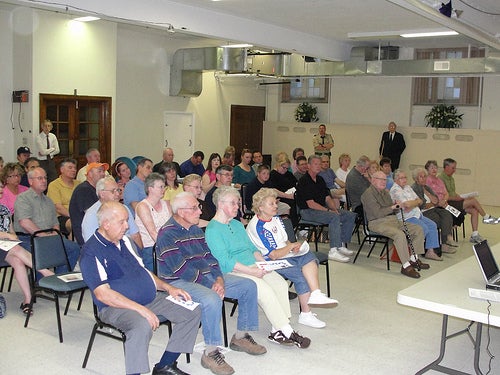 Shortages of responsible jurors, competent and well-meaning judicial clerks and general accountability are three under-reported factors in the failing Philadelphia judicial system, Wogan argued. He noted witness intimidation and sheer volume as the more commonly known problems, as heavily sourced in the powerful Inquirer series on the subject.
State Supreme Court Chief Justice Ron Castille and his fellow justice Seamus McCaffery, both from Philadelphia, are highlights that are leading a charge to make change in the system, Wogan said.
His speech, as the featured guest at Burholme meeting, was also peppered with stories of his own experiences from nearly a decade on the Common Pleas bench, after serving a generation as a state representative serving a portion of the Northeast. The tough reputation that Wogan himself described was backed up in his introduction by Burholme Civic President and fellow Republican Al Taubenberger.
"Chris is a dear friend in the fight against crime," Taubenberger said.
Wogan implored residents to think twice before purposefully trying to be dismissed for jury duty.
"People with jobs do everything they can to get out," he said. "So who do you think is left?"
Jurors who are less strict and less connected to their community, was his answer.
Burholme Neighborhood flags
As many as 50 Burholme neighborhood flags will soon line portions of Cottman, Rising Sun and Oxford avenues, Al Taubenberger announced.
"We are so delighted to have these hanging in Burholme," Taubenberger said. "Really special credit goes out to [my son] Matt Taubenberger and Christine Houck."
Houck, Taubenberger said, is the owner of Moegerle Paints and designed the flags.
Colored a deep red and emblazoned with the phrase "A Great Place to Live," the flags were purchased with the help of funding from state Rep. George Kenney, Taubenberger said.
One hundred flags were bought to be rotated in and will be taken down during winter, Matt said.
Wogan also shared stories of mismanagement, incompetence and rogue neglect from the clerks that are charged with handling the case files and officially recording a judge's verdicts.
"I've found a couple hundred 'mistakes' have been made to let folks come out earlier, but in all these years, I've only seen one that kept someone in longer," Wogan said, noting that he's working to rectify those mistakes. He said more than once that his current clerk is dependable, but that ones in the past would directly disobey his sentencing.
Such inconsistencies in the system are helping to speed a neighborhood decay in communities like those in the Northeast, he said.
"It's very painful, very troubling to have to sign a narcotics warrant for an address in Rhawnhurst or Burholme," Wogan said. "But I see it more."
But Wogan isn't defeated he said.
"There is a little part that we can all do, like serving on a jury or, for me, being tough and holding people accountable," he said. "We just need to do that part to make our communities better."
WHYY is your source for fact-based, in-depth journalism and information. As a nonprofit organization, we rely on financial support from readers like you. Please give today.