Drag queens are out, proud and loud in a string of coal towns, from a bingo hall to blue-collar bars
In red communities across America, lawmakers are pushing to restrict drag performances and, in some cases, broader trans and gay rights.
Deep in Pennsylvania coal country, the Daniels drag family is up to some sort of exuberance almost every weekend.
They're hosting sold-out bingo fundraisers at the Nescopeck Township Volunteer Fire Co.'s social hall, packed with people of all ages howling with laughter and singing along. Or they're lighting up local blue-collar bars and restaurants with Mimosas & Heels Drag Brunches for bridal parties, members of the military, families and friends.
Or they're reading in gardens to children dressed in their Sunday best — Dolly Parton's "Coat of Many Colors" is a favorite book for performers and kids alike.
In a string of towns running along a coal seam, the sparkle of small-town drag queens and kings colors a way of life rooted in soot, family and a conservative understanding of the world.
Here two very old traditions mingle — and mostly happily, it seems, in contrast to the fierce political winds ripping at drag performances and the broader rights of LGBTQ+ people in red states from Utah and Texas to Tennessee and Florida.
One tradition is the view of family as mom, dad and kids, plain and simple.
The other, back to before Shakespearian times, is drag, a loud, proud and seismically flamboyant artistic expression of gender fluidity. Not plain, not simple, but also bedrock, rising above ground only in culturally adventurous cities.
Yet the Daniels drag family is firmly woven in the fabric of the larger community in this area, where voters went solidly for Donald Trump, a Republican, in the last election. Their trouble is more apt to come from politicians who are increasingly passing laws restricting what they can do.
Alexus Daniels, the matriarch, was the child of a coal miner and a textile worker who was "born with a female spirit." She works at the local hospital as an MRI aide tech.
Jacob Kelley, who performs as drag queen Trixy Valentine, is an LGBTQ+ activist and educator with a master's in human sexuality.
Harpy Daniels, Trixy's twin, is a U.S. Navy sailor who's had three deployments on the aircraft carrier USS Ronald Reagan. Soon that seaman, Petty Officer 1st Class Joshua Kelley, who just reenlisted, moves from a base in Norfolk, Virginia, to one in Spain, with plans to pack a wig "and maybe one or two cute outfits but nothing over the top" for Harpy-style shore leave.
Apart from the twins, the drag performers in this circle are family by choice, not genes. Theirs is an oasis of belonging.
"I never had a person like me growing up," Trixy said, "and now I get to be that for everyone else.
"There was a curse being a queer person in a rural town — the curse is that we'll move … because there's no one like us here, there's no one that can understand us.
"And drag now can be a place or a thing to show people like you that you don't have to go to the cities. It's here in your backyard."
The Associated Press followed the Daniels family for more than a year. Among them:
Alexus Daniels, drag queen
Daniels' first memory is of her great-grandmother's jewelry box. With Cyndi Lauper and the Pointer Sisters blasting, she would wrap herself in knitted blankets to lip-sync and dance for her family. "I had no idea that it was drag or gay," she says. "I was just having a day!"
Alexus hit high school and upped her Halloween game. She soon entered her first drag performance in the small Pennsylvania coal town of Weishample.
"I still was not out at this point," Alexus says. "I wasn't even sure if I was gay. I knew I was attracted to boys and loved all things feminine! I kept this side of me to myself and my best friends growing up, who really didn't see anything strange about it."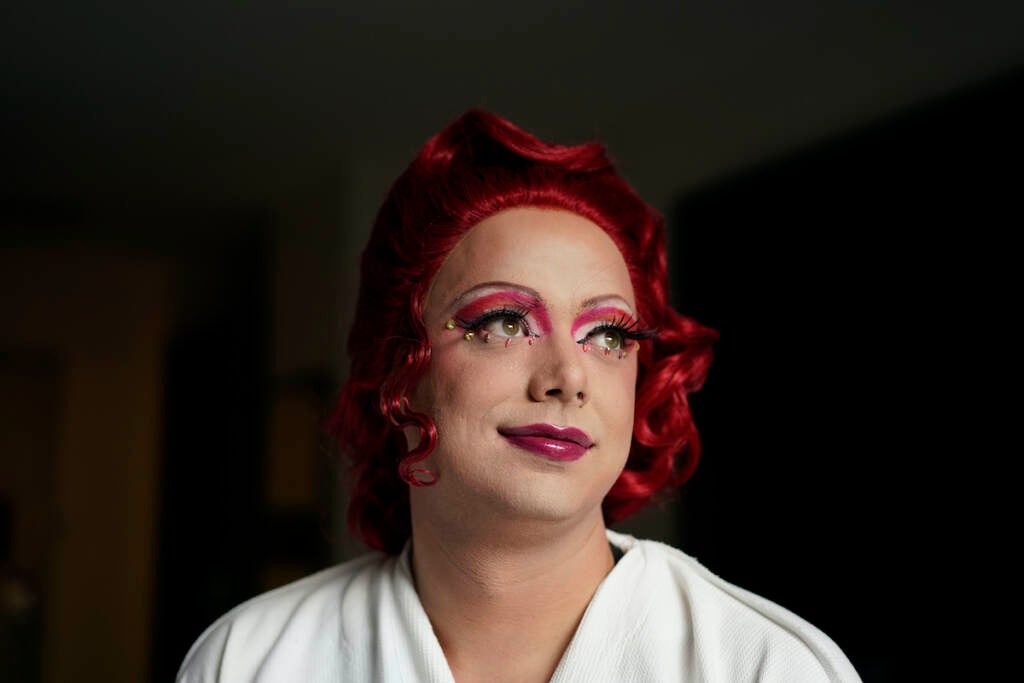 Trixy Valentine, aka Jacob Kelley
In their teens, Joshua was the first to turn to drag. Jacob started about six months later, in a white Marilyn Monroe dress at an amateur pageant in 2014.
Trixy's drag style is eclectic, but whether silly or fierce, there's glitter: "I just want to shine when the light hits me."
"I came out as non-binary a few years ago because I started learning, like, what do I love so much about drag?" Kelley says. "It's that femininity, that so-simple touch."
"I'm not a man," Kelley says. "I never will see myself as a man. And I don't see myself as a woman, either. But I see myself as beyond that."
In March, the Daniels drag family hosted bingo at the Nescopeck fire hall, packed with more than 300 people in a fund-raiser for a nearby theater.
A small group of protesters could be watched on social media from the bingo hall, holding signs and praying the rosary across from the theater. Trixy addressed the bingo crowd.
"There's hundreds of us in this room and only nine of them on that street," Trixy said. "So all I have to say is I don't care what you believe in. But do not force it down my throat and tell me I shouldn't be here because you think I'm wrong.
"The Lord gave birth to me, too."
Trixy was in a long blue wig and Morgan Wells catsuit with an overskirt, a raised fist in the colors of the Pride flag on the chest.
"Alright, let's call some numbers!" Trixy said. "Let's play some bingo!" The crowd cheered.
Harpy Daniels, aka Joshua Kelley, U.S. Navy petty officer first class, drag queen
Until 2011, the armed forces applied the "don't ask, don't tell" policy, which accepted LGBTQ+ people only if they stayed mum about their sexual orientation.
But after Kelley enlisted in 2016, he encountered the opposite — call it "ask and tell." A commander asked what pronoun they prefer. Joshua, relieved by the acceptance implied by the question, told him any pronoun will do.
Now, the sailor is a social media sensation who was named a "digital ambassador" by the Navy, doing outreach to the LGBTQ+ community and others who have been marginalized: "I'm very proud to wear this uniform."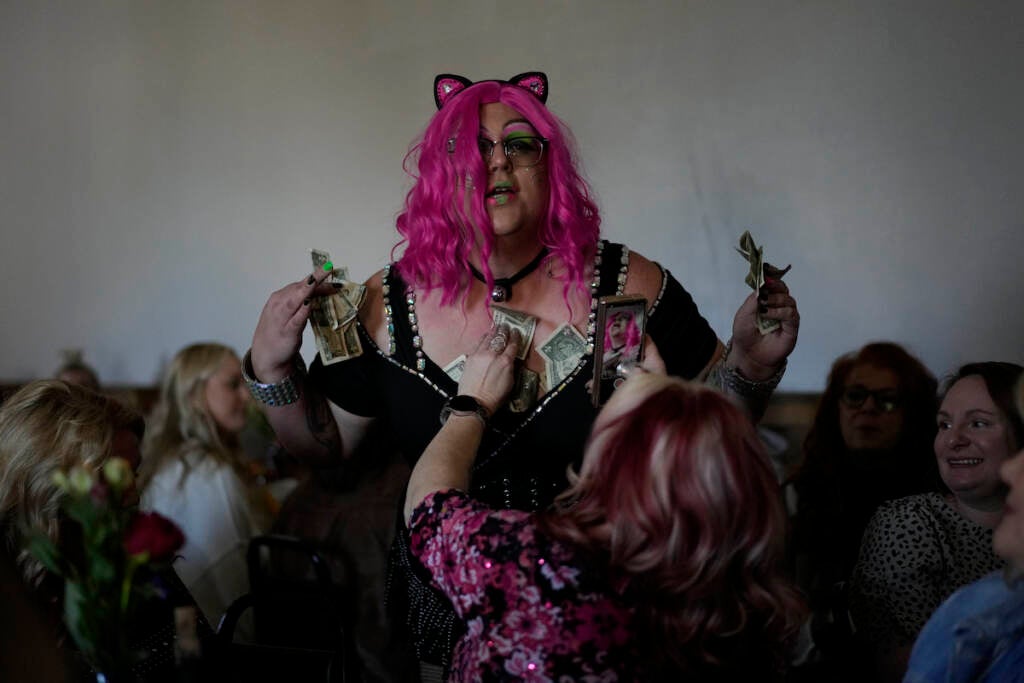 Kitty DeVil, aka Emily Poliniak, drag queen
Kitty, a trans woman, describes her drag style as "punk and a lot of storytelling." Her inspiration: Adore Delano, a 2014 finalist on "RuPaul's Drag Race."
"She was what I wanted to be — this badass punker chick looking gorgeous without sacrificing her style," Kitty says.
Kitty says her performances are high-energy fun but also "a lighthouse."
"Because even in our LGBTQ community, there are outcasts and people who don't feel like they're like anybody else," Kitty says. "So I wanted to make a beacon for all those people who feel weird and feel different and can't really find their place in society."
Xander Valentine, aka Gwen Bobbie, drag king
More than a decade after she was transfixed by seeing her first drag show, Xander was invited by Trixy to join the drag family.
Xander has an energetic, family-friendly side as well as a sexy, sultry side. Confusing people about gender is intentional, a barrier-breaker.
"I try to create a consistent theme of masculinity in my performances," Xander says. "Although I paint my face, wear wigs and adorn myself with rhinestones, I usually perform to songs sung by men and tailor my costumes more toward suits and ties.
"My personal goal as a king is to have the audience question my off-stage gender identity."
Why? It's to convey the message, Xander says, that "it's OK to not immediately know how a person identifies or who they are attracted to, and still be kind to them.
"It's OK to accept someone as different, even if you don't fully understand it."
WHYY is your source for fact-based, in-depth journalism and information. As a nonprofit organization, we rely on financial support from readers like you. Please give today.