Civic Design Review Meeting Offers Hesitant Praise to Proposed Developments.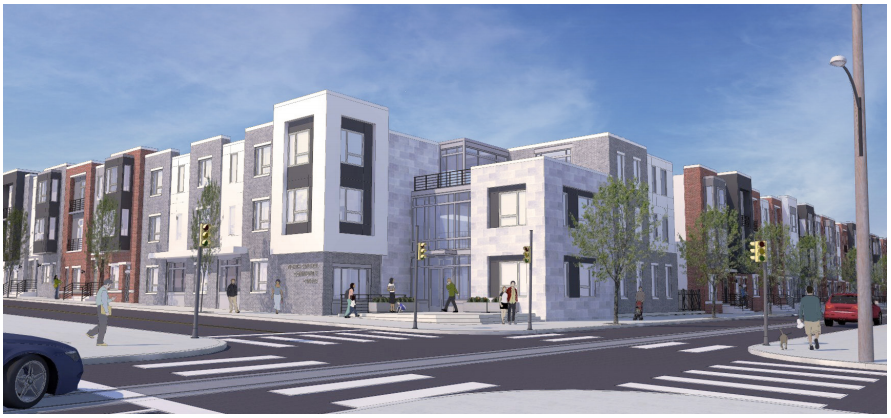 The Civic Design Review Committee's (CDR) August session granted approval with numerous suggestions. While both were met with general praise from the staffers, there was also a consensus that each would benefit from tweaks before construction.
CDR plays an advisory role in the development process. It's only power is to delay the issuance of construction permits by forcing the developers to return to the committee a month later; it cannot deny permits or force builders to actually make the proposed changes to their designs.
CDR considered a new apartment complex in Kensington from the Riverwards Group LLC and a townhome complex in North Philadelphia from the Philadelphia Housing Authority.
Despite issues raised with specific aspects of the proposals, CDR generally found the aesthetics for the properties, which both featured modern blocky design and a grayscale palette, faultless, and declined to require either to return next month.
The proposed Kensington development includes 41 single-family dwellings and six multifamily homes, as well as 26 parking spaces and 32 bicycle spaces. Two of the corner buildings will be mixed use, with commercial spaces on the bottom and residences on the top.
Although the building's geometric design drew praise from the committee for its architectural details and appropriate relegation of parking to an ancillary concern, the Olde Kensington Neighborhood Association (OKNA) expressed concerns over the location's tendency to flood. The building site at Cecil B. Moore Avenue and North 5th Street is prone to rain accumulation, raising concerns about stormwater mitigation. OKNA also aired familiar grievances over the lack of developer accountability to the endorsed design after the plans are approved.
"To us, it was like signing a blank check," said Anne Moss, president of OKNA.
The Kensington apartments took up the lion's share of the meeting, eventually gaining approval after an hour of discussion. The other item, PHA's North Philly housing proposal, was resolved in half the time.
The proposed homes would replace current 1930's-era residences and parking lot with 50 single- and multifamily homes and a community center. The plans also account for 24 parking spaces and 20 bike spaces. The committee praised the design for integrating the aesthetics of the public housing already in place, along with the Temple University architecture they will abut. The proposal also drew a round of praise for its intentions to earn multiple LEED certifications.
The rowhomes' courtyard, deemed incohesive, drew the greatest concern. The committee recommended making the green space feel more communal, suggestive of a community garden.
The architect of PHA's proposal, John Gibbons of KSK Architects Planners Historians, Inc., told PlanPhilly that consideration for the courtyard will be emphasized in the next round of design, per the CDR recommendation.
(John Gibbons, KSK Architects Planners Historians, Inc.)

(John Gibbons, KSK Architects Planners Historians, Inc.)