Civic Design Review approves two South Broad projects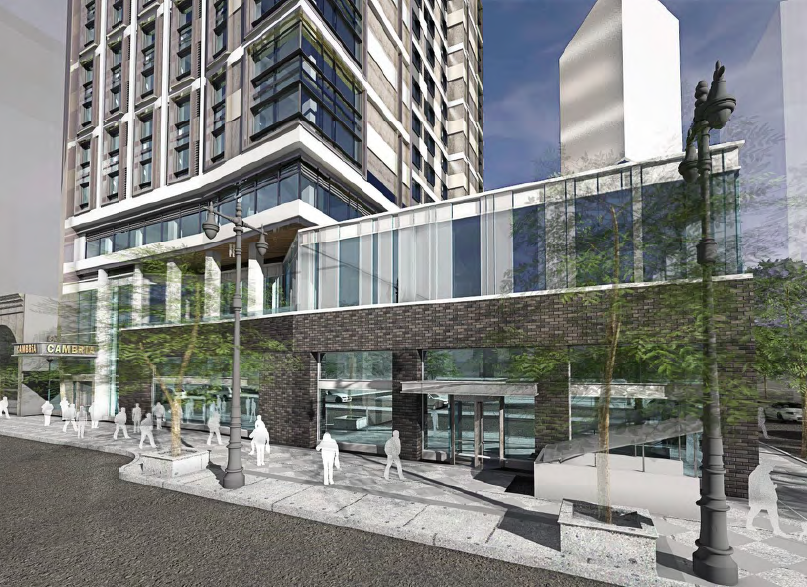 In a speedy meeting on Tuesday afternoon, members of the Civic Design Review Board heard presentations on two medium-sized projects — a boutique hotel and an apartment building — that promise to significantly contribute to the continuing evolution of South Broad Street.
First up was David Schultz, principal at DAS Architects, charged with bringing a 14-story, 222-room Cambria Hotel to the northeast corner of Broad and Locust, where an 8-story concrete parking structure is now being demolished. After running through the architectural context of the site, which is being developed by Pearl Properties, Schultz noted that the hotel will incorporate the footprint of the parking structure and connect with an existing two-story corner commercial building that will obtain new restaurant and retail tenants.
The hotel configuration provides fenestration on all facades with a courtyard along the northern side providing light and air to guest rooms situated at that end. In addition to its ground floor retail and restaurant, the hotel's public spaces include a second floor with reception, lobby, meeting, and lounge spaces, a third floor devoted to a pool and fitness center. Several covered terraces and a rooftop terrace are also part of the mix. Six guest rooms are located on the third floor, but the rest are arrayed on the top 11 floors.
The exterior finishes include brick, pre-cast concrete, porcelain tile panels, metal accent panels, and glass. The building provides no parking spaces but at the request of neighbors (Washington Square Civic Association, which was represented at Tuesday's meeting by Jonathan Broh) is considering adding bike parking out on Broad Street.
Ian Litwin of the Philadelphia City Planning Commission offered the staff's response, praising the building's design and material quality. He said the staff's primary concerns were how a short exposed party wall on the northern side would be finished and how the site's existing billboard might better fit into the Avenue of the Arts. Schultz addressed the first by saying no decision had been made but that the wall might receive a brick treatment. Pearl's attorney, William Martin, Esq., Fox Rothschild LLP, noted that the developer is currently in litigation to dissolve the "arrangement" that includes the billboard in the parcel.
After a request from board member Anita Toby Lager that the architects "double-check" to see if a few more trees could fit onto the Broad Street sidewalk and after board member Cecil Baker extended kudos toward Pearl for "caring," the project received unanimous approval from the four board members on hand. (The others in attendance were chair Nancy Rogo Trainer and Daniel Garofalo.)
Rendering of Cambria Hotel at ground level | DAS Architects

Rendering of Cambria Hotel | DAS Architects

Rendering of Cambria Hotel | DAS Architects

Rendering of Cambria Hotel, Broad Street elevation noting materials | DAS Architects

Rendering of Cambria Hotel at ground level | DAS Architects
The only other project on the agenda, a 52-unit apartment building from Tierview Capital planned for Broad Street just below Washington Avenue, received harsher treatment.
Baker bemoaned as "substandard" its plan to including town-home style housing with the master bedrooms below ground (architect Rustin Ohler, principal of Harman Deutsch, promised to reconsider that) and decried the "plague of Sponge Bob Square Bays infesting our city." They are creating a "stamp for Philadelphia which I don't find generous, I find it pedestrian." To that, Ohler said he had "no answer."
The building's makeup consists of 10 units (a mix of one- and two-story bedrooms) on floors 2 through 6, plus the three rowhouse-style units of approximately 1,400-square-feet, entered separately from Alter Street. Materials and finishes include black metal window frames and panels, red brick, and cast stone. In addition to commercial space (which may include a sidewalk cafe), amenities include 13 parking spaces and 18 bike spaces, as well as one handicap-accessible parking space and one car share space.
Planner Alex Smith praised the building's scale and composition in relation to the nearby Rock School and Marine Club Condominium facades, but requested clarification on service needs (vehicular access, trash storage) and emergency egress from the three townhomes. Rogo Trainer also asked that the designers reconsider the encroachment presented by a 3-foot canopy. Garofalo seemed underwhelmed by the project's sustainability elements as they pertain to Energy Star certification, asking that the architects come back with a list of features that go above and beyond building code requirements. Toby Lager pointed out that the plantings as presented are all on the northern side and in the shade, and thus would need a lot of care.
Garofalo ended by praising the "major moves" as "very beneficial for the neighborhood" and as the board unanimously accepted the comments, the meeting concluded.
Rendering of 1111 S Broad | Harman Deutsch

1111 S Broad materials | Harman Deutsch
WHYY is your source for fact-based, in-depth journalism and information. As a nonprofit organization, we rely on financial support from readers like you. Please give today.