City to rank trail network. There are now 75 proposed city-wide.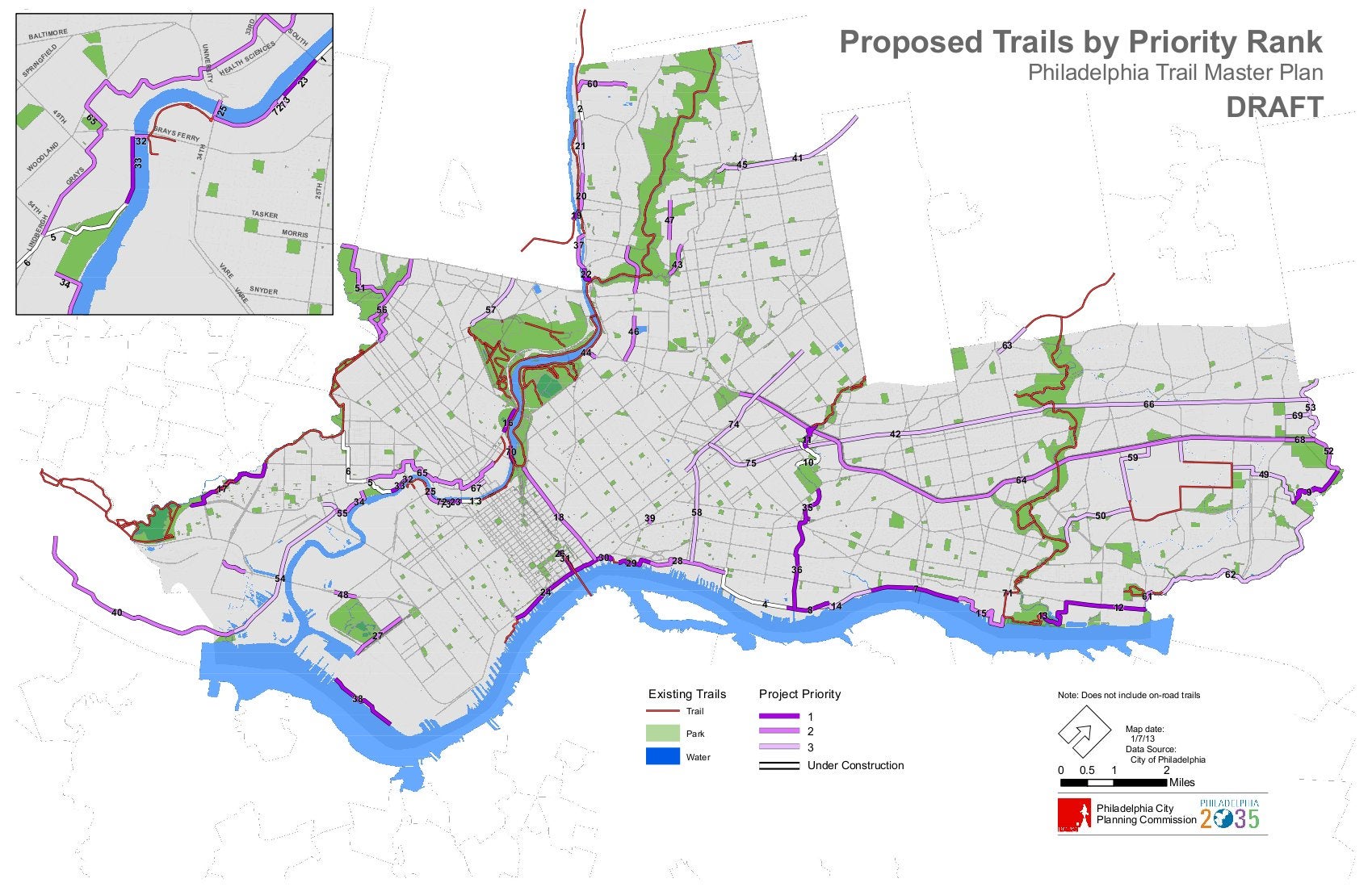 Philadelphia planners are developing a rating system to prioritize proposed trails.
There are now 75 trails proposed city-wide. The idea is to focus the city's limited resources – financial and otherwise – on trails that are most likely to be used, most feasible to build, and would be the most help in connecting existing bicycle or pedestrian paths, or in some other way fill a gap, said Pedestrian, Bicycle and Open Space Planner Jeannette Brugger. The cost of the project and prior commitments to it will also be weighed.
Tuesday, Brugger showed commissioners a draft priority map that was created using the draft criteria. Among the trail projects shown as a high priority are portions of trail that would fill gaps along the Schuylkill River; trail along the Central Delaware River and several sections along the Delaware to the north and south; the Cobbs Creek Connector trail; and the Frankford Creek Greenway.
According to the presentation, the Cobbs Creek trail has a completed design, enables access to natural areas and completes a gap in an existing trail network. The Frankford Creek Greenway is in an area of low automobile ownership and fills a gap in open space access. Frankford Creek is also a waterway targeted for improvements by the Philadelphia Water Department.
After the meeting, Brugger noted that Frankford and some other areas are lacking in green space, while other parts of the city have plenty "There is a green desert in North Philly," she said.
The higher a trail's rating, the more willing the city will be to allocate city resources toward building and maintaining it, and the more likely the city will be to advocate for funding from other sources on the project's behalf.
"We write letters of support for most of these projects, even if the city isn't building them," Brugger said after the meeting. "If a project is not as high on our priority list, we will say it is a good project, but it is lower on our priorities," she said.
The rating system is part of the city's first Trails Master Plan, a draft of which is under construction. Planning staff has been working on the master plan for two years in conjunction with the city transportation and utilities and parks and recreation departments, Brugger said. The city was also assisted by a committee of stakeholders, including representatives of organizations that are building trails.
The draft document will be presented to the planning commission and released to the public this spring – likely March or April – and comments will be taken, Brugger said. Commissioners will likely consider adoption a month after the release, she said.
The draft of the trail rating system calls for each of the five broad categories to be further divided with more than 25 specific criteria. For example, a proposed trail would earn more points under feasibility if there are no physical or land ownership barriers to construction and if there is a group dedicated to development and stewardship of the trail. The ways a trail could earn points under demand include being near a school, or in an area where few people have cars, or if it is near a river or would provide needed access to a river or existing green space. For example, a friends' group might have been formed for the proposed trail.
Each trail earns between 1 and 4 points according to how well it meets each benchmark, and those are added to calculate its score. The higher the score, the bigger priority on that proposed trail. Proposed trails would be re-evaluated every year, Brugger said, so they might move up or down on the priority list if circumstances change.
She also noted that there could be some changes in the priority map, if there are changes made to the criteria before the draft is finalized.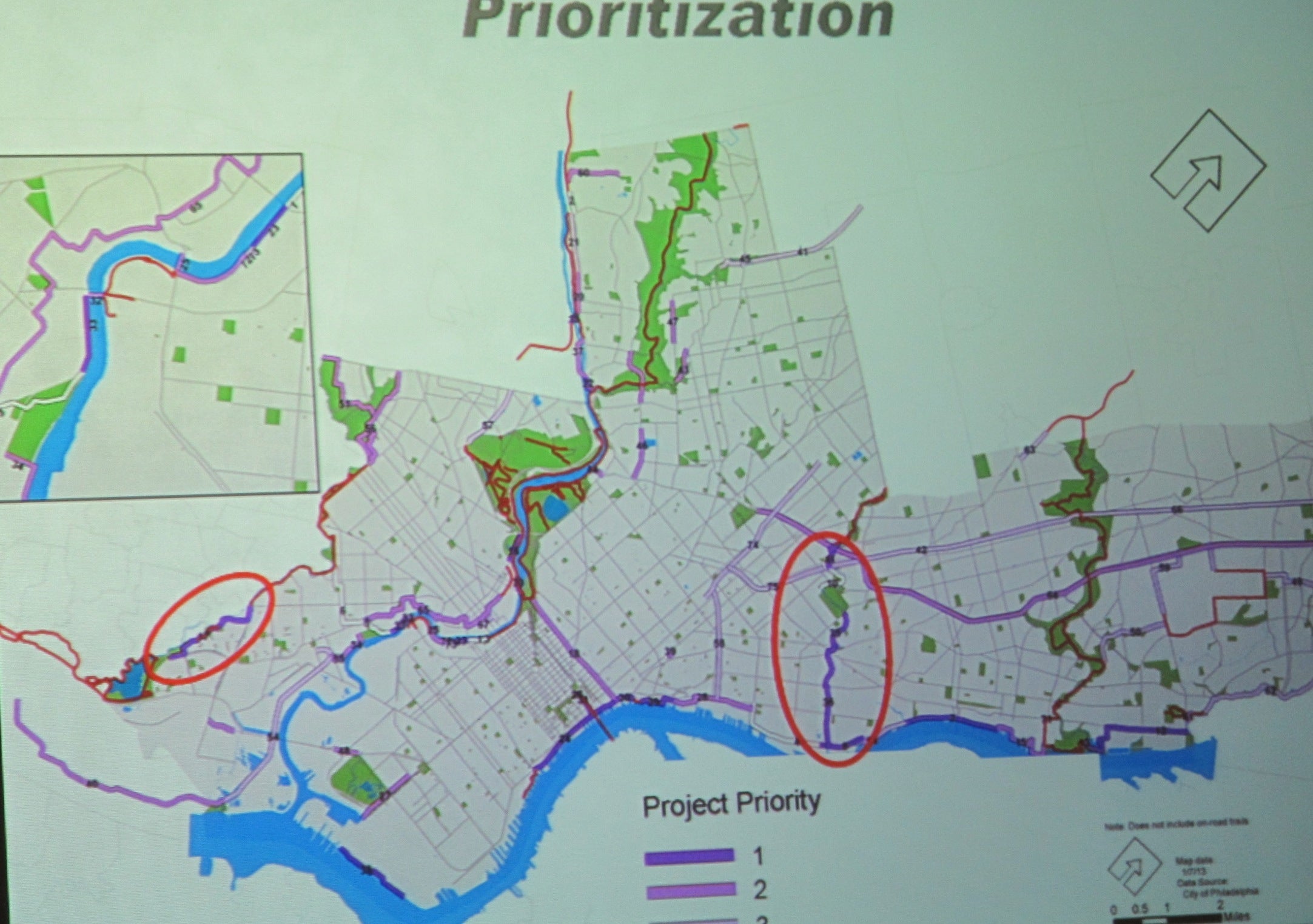 WHYY is your source for fact-based, in-depth journalism and information. As a nonprofit organization, we rely on financial support from readers like you. Please give today.