City seizing blighted Germantown complex owned by nightmare landlord
For years, an abandoned townhome development on East Collom Street has sat open to squatters and vermin.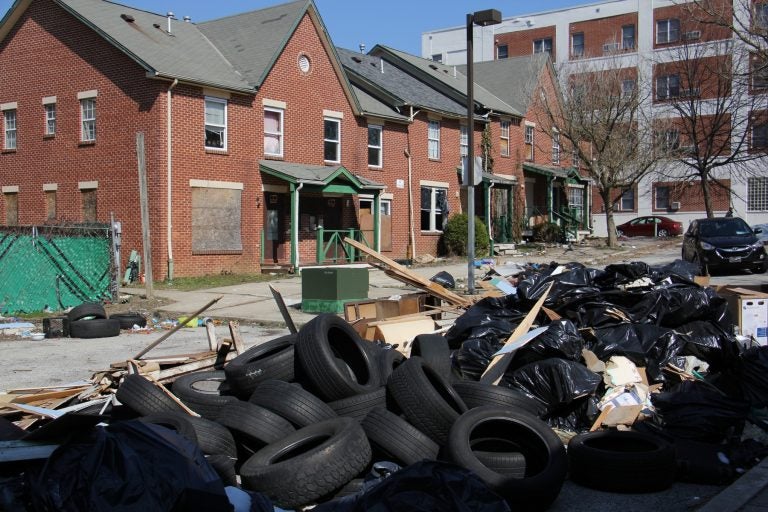 This story originally appeared on PlanPhilly.
—
The Philadelphia Redevelopment Authority is one step closer to seizing – and potentially redeveloping – a few dozen blighted properties once controlled by a powerful, now-defunct social service and housing nonprofit in Germantown.
At a packed Tuesday night community meeting, Executive Director Gregory Heller told neighbors his agency had filed foreclosure paperwork in the Court of Common Pleas.
If approved, the PRA would take control of the properties; a mix of vacant and occupied apartment buildings and single-family homes intended to supply the low-income community with more affordable housing.
"They're not in acceptable condition. We're trying to do something about it," said Heller inside Tabernacle Haitien de Philadelphie.
For years, an abandoned townhome development on East Collom Street has sat open to squatters and vermin. And until very recently, when a crew with the city's Streets Department showed up, a massive pile of debris – numerous tires, mattresses and wood planks – filled a parking lot between two identical rows of houses.
In 2016, tenants at Hamill Mills, an apartment building on Lena Street, went without heat for months because of a nearly $60,000 debt with Philadelphia Gas Works. The handsome brick building is now vacant.
At times, Karen McCutchen told Tuesday's crowd that she's had no running water in her twin home not far away from Hamill Mills.
"Every three months our water was turned off – 15 minutes, an hour, two days," said McCutchen.
The foreclosure process could take months, even years to complete. In the meantime, the redevelopment authority plans to pay a receiver to temporarily manage the occupied properties so tenants can stay in their homes, stop living in substandard conditions, and be part of what many in the neighborhood hope can be a new chapter for Germantown.
Heller has said the Philadelphia Housing Authority may be tapped to fill that role while the ownership of the properties is in dispute.
During Tuesday's meeting, city officials instructed tenants to stop paying rent and start putting those funds into an escrow account while the PRA works to wrestle away the properties from four related holding companies.
"If anyone knocks on your door or calls you to collect rent, you say 'no,'" said Germantown resident Anne Fadullon, who chairs PRA's Board of Directors.
The properties in question were part of nonprofit Germantown Settlement's massive portfolio of low-income housing the politically connected organization managed until roughly 2010 when a federal bankruptcy judge ordered the organization to liquidate all of its assets, in part because Settlement had mismanaged millions of taxpayer dollars for decades.
Yet even as Settlement dissolved, Emanuel Freeman, the nonprofit's notorious president, somehow retained control of many properties from the Settlement empire, including the ones PRA is now trying to seize.
And the Freeman's have been collecting rent, reportedly without a renter's license.
The redevelopment authority is poised to control the properties after deciding to default on $3.55 million in federal loans awarded to Settlement to develop low-income housing and more than $5 million worth of interest and penalties that started accruing in the 1990s.
A message left with FGC Development & Property Manager, run by Emma Freeman, Emanuel's wife, was not immediately returned Wednesday.
Gary Perkiss, who represents the four holding companies, declined comment.
Based on Tuesday night's meeting, Germantown residents aren't going to stop talking about any of this anytime soon.
"When people cheat, they have to pay. When people exploit poor people they need to be accountable for that," said Germantown activist Yvonne Haskins.
WHYY is your source for fact-based, in-depth journalism and information. As a nonprofit organization, we rely on financial support from readers like you. Please give today.