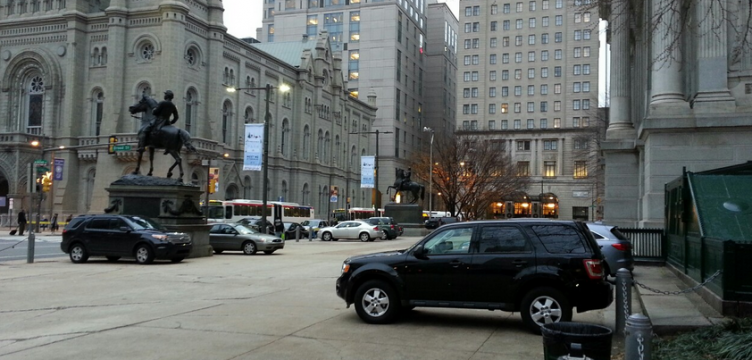 The city's mad hunt for cash to fund public schools hasn't stopped City Council members from taking advantage of an unusual and costly benefit for their public service: luxury SUVs with all the gas you can guzzle and insurance paid for by taxpayers. Philadelphians footed the $320,970 bill on a fleet of thirteen brand-new 2017 Chevy Equinox SUVs, Max Marin reports in a story co-published by Philly Weekly and City & State PA. According to a 2011 Pew Charitable Trusts study of 15 major U.S. cities, Philadelphia is one of just three municipalities to offer city lawmakers the benefit while "other cities instead give legislators auto allowances and other reimbursements."
Marin obtained fleet records showing that West Philadelphia Councilwoman Jannie Blackwell used more gas in the city-owned car than any of her colleagues, "chugging 1,294 gallons of gas last year." Councilwoman Helen Gym clocked in the least fuel, 218 gallons. Three council members, Allan Domb, Bobby Henon and Mark Squilla, do not drive city-owned vehicles.
"I don't count it as a perk – I count it as an extension of the office," said first-term Councilman Al Taubenberger, who clocked nearly 900 gallons last year and argued that "at-large Council members like himself are ombudsmen for the entire city." That may be true, but fleet data shows no pattern between district and at-large legislators when it comes to gas consumption, writes Marin.
Market/JFK Vision Zero pilot bike lane announced
Mayor Jim Kenney announced at the Bicycle Coalition's Vision Zero Philadelphia conference Saturday that the city will pilot a bike lane between 15th and 20th streets on JFK & Market Streets, Green Philly reports. The eight-month pilot will start Spring 2018 and, in addition to adding dedicated bike lanes, will incorporate streetscape improvements such as new turning lanes, painted islands with flexible delineator posts, and upgraded bus shelters. See the full details and renderings from OTIS here.
A Temple stadium in Rittenhouse? Just as unfavorable, unreasonable and ridiculous as it sounds.
Opponents of the Temple stadium on North Broad Street have suggested that the university build the stadium in Rittenhouse Square instead, KYW reports. It's not entirely out of left field; "Temple has a Center City presence right there on Market Street," NAACP Philadelphia president Minister Rodney Muhammad said Sunday at a press conference in Rittenhouse. Speaking on behalf of the No Deal Coalition, nineteen organizations that oppose the current proposed stadium on North Broad Street, Muhammad explained that the university is "only two blocks away. This space could be made available. The economic impact so far that we see would be favorable." Muhammad says the coalition has submitted the proposal to officials at Temple University and to Philadelphia City Council. "If it doesn't sound reasonable, favorable, if it sounds ridiculous to build a stadium right there in Rittenhouse Square," he said, "think of how unfavorable, unreasonable and ridiculous it sounds to erect a stadium at Broad and Norris Streets, encroaching on a residential community."
The forWURD Movement: Black-owned, women-led radio
Did you know…WURD Radio, at fifteen years old, is the only Black-owned talk radio station in Pennsylvania and one of only three in the country? And is women-led, in an industry where women of color represent just 6.2 percent of local radio staff? And yet those numbers alone aren't why WURD is unique, wrote WURD Radio president and CEO Sara Lomax-Reese in an op-ed published by the Philadelphia Citizen. In celebration of Women's History Month and the #MeToo movement, Lomax-Reese discusses the 'three-ness' or triple-consciousness that shapes how Black women have to navigate racism, sexism, and implicit bias on a daily basis, and the legacy of "an independent black-owned media company in an environment where national conglomerates dominate the marketplace."
Westmoreland Street Pedestrian Bridge Removal Project starts today
Traffic Advisory: For approximately two weeks starting on Monday, March 19, the intersection of 4th Street and Westmoreland Street will be closed to vehicular traffic from 7:00 am to 3:30 pm for the contractor H&K Group to install new drainage facilities in the intersection, Streets Commissioner Carlton Williams announced. The intersection will be completely closed to pedestrian and vehicular traffic for approximately two months starting Monday, April 2, for H&K Group to fully reconstruct the new sidewalks and roadway.