Christie avoids the tough questions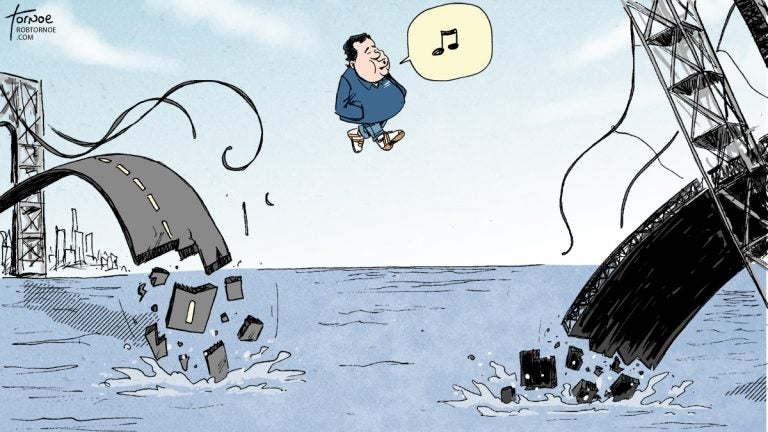 Bridgegate? Never heard of it.
I would say that seems to be the line we're being fed by Gov. Christie Christie these days, but since no one besides a radio host on friendly 101.5 FM has had the chance to ask him about it directly since the beginning of January, that wouldn't be accurate. Instead, Christie seems to be avoiding it entirely, despite the fact he continues to claim he knew nothing about the plot serendipitously hatched by his closest aids to close lanes on the George Washington Bridge.
Doesn't it seem odd that our outspoken governor willing to toungue-lash private citizens on the boardwalk has suddenly gotten so silent?
On Tuesday, Christie held his third town hall since revelations of Port Authority shenanigans became public. Despite being told by the governor to "ask me about whatever you want to ask me about," not a single question was asked about the scandal plaguing his administration. His previous two town halls, all in GOP-friendly areas, were also silent on the issue.
I know Christie is holding these events in politically friendly areas, like Ocean, Monmouth and Morris Counties, but still – can you honestly believe that in three separate town halls, not one person wants to hear what Christie has to say about the bridge? No one is curious why it seems his administration has given Sandy money to towns that have dolled out political favors, while others were left high and dry? No one has even asked a question about property taxes, which despite his assurances have climbed nearly 20 percent under his watch.
Christie's superhuman ability to avoid being asked tough questions also extends to the misuse of Hurricane Sandy money. Despite the damage suffered by residents in and around Toms River (many still remain homeless nearly a year and a half after the storm), not one soul bothered to ask about the federal investigation into the "Stronger than the Storm" ads where Christie and his family were filmed in a tourism commercial, using Sandy money, during the gubernatorial election.
Does this seem far fetched to anyone but me?
I know I've been a vocal critic of Christie (in my defense I was also equally as curmudgeonly about equally terrible governors Corzine and McGreevey), but it's plainly obvious that Christie is insulating himself from scandal, cherry-picking people to ask him softball questions and avoiding the press entirely in an attempt to stop the bleeding.
Unfortunately, it's not working. According to a new Rutgers-Eagleton poll released on Wednesday, Christie's Sandy approval rating stands at 54 percent. Ordinarily, that wouldn't be bad, but keep in mind Christie's approval rating was as high as 80 percent last November.
The problem is New Jersey voters approved of Christie's response to Sandy for speaking out, taking on critics and being perceived as doing whatever had to be done to help New Jerseyans struggling to recover.
That Christie is a distant memory, as we now have a leader who refuses to speak about the state's use of federal Sandy aid, why the contractor hired to administer Sandy money was suddenly fired and seems to blame everything and anything on President Obama and that no-good federal government.
The truth is the jig is up for Christie. The bungling of Sandy aid, our terrible property tax and budget situation, the continued growth of public corruption and patronage under his watch, turning around New Jersey's economy, fixing the state's troubled pension system – he's failed at everything he ran on as governor in the first place.
My memory may be a bit fuzzy, but I though we elected Christie to fix these problems, not put his head in the sand.
_______________________________________
Rob Tornoe is a cartoonist and a WHYY contributor. Follow Rob on Twitter @RobTornoe