Chemours breaks ground on new 'Discovery Hub' in Delaware
The Chemours Company broke ground on its new $150 million state-of-the-art research and innovation center on the University of Delaware's Science, Technology and Advanced Research (STAR) campus.
During today's groundbreaking ceremony, Chemours CEO Mark Vergnano revealed that the new 312,000 square foot facility would be named "Chemours' Discovery Hub."
"This space that we're about to build will serve as a gathering place. A center for activity where vision, ambition, intelligence and creative energy will absolutely flourish. Not just for years, but for decades to come," Vergnano said.
Partnering with the University of Delaware, the new place will be where Chemours' scientists and UD's best researchers will work together to collaborate on cutting edge, real-life applications. Vergnano is optimistic this collaboration could lead to the discovery of the next Teflon, which has applications for everything from cookware to aerospace.
Chemist Roy Plunkett discovered the nonstick coating for the Wilmington-based DuPont Company in 1938. DuPont spun off the performance chemical company in 2015.
"Just getting great scientists to work together, I guarantee you one plus one is going equal a lot more than two, when you have that happen," Vergnano said. "Teachers and students and researchers and innovators from this university and from all around the world, men and women whose names we don't even know yet, but who are destined to become the Roy Plunketts of tomorrow. In short, we envision this place to be a center for discovery."
"We feel that Christmas has come to the University of Delaware one week early," said Dennis Assanis, UD president, welcoming Chemours to the neighborhood. "We envision the STAR campus to be a place where our strengths in teaching and research would intersect with the needs of our community and the world. In a place where faculty, our students and our staff will work with innovators and entrepreneurs throughout the region."
"It's also a pipeline of talent. You know we're going to have undergraduates and graduate students working hand-in-glove with our researchers. I think we're going to have a new talent pipeline that's going to be developed and hopefully we can get some students to become employees over time. So it's not just the collaboration of the science, it's a collaboration of the people that are going to become connected to us," Vergnano added.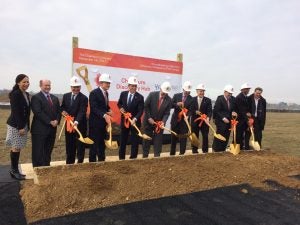 Delaware Governor John Carney thanked former Governor Jack Markell for paving the way to today's announcement. He credited the former administration for keeping Chemours in Delaware, when it could have headquartered elsewhere.
"This is really about the future," said Carney, D-Delaware. "If you think about Chemours, they're such an incredible bridge between the past with their connection with chemistry and DuPont, and the industrial legacy of our state, and the future. And their presence here on STAR campus with this innovation center is going to take us to the future."
"I know a lot of people didn't think Chemours was going to make it, certainly not going to make it here in the state of Delaware, and I think those, with this announcement and what's going on in downtown Wilmington, those misgivings are blown away forever," said U.S. Senator Tom Carper, D-Delaware.
Construction on the new facility in Newark is expected to be completed by early 2020. Within the next two years, Assanis said more than 800,000 square feet of new space will have been added to the STAR campus, formerly the Chrysler assembly plant. The car manufacturing plant permanently closed in 2009.