Charter school intends to honor Philadanco dance founder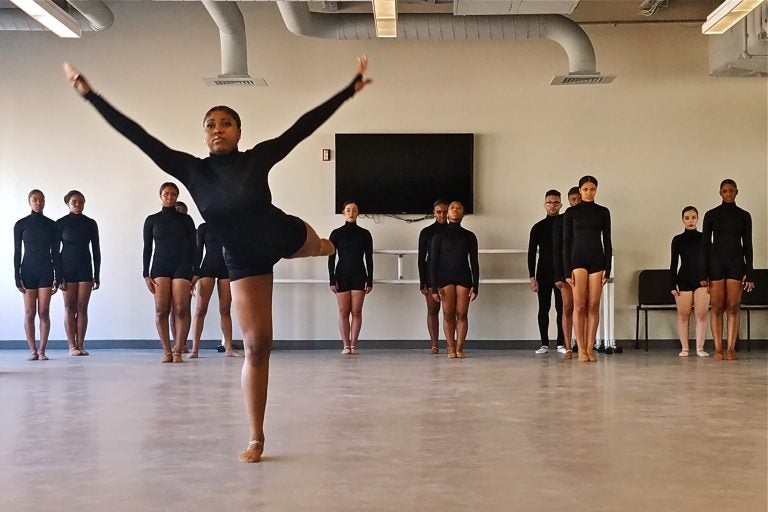 A charter school proposed for West Philadelphia will be named after a pioneer of dance in Philadelphia.
If String Theory Schools' application for another charter school is approved, the facility will be called the Joan Myers Brown Academy.
Brown founded the Philadelphia Dance Company, or Philadanco, in 1970. Since then, it has become nationally recognized for training mostly students, primarily African-Americans, in classical dance and ballet.
String Theory, which specializes in operating performing arts schools, already has a partnership with Philadanco. And its modern dance instructor, Ali Willingham, trained under Brown.
On Tuesday morning, what would have been the 90th birthday of Martin Luther King Jr., students at String Theory performed an original choreography by Willingham.
Brown, who was there to watch the performance, said she was happy and a little amused that String Theory would honor her by giving its new campus her name.
"The fact that they asked to name this school after me … Don't they name schools after dead people?" she said, her voice a little hoarse from a winter cold.
Brown, 87, started teaching dance 60 years ago. In 2020, after the 50th anniversary of the company, she plans to reduce her involvement with the organization.
"I'll never step away completely, but the day-to-day begging for money, you know, being black in America, that's a problem," she said. "I just want to spend time with the dancers. And on the beach."
String Theory has identified a former hospital campus in West Philadelphia near Fairmount Park as a site for the new school. It was most recently Wordsworth Academy, a residential facility for youth with behavioral problems, which the state shut down in 2017.
If the city board of education approves the application for the Joan Myers Brown Academy, it should open next fall with 600 students. It is designed to accommodate as many as 900, officials said.
The new charter school will not be a dance academy but teach a full range of subjects from kindergarten through eighth grade, integrated with an arts and dance curriculum.
Brown will contribute to the dance program, but she will not be involved in running the school. String Theory co-founder Jason Corosanite said Brown's name will serve as a model for excellence across all disciplines.
"I think it's all of that history, the legacy that's there, those are lessons we can weave throughout the curriculum, whether social studies and history – or even science and math," he said. "To have that be a thematic focus in addition to the dance curriculum is really important to me and something we can accomplish."
Should the Brown Academy open and its model prove to be sustainable, Corosanite wants to eventually expand it into high school grades.
String Theory is in a growing phase right now, looking to open about 20 schools in other cities.