Catholics in Allentown grapple with clergy abuse report and their church's response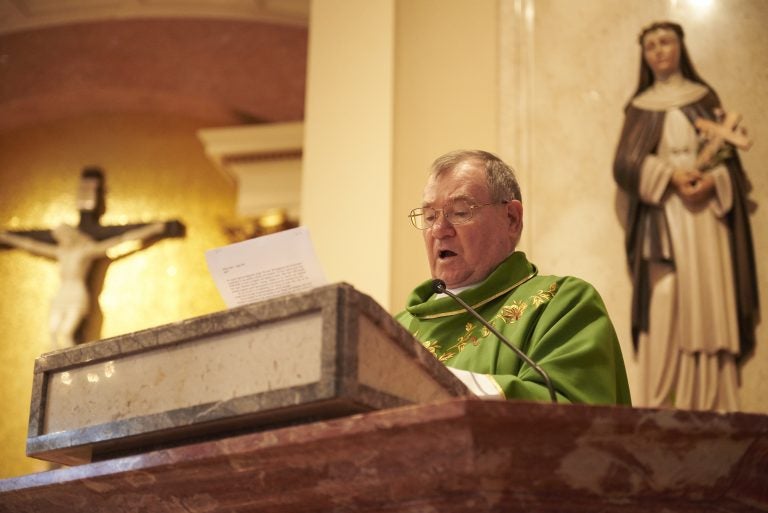 Several hundred parishioners filled the bright and colorful sanctuary at the Cathedral Church of St. Catharine of Siena in Allentown, Pennsylvania, for Sunday morning mass. It was a worship service like any other, until Monsignor Francis Schoenauer produced a small red folder, opened it, and started reading from a letter. The congregation was expecting this moment, and all eyes were on Schoenauer as he spoke the words of his superior, Allentown Bishop Alfred Schlert.
It was a scene that played out in churches across the Diocese of Allentown this weekend. Schlert's letter, addressed directly to parishioners, is a response to the Pennsylvania grand jury report released Tuesday detailing years of alleged sexual abuse of children by hundreds of priests across six of the state's eight dioceses, including Allentown.
The long-awaited report named 37 "predator priests" in the diocese, which put out its own list the same day including 15 additional names of priests "credibly accused of sexual abuse of a minor."
Schlert himself, who became Bishop of Allentown in 2017, is also mentioned several times in the grand jury investigation, regarding the handling of such cases when he was a monsignor.
In one case in particular, Schlert was among those who were informed of allegations against the Rev. Francis Fromholzer in 2002. However, the diocese did not formally report the allegations to law enforcement until 2009 under then-Bishop John Barres. The grand jury also found that Schlert was part of an effort by the diocese to discredit one of Fromholzer's accusers, who had come forward after decades of silence. Schlert denied discrediting the woman in an interview with the Allentown Morning Call.
"Abuse is abhorrent and has no place in the church, or anywhere in society," Schlert wrote in his letter to parishioners. "Most of the incidents date back decades. The offending priests are no longer in active ministry, are laicized (defrocked), or are deceased."
Schlert also apologized to victims and their families "for the past sins and crimes committed by some members of the clergy." He also extended his apology to "the faithful of the Diocese" for "the sadness, the anger, the doubts, and the embarrassment" the scandal has caused.
He said the diocese has also taken steps to prevent abuse including background checks and trainings for thousands of adults and children.
"As your Bishop, my first priority is keeping our children safe," Schlert's letter says in bold-faced type.
Outside the church following the mass, some parishioners were heartened by the bishop's words.
"I think it was about time they did that, admitted to that," said one churchgoer, Anthony LaPedula, of Allentown. "It's been going on a while. People knew it."
LaPedula said he was most curious to hear what the diocese has done since 2002, when the clergy sexual abuse scandal in the Archdiocese of Boston came to light.
"The rest is in the past," LaPedula said. "And I would never let the actions of individual clergy affect my membership in the church and belief in Christ."
Others struggled more with the allegations, the response, and how they feel about their church.
"Not enough information on the cover-up," said one parishioner, who would only identify himself as Joe K. "And there wasn't enough mention of what the ongoing problems really were, which is why people haven't been able to sue because they didn't realize how much was being covered up.
"And I also would have liked to have seen them take a stand on the legislation being proposed to open up that two-year window," he said.
The grand jury recommended that Pennsylvania open a brief window of time for victims of child sexual abuse to file civil charges retroactively, allowing victims well past the current statute of limitations to seek financial damages. Right now, child victims in the state have until the age of 30 to file civil charges.
The Catholic church and it's lobbying arm in Pennsylvania have steadfastly opposed this idea for years, saying it could cause dioceses to go bankrupt.
For many, the issue is clearly a sensitive one, and talking about it was difficult. A few churchgoers bristled at the constant media presence at the cathedral since the report was released last Tuesday.
"It makes it look like every single priest is a child molester and they're not," said a woman who called herself Rosa S. "I love the Monsignor. I trust him with my grandchildren, but there are perverts out there who purposely choose to go into fields like the priesthood or whether it's a Lutheran church or a coach, because that gives them access to the kids, and that's what people should be looking for."
A man standing near Rosa, who refused to give his name, called the media "vultures" and criticized news outlets for not aggressively pursuing the issue 40 years ago, when more of the named priests were in active ministry.