Pa. grand jury interim report on clergy child sexual abuse is public. What's next?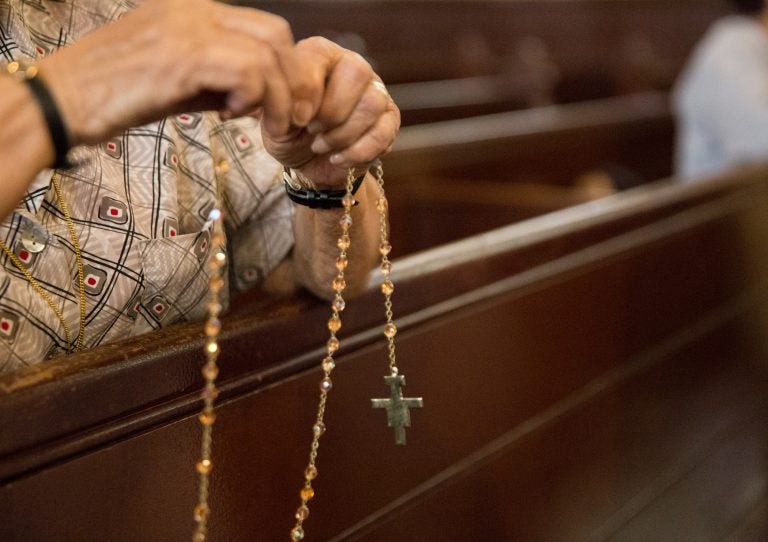 More than 300 "predator priests" allegedly sexually abused over one thousand victims in six Pennsylvania Catholic dioceses for decades, while bishops and other high-ranking church officials covered it up and urged victims not to go to the police.
That is according to a lengthy Pennsylvania grand jury report released Tuesday, which had been in the making for two years. It faced several legal challenges by priests and others named in its pages who claimed the report would violate their right to reputation as guaranteed by the Pa. constitution.
The biting investigation unearthed years of child sexual abuse by priests and other members of the church as well as a well-worn pattern of tactics used to cover the incidents up.
Although the arrival of the grand jury's findings gained considerable media attention in recent weeks, the report itself makes clear that the story of child sex abuse in Catholic parishes across Pennsylvania is far from over.
Now that the report is public, here's what to look out for next:
To redact or not to redact?
The grand jury report was supposed to be released in June, but was left in limbo after current and former clergy members raised concerns that alleged inaccuracies in the report would unfairly damage their reputations. One minister sought to block the release of his medical information in the report, which he said would be a violation of doctor-patient privilege.
Ultimately, the Pa. Supreme Court decided to release an interim report that redacted the names of clergy members who objected, allowing them to have their day in court before being named publicly.
In September, the high court will hear  arguments in Philadelphia from clergy members who want their names left out of the report, as well as from the office of Pa. Attorney General Josh Shapiro, which is pushing for full disclosure.
Like Shapiro, members of the grand jury felt that it was important for the public to know the names of the alleged abusers and those complicit in the cover-ups.
"We are going to name their names, and describe what they did — both the sex offenders and those who concealed them," the report read. "We are going to shine a light on their conduct, because that is what the victims deserve."
Debate over recommended changes
The grand jury report said laws must change for sexual abuse victims in Pennsylvania to get justice.
For one, the report recommended eliminating any statutes of limitations for criminal prosecutions of child sexual abuse, saying that would allow survivors to come forward whenever they are ready.
The grand jury heard testimony from victims whose abuse occurred far beyond the statute of limitations, but who are remain affected by the abuse, including people in their 70s and 80s.
It also wants to open a brief window of time for victims of child sexual abuse to file civil charges retroactively, allowing victims well past the current statute of limitations to seek financial damages.
The Catholic church and it's lobbying arm in Pennsylvania have steadfastly opposed this idea for years, saying it could cause dioceses to go bankrupt.
The debate over these provisions is not new.
State Rep. Mark Rozzi, D, Berks County — who says he was raped by a priest when he was 13 — has been pushing legislation with these ideas for years, but his bills have failed to find consensus in both chambers.
"It's the men who have run these churches, the bishops, the hierarchy—they are the ones who have destroyed the church — not victims of sexual abuse," said Rozzi. "That was not our fault that these bishops allowed these predators to run rampant across these dioceses abusing kids at free will. That's on them."
The report also calls for stricter requirements for when the church must report allegations of child sexual abuse.
In Pennsylvania law, people can only be penalized for failing to report "active" child abuse. The grand jury said it wanted clearer language in the statute to avoid confusion and encourage reporting.
Its final proposal focused on the role of confidentiality agreements in criminal investigations. According to the grand jury report, diocesan records showed there was a practice going back decades of having victims sign confidentiality agreements in civil settlements.
Such agreements can leave victims fearful of retribution if they go public, effectively shielding priests from criminal charges for child sexual abuse.
The grand jury said Pennsylvania law should change to allow victims who signed confidentiality agreements the freedom to still cooperate with law enforcement in prosecuting priests on criminal charges.
"There should be no room for debate on one point: no non-disclosure agreement can or should apply to criminal investigations," the report reads.
Criminal charges pending
A vast majority of the crimes alleged in the grand jury's report will never be charged, because they have passed the statute of limitations under Pennsylvania law.
But the grand jury did file two presentments — a legal term for a written accusation of a crime prepared by a grand jury — against two priests, Father James Sweeney of the Diocese of Greensburg and Father David Poulson of the Diocese of Erie.
Shapiro charged Sweeney last year, and in July the retired priest pleaded guilty to forcing a 10-year-old boy to perform oral sex on him in the late 1990s when Sweeney was pastor of St. Margaret Mary in Lower Burrell, which was affiliated with an elementary and middle school.
Shapiro filed charges against Poulson in May, accusing him of abusing two young boys for years in the early 2000s.
The grand jury noted that it learned about the sexual abuse allegations against the two men directly from their diocese, "which we hope is a sign that the church is finally changing its ways."
But it added that "these active prosecutions show that there are still priests abusing children in Pennsylvania."
There may also be other indictments of abusive priests in the future, the grand jury added, as the investigation continues and more victims come forward.
A change in culture?
During Tuesday's press conference Pennsylvania Attorney General Josh Shapiro said a pattern emerged across all six dioceses: "abuse, deny and cover-up." The behavior is similar to what was seen during investigations into the Archdiocese of Boston in 2002 and the Archdiocese of Philadelphia in 2003.
The grand jury asked the Federal Bureau of Investigation to analyze the behavior of clergy who investigated allegations of sexual abuse, and agents identified a standard set of practices for covering up the crimes, what the grand jury called "a playbook for concealing the truth."
The repeated patterns — which included using euphemisms like "inappropriate contact" to describe rape and not calling the police to report abuse allegations — created a culture that the grand jury said shielded sexual abusers insteading of protecting victims.
Tim Lennon, the president of the Survivors Network of those Abused by Priests, called for action to prevent future abuse and cover-ups. Lennon specifically addressed practicing Catholics, telling them to believe victims when they come forward.
He also added that for public safety, he wants to see more action and conversation from bishops and other officials who say they are being transparent about abuse in their diocese.
"Those who have not already done so should post the names of all church workers who have been found guilty, who have admitted, or who have been accused of the sexual abuse of children," Lennon said in the statement.
The six dioceses named in the report issued individual statements after the release of the report. Many relayed a similar message, promising to protect victims of the sexual abuse, rather than the clergy members.
Bishop Edward C. Malesic of the Diocese of Greensburg reacted to the report in a homily that will be played throughout the diocese this weekend.
"Those priests acted as wolves among us even if they were dressed in sheep's clothing. I am sorry for that," Malesic said. "In fact, honestly, I am extremely angry at them for what they did to you."
WHYY is your source for fact-based, in-depth journalism and information. As a nonprofit organization, we rely on financial support from readers like you. Please give today.