Former priest with insider view among the 1,000 victims in Pa. clergy abuse report
James Faluszczak quit the priesthood in 2014, and he's one of dozens of witnesses who testified before the grand jury about their experiences of abuse.
Listen
5:24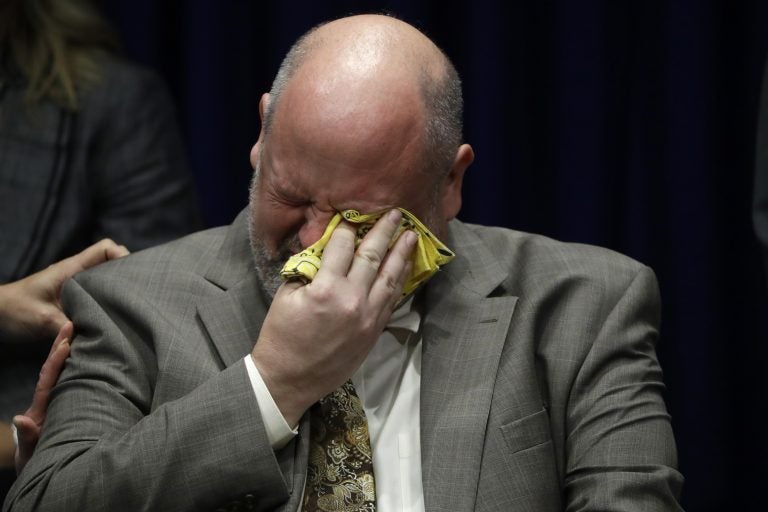 Like many victims of clergy sexual abuse, James Faluszczak grew up in a home of faith. He lived about a stone's throw away from St. George's parish in Erie, Pennsylvania. As a kid, he remembers neighborhood bike rides and kickball games in the shadow of the church.
Growing up, Faluszczak became more and more connected to the church, first as an altar boy, then playing guitar during Mass and working in the rectory.
He says his mother was steeped in Catholic mythology. Priests, to her, could do no wrong — and so she was thrilled when her youngest child of four started receiving extra attention from one of the parish priests — the Rev. Daniel Martin.  
"There were times when all of the priests would be out of the rectory, and, if he saw me on the street from the window, he would wave me in," Faluszczak said of Martin.
As a teenager, Faluszczak said he was angry and there were tensions between his parents at home. Martin became a trusted adult the young man could turn to, one who already knew about his family's struggles from Faluszczak's own confessions and those of his parents.  
"He would have me come in and sit on his lap," Faluszczak said. "He would kiss me all over the face. He was always drunk when it happened, and it would always end with him saying, 'Jimmy, tell me what's bothering you."
The abuse began when he was 16 years old and escalated to sexual fondling. It continued for three years.
Even after he was molested, Faluszczak's faith and bond with church remained strong.  He felt called to God and joined the seminary. He took up the cloth and spent 18 years as a priest in the Diocese of Erie.
But the trauma of abuse caught up with him. He turned to drugs and alcohol, and he became disillusioned with the church.
"I felt like I couldn't function. I couldn't live within a system that didn't protect the most vulnerable member of the community or the most vulnerable members of the church," Faluszczak said.
Faluszczak quit the priesthood in 2014, and he's one of dozens of witnesses who testified before the grand jury about their experiences of abuse. In its findings released last week, the grand jury alleged that 301 "predator priests" molested, raped, or took advantage of more than 1,000 children.
In the report listed under offenders from the Diocese of Erie is Daniel Martin.
Faluszczak feels relieved that his voice has been heard and believed, but he said the report doesn't fully capture the feeling of trusting someone deeply, being extremely vulnerable, and then being taken advantage of.
"The emotional abuse was worse than the physical abuse, the spiritual abuse was the worst thing of all.  He manipulated my soul. It's not just what he did to me physically," Faluszczak said. "This has hobbled my relationship with God."  
The report also details another victim's testimony that he was sexually harassed and assaulted by Martin and other priests while at St. Mark's Seminary in Erie.
Identified in the report as "Victim #2," he describes the abuse in the seminary as a part of a "culture of sexuality" among priests. According to the report, Victim #2, testified "priests who acted as spiritual advisers to the seminarians would engage them in sexual misconduct." The Diocese of Erie paid out $34,500 to settle a civil suit  over the allegations of "Victim #2."
'Constant reminder'
Erie Bishop Lawrence Persico apologized to all victims of abuse at a news conference last week.
"You have suffered in darkness for a very long time," he said.  "As the grand jury report demonstrates, you have experienced unimaginably cruel behavior by the very individuals who should have had the greatest interest in protecting you."
In April, he publicly named Martin, who died in 2006, and more than 60 other clergy members and employees who the diocese believes have credible allegations against them.
Since then, Persico confirmed at least one other victim has come forward to accuse Martin.
"This is a result of when we spend so much time keeping things secret. For example, the whole idea of not going public with this information — that, I think, is part of our issue," Persico said. "That's why it's so important that when you publicize names, people realize they're not going to get away with it."
For Faluszczak, apologies from the bishop and talks of transparency fall flat. When he was a priest, he brought three allegations of abuse and sexual misconduct to the church's attention, including his own.
"Bishop Persico became bishop in 2012, and he waited six years to release that list," Faluszczak said.  "If he was all about transparency, why didn't he release the list in 2012?"
Faluszczak, who remains a Catholic, said deeper internal church reforms are needed. He had an insider's view, and he couldn't stand what he saw.
"I was happy with my assignments, I was happy with my work.  The atmosphere was intolerable — being around other priests that were creepy or leering at you or propositioning you," Faluszczak said. "There were just constant reminders to me that this is how Father Martin got away with what he did."
He now lives in Buffalo, New York.  And, like most victims of clergy sex abuse, Faluszczak has no legal recourse.
In its report, the grand jury made a list of recommendations, including eliminating the statute of limitations for child sexual abuse. It also called for a "civil window" law, which would give Faluszczak and other victims a two-year period to seek financial damages retroactively.
Some question the constitutionality of the latter idea. And facing stiff opposition from groups such as the Pennsylvania Catholic Conference, legislation advancing such measures hasn't found consensus.
WHYY is your source for fact-based, in-depth journalism and information. As a nonprofit organization, we rely on financial support from readers like you. Please give today.