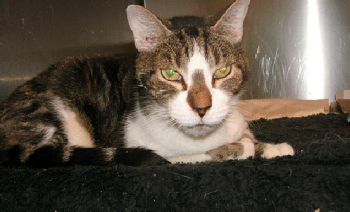 This senior boy needs out of the shelter ASAP! Bubba (A15174499) is a handsome tabby and white male cat. He is around 15 years old, and he was sadly dumped here at the shelter because his family could no longer afford his care.
Bubba has lived his whole life in a home and now he is stuck here in the noisy shelter. Bubba has been here for quite some time and has come down with a cold. He needs a foster home that can give him a warm bed to snuggle up to and help him start feeling better.
He is also missing a few teeth and would love a wet food diet. Bubba is already neutered and is front de-clawed as well. He would make a perfect addition to a family looking for a loving, laid back cat. Please help this boy today – he deserves it!
These animals are located at Philadelphia's animal control shelter, ACCT. They need immediate adoption or foster care. ACCT is located at 111 W Hunting Park Ave and is open 365 days a year. Adoption hours are Monday-Friday; 1pm-8pm; Saturday and Sunday; 10am-5pm. To check the status of an animal, call 267-385-3800. Check in every week with NEast Philly to see the cat and dog of the week.