Carney pledges more money for Delaware's early education Stars
Delaware preschool providers were disheartened last year after the Carney administration froze reimbursement payments for centers who had made significant investments in improving their quality.
But Gov. John Carney gave them a glimmer of hope for increased funding during his State of the State address Thursday.
"We need to encourage Delaware's early learning centers to invest in their programs and to continue to grow," Carney told the joint session of the General Assembly. "That's why I will propose additional funding for the Stars program in next year's budget."
Andria Keating, who owns Babes on the Square in Brandywine Hundred, was heartened by the governor's words. Her center has a five-Star rating, the highest in Delaware's system that rates a center's quality.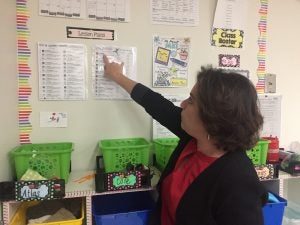 Keating is cautiously optimistic that the state will thaw the payments so she can receive about $50,000 the freeze cost Babes on the Square. Then she'll be able to reinvest the money into her facility and employees.
"I will be able to increase some of the wages of my staff with bonuses that I give on a quarterly basis,'' Keating said after Carney's address. "We may be able to invest in updating some equipment and materials for the class. So it definitely won't sit around. It's definitely needed."
Keating's words were echoed by Michelle Shaivitz, head of the Delaware Association for the Education of Young Children.
Shaivitz and other advocates said the 500 STARS-rated centers were blindsided last year by the freeze after Carney had initially promised to sustain the program – only to find out that "sustain'' did not mean to reward centers who had reached a higher level.
Shaivitz stressed that the only way to reduce Delaware's achievement gap between poor children and those of means is to begin their classroom education before they reach kindergarten.
"I'm extremely optimistic, absolutely,'' Shaivitz said Friday. "We're trying to help folks understand, just a regular person that is not in education, one of the biggest investments you can make for the economic success of Delaware is in our youngest population."
Carney will provide the exact details next week during his fiscal 2019 budget address.