School bus, 7 cars collide, at least 8 hurt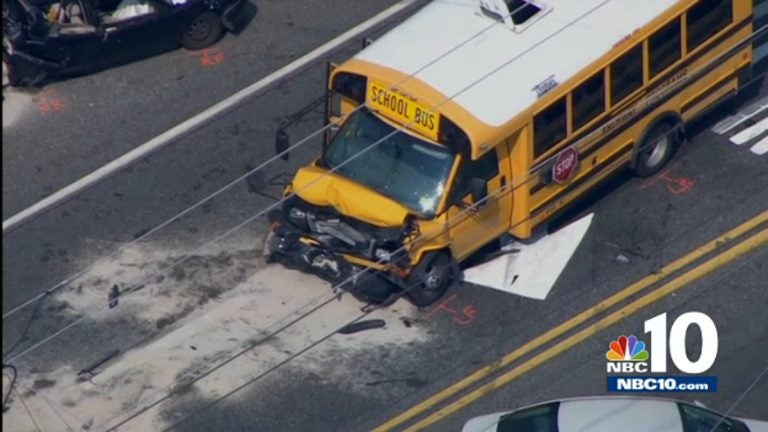 A school bus carrying seniors with disabilities collided with six other cars this morning along a busy South Jersey roadway. At least eight people were hurt.
The bus and cars crashed in the southbound lanes of N. Black Horse Pike (Route 168) just before the five-way intersection with Front Street and Chews Landing Road in Glendora, Camden County, N.J. around 9:30 a.m. Wednesday.
N Black Horse Pike was closed in both directions more than an hour after the wreck.
As SkyForce10 hovered overhead, at least three adults were put on stretchers at the scene and people were escorted off the back of the bus. The bus was carrying five seniors between the ages of 65 to 90 years old, according to Gloucester Township Police Deputy Chief David Harkins.
Harkins said that one person from the bus and one from another car suffered life-threatening injuries.
The front-end of the "Archway Programs" bus was visibly smashed. Archway serves people with special needs and has two schools in South Jersey — a lower school on Jackson Road in Atco and the upper school in Evesham.
At least three other cars appeared to be involved, a black sedan that had the entire rear-end smashed in, a white sedan with front and rear damage and at least one other vehicle was also involved. There are no traffic lights at the intersection.
Archway Chief Financial Officer Robert Posnick tells NBC10 that his school transports more than 200 students to and from nearly 60 different school districts around the area and that most of those students ride in district buses. Archway serves individuals with physical, emotional and neurological disabilities, according to the program's website.
_________________________________________________________
NBC10 is a content partner with NewsWorks.