Bucks County cyberstalking case inspires U.S. measure to get tougher on offenders
A measure that aims to toughen penalties for cyberstalkers has bipartisan backing from U.S. Sens. Pat Toomey and Bob Casey and U.S. Rep. Brian Fitzpatrick.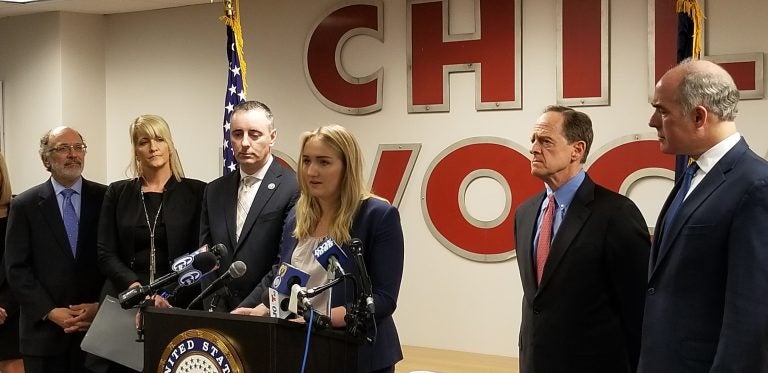 Several of Pennsylvania's federal lawmakers have joined in an effort to crack down on people who stalk children online.
The measure, sponsored by U.S. Sens. Pat Toomey and Bob Casey and U.S. Rep. Brian Fitzpatrick, calls for extra punishment for cyberstalkers who exploit the internet to terrorize children.
It's a matter of common sense, Casey said.
"This bill is testament to what I believe is a bipartisan consensus to have zero tolerance for this kind of stalking of children and young people," he said Monday.
The Combat Online Predators Act would add five years to the sentence of anyone convicted of cyberstalking children.
The legislation is meant to address cases like that of Madison Zezzo of Buckingham, Bucks County, who said the man who was stalking her online was caught — but he never received treatment and began harassing her again.
"The first time it happened, when I was 13, we thought it was completely over when he pleaded guilty to a misdemeanor," she said. "We were assured he would get better, that there was no problem at all. And then, four years later, he began doing it again."
That time, he was arrested and sentenced to 18 months to seven years in state prison.
"No family should have to go through what the Zezzos have," Toomey said. "Enacting this bipartisan measure to strongly punish deviants who exploit the internet to terrorize children is a necessary and common-sense step Congress should take."
Zezzo said she hopes the bill will be approved and prevent other teens from going through what she has.
The bill is on a fast track in the Senate, Toomey said.
WHYY is your source for fact-based, in-depth journalism and information. As a nonprofit organization, we rely on financial support from readers like you. Please give today.